→
550 BC - 330 BC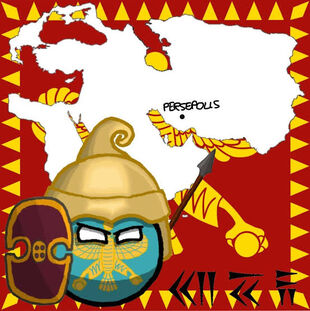 Relations and opinions
Likes
War and conquest, maintaining a large empire, human rights, Daddy Cyrus
Dislikes
GREEKS, rebelling satraps
Historical information

Preceded by
Succeeded by
Median Empire
Neo-Babylonian Empire
Lydia
Twenty-sixth Egyptian Dynasty
Gandhara
Sogdiaball
Massagetae
Empire of Alexander


Twenty-eight Egyptian Dynasty
Is of importants
Can into space?
No, but can into Babylonian astronomy
"
Diversity in counsel, unity in command.
"
 

— Cyrus the Great
Achaemenid Empireball was the first Persian dynastyball ever, it was also of a stronk empire, and stretched from Thrace to the Indus Valley. At one point, they ruled between a fourth and a half of

 Earthball's population (which was much smaller back then, but still). Achaemenidball would remain in power for over two centuries until gradually weakened by rebellions, and conquered by

Alexander the Great in 330 BC. It also created the first human rights.
History
Achaemenidball was born as the

Median vassal of Persis, which was created by the Iranian peoples who arrived in the area around 1000 BC. Under the leadership of Cyrus the Great, the Persians revolted against the Medes in 553 BC, and finally defeating them in 550 BC, gaining all of the Median territories. This eventually brought Achaemenidball into conflict with

Lydiaball and

Neo-Babyloniaball. After the conquest of the Lydian Kingdom, Cyrus turned east to quell the rebellions started by Bactriaball and Sakaball. Later, Cyrus conquered the Neo-Babylonian Empire, helping to free the

Jewish slaves in

Babylon, allowing them to return to their homeland and restore

Jerusalem, including building the Second Temple. Cyrus eventually died on campaign in 503 BC in an expedition against the

Massagetae and was succeeded by his son Cambyses II.
Relationship
Gallery

Related templates

Nibiru Rəpublic of Thə Kəbab Followərs Azərbaycan
Rəgions
Abshəronballl (Bakuball) • Ganja-Qazakhball • Shaki-Zaqatalaball • Lankaranball • Quba-Khachmazball • Aranball • Yukhari-Karabakhball • Kalbajar-Lachinball • Daglig-Shirvanball
Mənacəs




☪

Artsakhball • Nakhchivanball
SOON!
Tabrizball • Urmiaball
Formər əntitiəs
Migrants from South (Prəhistoric Əuropəans) • Ibəriaball • Caucasian Albaniaball • SPQRball • Parthiaball • Sassanidball • Persiaball • Transcaucasiaball • Transcaucasian SFSRball • Azərbaycani SSRball ( Soviətball)
Murica's State Georgia საქართველო
Regions

Abkhaziaball • Adjaraball • Guriaball • Imeretiball • Kakhetiball • Kvemo Kartliball • Mtskheta-Mtianetiball • Racha-Lechkhumi and Kvemo Svanetiball • Samegrelo-Zemo Svanetiball • Samtskhe-Javakhetiball • Shida Kartliball ( South Ossetiaball) • Tbilisiball
Abkhazian districts
Gagraball • Gudautaball • Sukhumiball ( Sukhumiball) • Gulripshiball • Ochamchiraball • Tkvarcheliball • Galiball
South Ossetian
divisions
Dzauball • Tskhinvalball ( Tskhinvaliball) • Znaurball • Leningorball
Former entities

Migrants from South (Prehistoric Europeans) • Urartuball • Colchisball • SPQRball • Achaemenid Empireball • Kingdom of Iberiaball • Parthiaball • Sassanidsball • Rashidunball • Umayyadball • Abbasid Caliphateball • Kingdom of Georgiaball • Mongol Empireball • Ottoman Empireball • Kingdom of Kartli-Kakhetiball • Safavid Dynastyball • Afsharidball • Qajarball • Georgia Governorateball ( Russian Empireball) • Transcaucasiaball • Democratic Republic of Georgiaball • Georgian SSRball ( Sovietball)
Modi's Hindu Nationalist Curry Republic Republic of India needs Kashmir
Administrative divisions
Andhra Pradeshball • Arunachal Pradeshball • Assamball • Biharball • Chhattisgarhball • Goaball • Gujaratball • Haryanaball • Himachal Pradeshball • Jammu and Kashmirball • Jharkhandball • Karnatakaball • Keralaball • Madhya Pradeshball • Maharashtrarawr • Manipurball • Meghalayaball • Mizoramball • Nagalandball • Odishaball • Punjabball • Rajasthanball • Sikkimball • Tamil Naduball • Telanganaball • Tripuraball • Uttar Pradeshball • Uttarakhandball • West Bengalball
Union territories



☸

Andaman and Nicobar Islandsball ( Sentineleseball) • Chandigarhball • Dadra and Nagar Haveli and Daman and Diuball • Ladakhball • Lakshadweepball • National Capital Territory of Delhiball • Puducherryball
Historical entities
Migrants from the West (Prehistoric Hindustan) • Indo-Iraniansball Indus Valleyball • Vedicball • Kuru Kingdomball • Panchalaball • Magadhaball • Mahajanapadaball • Haryankaball • Shishunagaball • Nandaball • Mauryaball • Guptaball • Delhi Sultanateball • Vijayanagara Empireball • Mughalball • Khandesh Sultanateball • Bengal Sultanateball • OudhRawr • Marathasaur • British Rajball
Islamic Republic of Iran, heir of Persia
Provinces


☫

Alborzball • Ardabilball • East Azerbaijanball • West Azerbaijanball • Bushehrball • Chahar Mahaal and Bakhtiariball • Farsball • Gilanball • Golestanball • Hamadanball • Hormozgānball • Ilamball • Isfahanball • Kermanball • Kermanshahball • North Khorasanball • Razavi Khorasanball • South Khorasanball • Khuzestanball • Kohgiluyeh and Boyer-Ahmadball • Kurdistanball • Lorestanball • Markaziball • Mazandaranball • Qazvinball • Qomball • Semnanball • Sistan and Baluchestanball • Tehran Provinceball ( Tehranball) • Yazdball • Zanjanball
Historical entities
Migrants from the West • Medesball • Achaemenidball • Parthiaball • Sassanidball • Rashidunball • Umayyadball • Abbasidball • Saffaridball • Samanidball • Ghaznavidsball • Seljukball • Khwarazmianball • Ilkhanateball • Timuridball • Safavidball • Afsharidball • Zandball • Qajarball • Pahlavi Iranball
Mesopotamian Republic of Anarchy Iraq
ENEMIES!
ISISball • Iraqi Kurdistanball
Governorates


الله أكبر

Al Anbarball • Al Diwaniyahball • Babilball • Baghdadball • Basraball • Dhi Qarball • Diyalaball • Dohukball • Erbilball • Halabjaball • Karbalaball • Kirkukball • Maysanball • Muthannaball • Najafball • Ninevehball • Saladinball • Sulaymaniyahball • Wasitball
Historical entities
Migrants from South • Sumerball • Babylonball • Assyriaball • Macedonball • Seleucidball • Parthiaball • SPQRball • Sassanidball • Rashidunball • Umayyadball • Abbasidball • Ilkhanateball • Jalayiridsball • Qara Qoyunluball • Aq Qoyunluball • Safavidball • Afsharidball • Ottomanball • Mandatory Iraqball • Kingdom of Iraqball • Ba'athist Iraqball
Oy Vey Israel
Districts
Haifacube • Jerusalemcube • Tel Avivcube • Central Districtcube • Northern Districtcube • Southern Districtcube
District capitals
Arielcube • Beershebacube • Haifacube • Jerusalemcube • Nazarethcube • Ramlacube • Tel Avivcube • West Jerusalemcube
Other cities


✡

Ashdodcube • Ashkeloncube • Bat Yamcube • Eilatcube • Givatayimcube • Holoncube • Modiincube • Netanyacube • Ramat Gancube • Tiberiascube
Former entities
4ball • Kingdom of Israelcube • Kingdom of Samariacube • Kingdom of Judahcube • Yehudcube • Herodiancube • Iudeaball • Byzantineball • Rashidunball • Umayyadball • Abbasidball • Fatimidball • Kingdom of Jerusalemball • Ayyubidball • Mamlukball • Ottoman Empireball ( Damascus Eyaletball • Mutasarrifate of Jerusalemcube) • British Palestinecube