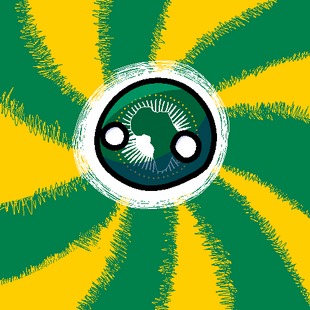 General information
Language
Arabic, French, English, Portuguese, Spanish, Swahili, others...
Relations and opinions
Friends
Mostly

everyone, but especially:
Likes
Blessing The Rains Down In Africa, freedom, liberty, equality, peace, neutrality, Toto,Africa, Cady Heron from Mean Girls
Dislikes
Ebola, Civil Wars, Slavery, Terrorism, Famine, Drought, True Capitalist Radio
Is of importants
Food
Have you tried African food? Neither have they!
Notes
Rebirthed from the Organization of African Unityball
"
I bless the rains down in AFRICAAAAAAAAA!
"
 

— Toto
"
AFRIIICAAAAAAAAA
"
 

— Bill Wurtz
"
Every 60 seconds in Africa, a minute passes. Please spread the word
"
 

— Jamal
I bless the rains down in African Unionball is a place that every 60 second passes here, a minute passes at other place on the Earth multinational union, which is comprised of almost all the independent sovereigns in the African region. It is based in

Ethiopiaball's clay, and resembles

EUball, but is not as cohesive as a union. It is comprised of many different communities merging, resulting in a confusing system of different sub-organizations. He's also very useless since he doesn't care about the reports, and some African Clay is trying to break out of him. Some foreign people also says he's a weirdo because of his culture.
In 2017,

Morocco rejoined

African Unionball. Even

Sahrawi Republicball is a member.
In 2019, due to the Sudanese protests, crisis, and the shooting of dozens of protesters,

Sudanball has been suspended from the

African Unionball. However,

Sudanball was admitted back to the

African Union in September 2019. Unfortunately, the very next year,

Maliball staged a coup d'etat in August and managed to get himself suspended instead.
Current members
Former members
Relationships
USAball - Control Your Police!!
Boko Haramball - Srsly? You had to steal a bunch of schoolgirls?
ISISball - Your friend is already here... SO GET OUT!
Libyaball - I tried okay?
Somaliaball - Is 20 years not enough?
Maliball - How many countries currently in civil war now?
South Sudanball - Welcome to the family!
Ethiopiaball - Father. He founded me and I live in his capital city of Addis Abbaba and many members grew inspiration of his flag
Ghanaball - Uncle. He founded me among with Ethiopia and South Africa to make the continent of Africa more relivant economically. He also invented Pan-Africanism.
South Africaball - Other white uncle. He found me with Ghana and Ethiopia and is one of the most relevant countries in Africa.
Madagascarball- I LIKE TO MOVE IT MOVE IT!!!
Eritreaball - Stop killing human rights and humans in general!
Moroccoball - European wannabe. Why you hate being one of us? Stop Killing Western Saharaball.
Sudanball - Glad You Back!
How to draw
Simply draw the African Union logo in a dark green ball.
Gallery
References

Related templates

Weird Movies Republic of Dancing Pallbearers Ghana
Regions


★

Ashantiball • Brong Ahafoball • Central Ghanaball • Upper East Ghanaball • Greater Accraball ( Accraball) • Northern Ghanaball • Western Ghanaball • Eastern Ghanaball • Upper West Ghanaball • Volta Regionball
Historical entities
Migrants from East • Ashanti Empireball • British Gold Coastball • Union of African Statesball
⚰️
Republic of Niger It is pronounced Nhee-jer, not nie-jur
Regions


●

Niameyball (Capital) • Agadezball • Diffaball • Dossoball • Maradiball • Tahouaball • Tillabériball • Zinderball
Former entities
Migrants from East • Songhaiball • Mali Empireball • Dendi Kingdomball • Gao Empireball • Kanem Empireball • Bornu Empireball • French Nigerball ( French West Africaball)
Anarchy Piratedom of Somalia and Somaliland
Somaliland regions
Awdalball • Tug Dairball • Sanagball • Solball • Woqooyi Galbeedball ( Hargeisaball)
Somali regions


★

Puntlandball ( Bariball • Mudugball • Nugalball ( Garoweball)) • Bakoolball • Banaadirball ( Mogadishuball) • Bayball • Galguduudball • Gedoball • Hiranball • Middle Jubaball • Lower Jubaball • Middle Shebelleball • Lower Shebelleball
Historical entities
Migrants from West • Sultanate of Mogadishuball • Ifat Sultanateball • Warsangali Sultanateball • Adal Sultanateball • Ajuranball • Geledi Sultanateball • Majeerteen Sultanateball • Harar Sultanateball • Dervish Stateball • Italian Somalilandball • British Somalilandball • Somali Democratic Republicball