1278 - Present

1814 - Present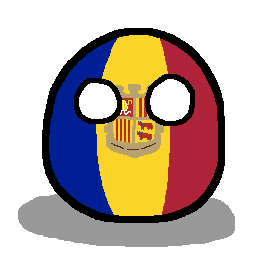 Relations and opinions
Likes
Tourists, Skiing, Mountains
Dislikes
Terrorism, Airports, Being mistaken with Moldova, Chad or Romania
Is of importants
Can into space?
Cannot even into relevance.
United Kingdom of Tauredball
Andorraball
is
David Aguilar
a rich, landlocked microstateball between

Franceball
and

Spainball
. While it can into very small, being only 468 square kilometers, it is one of the most prosperous countryballs. It gets much of its revenue from tourism, and it is a tax haven.
History
Andorraball was a

2ball that was always fought between

Franceball and

Spainball since

SPQRball died.
Andorraball became independent from
Carolingianball in 1278, but

Spanish Empireball wanted to "adopt" him. This fight passed through the ages and Andorraball was continuously passed around:

Spanish Empireball and

Kingdom of Franceball,

First Spanish Republicball,

Francoist Spainball,

Spainball and finally, 

Franceball.
Nowadays, Andorraball became fully independent and safe and better than

Monacoball.
With the qualifications of
Czechiaball,

Montenegroball and

San Marinoball in recent years, Andorraball is the only country that cannot into the Eurovision Song Contest final (it decided it cannot into contest period due to bad results).
Friends
Enemies
Flag Colors
Flag Main Colors
Color Name
RGB
CMYK
HEX
International Klein Blue
0,24,168
C100-M82-Y0-K0
#0018A8
School Bus Yellow
254,223,0
C1-M14-Y94-K0
#FEDF00
Thunderbird
213, 43, 30
C7-M92-Y98-K1
#D52B1E
Emblem Colors
Color Name
RGB
CMYK
HEX
Pickled Bean
112,61,41
C29-M68-Y74-K47
#703D29
Sorrell Brown
199, 179, 127
C21-M27-Y53-K5
#C7B37F
Thunderbird
213, 43, 30
C7-M92-Y98-K1
#D52B1E
School Bus Yellow
254, 223, 0
C1-M14-Y94-K-0
#FEDF00
Science Blue
2, 100, 188
C95-M53-Y0-K0
#0264BC
White
255,255,255
N/A
#FFFFFF
Gallery

Related templates

Community content is available under
CC-BY-SA
unless otherwise noted.