←

27 February 1967 - Present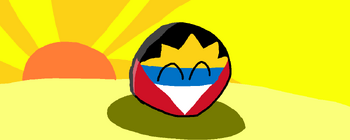 Relations and opinions
Enemies

Oh heck no
Likes
Obama
(I have a mountain named after him), the sun
Dislikes
People who dislike his flag, not being funny, hurricanes (especially Irma)
Is of importants
Antigua Antigua or Barbuda Barbuda,
Irma Irma
Food
Conch, Saltfish and fungi
Status
Recovering slowly from hurricanes.
Antigua and Barbudaball is a small island countryball located in the Caribbean. He is an important island in history but at the present time he is a tourist country that is not important that nobody attacks and few have importance, he is calm that aside from tourism also has fishing as a source of economy.
History
Antigua and Barbudaball, originally inhabited by

7ball, was firstly colonized by

Spanish Empireball. In 1632,

British Empireball took this colony making it

British Antiguaball. In 1981,

British Antiguaball gained independence. In 2017, Antigua and Barbudaball's clay was devastated by Hurricane Irma, Barbuda was rendered uninhabitable. However, Barbuda's population rose again to 100 in 2018.
Flag Colors
Main Colors + Sun
Color Name
RGB
CMYK
HEX
Lava Crimson
206, 17, 38
C9-M97-Y94-K1
#CE1126
White
255, 255, 255
N/A
#FFFFFF
True Blue
0, 114, 198
C92-M45-Y0-K0
#0072C6
Candlelight
252, 209, 22
C1-M22-Y92-K0
#FCD116
Black
0, 0, 0
C63-M52-Y51-K100
#000000
Gallery
SUN! Antigua and Barbuda
Parishes
Saint Georgeball • Saint Johnball ( Saint John'sball) • Saint Maryball • Saint Paulball • Saint Peterball •

Saint Philipball

Dependencies
Barbudaball • Redondaball
Former entities
7ball • Spanish West Indiesball • British Antiguaball
Caribbeans Nations and Dependencies
Sovereign countries
Antigua and Barbudaball (template) • Bahamasball (template) • Barbadosball (template) • Cubaball (template) • Dominicaball (template) • Dominican Republicball (template) • Grenadaball (template) • Haitiball (template) • Jamaicaball (template) • Saint Kitts and Nevisball (template) • Saint Luciaball (template)• Saint Vincent and the Grenadinesball (template) • Trinidad and Tobagoball (template)
Dependencies
Franceball: Guadeloupeball • Martiniqueball • Saint-Barthélemyball • Saint-Martinball

Netherlandsball: Arubaball • Bonaireball • Curaçaoball • Sababall • Sint Maartenball • Sint Eustatiusball

UKball: Anguillaball • Cayman Islandball • British Virgin Islandsball • Montserratball • Turks and Caicosball

USAball: United States Virgin Islandsball • Puerto Ricoball • Navassa Islandball •
Irrelevant Non Aligned Movementball
Africa
 Algeriaball •  Angolaball •  Beninball •  Botswanaball •  Burkina Fasoball •  Burundiball •  Cameroonball • Cabo Verdeball • CARball • The Chad Republic •  Comorosball • Congoball (DR) •  Djiboutiball •  Egyptball •  Equatorial Guineaball •  Eritreaball •  Ethiopiaball •  Gabonball •  Gambiaball •  Ghanaball •  Guineaball •  Guinea-Bissauball • Côte d'Ivoireball •  Kenyaball •  Lesothoball •  Liberiaball •  Libyaball •  Madagascarball •  Malawiball •  Maliball •  Mauritaniaball •  Mauritiusball •  Moroccoball •  Mozambiqueball •  Nigerball •  Nigeriaball • Congoball (R) •  Rwandaball •  São Tomé and Príncipeball •  Senegalball •  Seychellesball •  Sierra Leoneball •  Somaliaball •  South Africaball • North Sudanball •  Swazilandball •  Tanzaniaball •  Togoball •  Tunisiaball •  Ugandaball •  Zambiaball •  Zimbabweball
Americas
Antigua and Barbudaball •  Bahamasball •  Barbadosball •  Belizeball •  Boliviaball •  Chileball •  Colombiaball •  Cubaball •  Dominicaball • Dominican Republicball •  Ecuadorball •  Grenadaball •  Guatemalaball •  Guyanaball •  Haitiball •  Hondurasball •  Jamaicaball •  Nicaraguaball •  Panamaball •  Peruball • Saint Kitts and Nevisball • Saint Luciaball • Saint Vincent and the Grenadinesball •  Surinameball • Trinidad and Tobagoball •  Venezuelaball
Asia
 Azerbaijanball •  Bahrainball •  Bangladeshball •  Bhutanball •  Bruneiball •  Cambodiaball •  East Timorball •  Indiaball •  Indonesiaball •  Iranball •  Iraqball •  Jordanball •  Kuwaitball •  Laosball •  Lebanonball •  Maldivesball •  Malaysiaball •  Mongoliaball •  Myanmarball • NepalRawr •  North Koreaball •  Omanball •  Pakistanball •  Palestineball •  Philippinesball •  Qatarball •  Saudi Arabiaball •  Sri Lankaball •  Syriaball •  Thailandball • Tringapore • Turkmenistanball •  UAEball • Uzbekistanball •  Vietnamball •  Yemenball
Oceania
 Fijiball •  Papua New Guineaball •  Vanuatuball
Europe
 Belarusball
Observers
 Argentinaball •  Armeniaball • Bosnia and Herzegovinaball •  Brazilball •  Chinaball •  Costa Ricaball •  Croatiaball •  El Salvadorball • Kazakhbrick •  Kyrgyzstanball •  Mexicoball •  Montenegroball •  Paraguayball •  Serbiaball • Tajikistanball •  Ukraineball •  Uruguayball •  African Unionball •  Arab Leagueball •  OICball •  UNball
Former Members
 Cyprusball (1961-2004) •  Maltaball (1973-2004) •  North Yemenball (1961-1990) •  South Yemenball (1970-1990) •  Yugoslaviaball (1961-1992)