Ba'athist Iraqball or Iraqi Republicball (1968–1992) Republic of Iraq was

Iraqball between 1968 and 2003 and his leader is sad.
History
WIP
Relations
Friends
Neutral
North Koreaball - Used to be a good friend, we both admired each other, but then he supported this ugly theocrat in the war.
Syriaball - Puppet of the Ruski but he is Libyan Arab Jamahiriyaball's best freind and fellow Arab and my older cousin, he likes all kebab. My Ba'athisim is true! Still, what the fuck was that when you helped kick me out of Kuwaitball? And why did you support  Iranball against me? Thanks for at least opposing the 2003 invasion.
Enemies
Israelcube - Remove kosher Yuo son of infidel!!!! Free Palestine!!!!! I fired 42 Rockets on Yuo!!
How to draw
WIP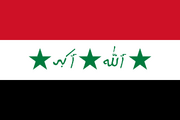 Gallery
Mesopotamian Republic of Anarchy Iraq
ENEMIES!
ISISball • Iraqi Kurdistanball
Governorates


الله أكبر

Al Anbarball • Al Diwaniyahball • Babilball • Baghdadball • Basraball • Dhi Qarball • Diyalaball • Dohukball • Erbilball • Halabjaball • Karbalaball • Kirkukball • Maysanball • Muthannaball • Najafball • Ninevehball • Saladinball • Sulaymaniyahball • Wasitball
Historical entities
Migrants from South • Sumerball • Babylonball • Assyriaball • Macedonball • Seleucidball • Parthiaball • SPQRball • Sassanidball • Rashidunball • Umayyadball • Abbasidball • Ilkhanateball • Jalayiridsball • Qara Qoyunluball • Aq Qoyunluball • Safavidball • Afsharidball • Ottomanball • Mandatory Iraqball • Kingdom of Iraqball • Ba'athist Iraqball
Community content is available under
CC-BY-SA
unless otherwise noted.