The Bahamasball is a countryball in the Caribbeans. He claims to be the place that Christopher Columbus discovered America, he likes to do crafts including baskets made of palm leaves, and often used voodoo dolls. His favorite animal is Crab. He is a popular tourist destination for

'Mericans who can't reach

Hawaiiball.
History
The Bahamasball was a

7ball, discovered by

Spanish Empireball. In the 17th century,

UKball adopted him and he become independent in 1973. During America's Revolutionary War, he invaded

Nassauball's clay and held it for two weeks and then left.
Nowadays,

Bahamasball is an island country of North America, which is a good place for holidays, and he's totally not deviant. He is was under a Hurricane called Dorian, and now he is flooded, and

Americaball is helping him.
Flag Colors
Main Colors
Color Name
RGB
CMYK
HEX
Teal-Cyan
0, 171, 201
C1-M.149-Y.211-K.211
#00ABC9
Black
0, 0, 0
C100-M100-Y100-K100
#000000
Banana Yellow
250, 224, 66
C0-M.104-Y.019-K.019
#FAE042
Gallery
Caribbeans Nations and Dependencies
Sovereign countries
Antigua and Barbudaball (template) • Bahamasball (template) • Barbadosball (template) • Cubaball (template) • Dominicaball (template) • Dominican Republicball (template) • Grenadaball (template) • Haitiball (template) • Jamaicaball (template) • Saint Kitts and Nevisball (template) • Saint Luciaball (template)• Saint Vincent and the Grenadinesball (template) • Trinidad and Tobagoball (template)
Dependencies
Franceball: Guadeloupeball • Martiniqueball • Saint-Barthélemyball • Saint-Martinball

Netherlandsball: Arubaball • Bonaireball • Curaçaoball • Sababall • Sint Maartenball • Sint Eustatiusball

UKball: Anguillaball • Cayman Islandball • British Virgin Islandsball • Montserratball • Turks and Caicosball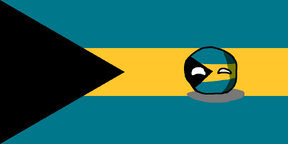 Community content is available under
CC-BY-SA
unless otherwise noted.