←

August 14, 1971 - Present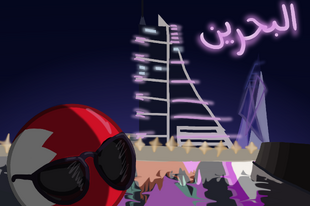 General information
Personality
Modest, humble, and lonely,Nice
Bahrainball, or Brainball, is raining and is a sheep the smallest countryball in the Middle East. Even though it is one of the smallest, it is also one of the most developed countryballs in the Middle East. Bahrainball is one of the only Middle Eastern countryballs that does not rely on oil as the staple thing is produced. Instead, its main source of income is the banking industry, because it is considered to be a tax haven. Bahrainball is plagued with internal conflict because the ruling family are

Sunni Muslims and the majority of its population are

Shia Muslims. So, there are a lot of protests and uprisings in it.
Bahrainball lots of times confused with

Qatarball. Can into pro cycling team, Team Bahrain-Merida. Can also into sounding like "brain".
Bahrainball is also a smallest Kebab along

Kuwaitball and

Djiboutiball
Flag Color
Main Colors
Color Name
RGB
CMYK
HEX
White
255, 255, 255
N/A
#FFFFFF
Lava Crimson
206, 17, 38
C9-M97-Y94-K1
#CE1126
Relationships
Friends
UAEball - Good friends. He and I can into rich! We can into with Saudi Arabia and Qatar.
Neutral
Enemies
Gallery
Community content is available under
CC-BY-SA
unless otherwise noted.