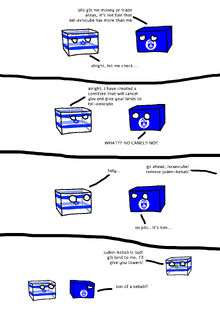 Bat Yamcube (הקוביה בת ים) is a citycube in Tel Aviv District of

Israelcube. Bat Yam was founded as Bayit-VaGancube to piss off

Tel-Avivcube and disconnect it. Bat-Yamcube also cannot into independence. Even today, Tel-Avivcube is trying to take over Bat-Yamcube and all of its property, using the kindness of their step-dad,

Israelcube.
Bat-Yamcube decided to connect with

Rishon LeZioncube so they will take over more lands and stop the big cube. When Israelcube found that out, he decided to divide between them, and now Bat-Yamcube has allied his frenemie,
Holoncube, to continue the struggle against the big cube. His name means 'Daughter of the ocean.'
Personality
Bat-Yamcube is kind and lovely to everybody, but he is mad at Tel-Avivcube and begging Israelcube for money and land.
In the early days, Bat-Yamcube symbolized the struggle against the big cube, creating a big brotherhood and sharing their seashore (while Tel-Avivcube builds towers on it).
Today, Bat-Yamcube is partly controlled by the juden-kebabs (former Mizrahim).
Bat-Yamcube might also be disguised as the god of sea.
Relationships
Allies
Tel Aviv Disctrict citycubes (exc. Tel-Avivcube, Givatayimcube and Ramat Gancube) - allies against the capital.
Petah-Tikwacube, Netanyacube, etc. - other power centers of the juden-kebabs.
Jerusalemcube - stay the biggest city!
Neutral
Israelcube - his step-dad since 1948. gives money and lands.
Egyptball - his uncle who had signed a peace treaty with Israelcube in 1979.
(Trans)Jordanball - his uncle who had signed a peace treaty with Israelcube in 1994.
Frenemies (Friendly rivals)
Holoncube - they're good allies, but they're both also jealous at each other - Holoncube is jealous because Bat-Yamcube has sea like Boliviaball on Peru, and Bat-Yamcube is jealous because Holoncube has more lands like Peruball on Bolivia. Ironically, They would be often called the Peru and Bolivia of the district.
Natural Enemies
Tel Avivcube - Bat-Yamcube was founded to piss him off and block his imperialist ambitions. Tel-Avivcube wants also to kill Bat-Yamcube and take its lands, using their step-dad's kindness, still without any success. Still. He also is Tel-Avivcube's archenemy! He said that Tel Aviv is Kebab
Kebabs (especially yafoball of Tel-Avivcube and including ALL of Tel-Avivcube's clay) - stupid kebabs want to destroy us, we will destroy them first!
A Brief History
>Tel-Avivcube became shitty
>Bayit-VaGancube was founded
>UKball deported everybody because of kebabs
>UKball allowed everyone to return
>Bayit-VaGancube evolved into Bat-Yamcube
>Kebabs from Yafoball attacked
>Bat-Yamcube was like "fuck you"
>Yafoball surrendered
>Tel-Avivcube gave lands from Yafoball
>Bat-Yamcube became even more shitty
>Lahiani came
>Bat-Yamcube because great and corrupted
>Tel-Avivcube wants to destroy Bat-Yamcube because of lands
>Israelcube creates a committee to kill Bat-Yamcube and give lands to Tel-Avivcube
The End... for now...
Oy Vey Israel
Districts
Haifacube • Jerusalemcube • Tel Avivcube • Central Districtcube • Northern Districtcube • Southern Districtcube
District capitals
Arielcube • Beershebacube • Haifacube • Jerusalemcube • Nazarethcube • Ramlacube • Tel Avivcube • West Jerusalemcube
Other cities


✡

Ashdodcube • Ashkeloncube • Bat Yamcube • Eilatcube • Givatayimcube • Holoncube • Modiincube • Netanyacube • Ramat Gancube • Tiberiascube
Former entities
4ball • Kingdom of Israelcube • Kingdom of Samariacube • Kingdom of Judahcube • Yehudcube • Herodiancube • Iudeaball • Byzantineball • Rashidunball • Umayyadball • Abbasidball • Fatimidball • Kingdom of Jerusalemball • Ayyubidball • Mamlukball • Ottoman Empireball ( Damascus Eyaletball • Mutasarrifate of Jerusalemcube) • British Palestinecube
Community content is available under
CC-BY-SA
unless otherwise noted.