←

4 October, 1830 - Present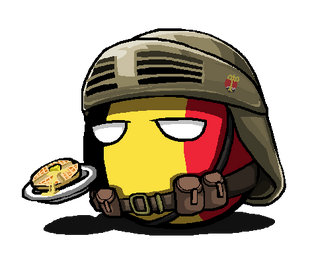 General information
Personality
Neutral, Kind, Caring, Friendly, Depressed & Misunderstood, Lonely, Psychopath
Relations and opinions
Friends

Almost all countryballs, but especially:

best friend

Franceball

Luxembourgball

UKball

USAball

EUball

Denmarkball

South Koreaball

Norwayball

Germanyball

Waffle Competition
Enemies
Likes
Cuisine, Chocolate, Waffles, Fries, Beer, Fine Arts, Hands, Fairs, Electronic Dance Music, Lords of Acid, Stromae, Soulwax, Jacques Brel, Hooverphonic, FL Studio (Music software app made in Belgium) Tintin, The Smurfs, Dr Evil, Sabaton, Catalonia, Dimitri Vegas & Like Mike, P90, Smith & Wesson, SCAR, Divinity: Original Sin, Stressmannetje (Hier, nen Euro), Bobby Santiago, FN Herstal, Cutting off hands hiehiehie...
Dislikes
They're not
french fries!
Being mistaken for

Germanyball
, Terrorism, Bad Weather, King Leopold II
Is of importants
Waffle Waffle / Tintin Tintin / hand hand
Food
Waffles, Chocolate, French Belgian fries(but USA pronounces like that), Brussels Sprouts, Waterzooi
Status
Belgium can now into female leadership (Sophie Wilmès)
Notes
You're in the wrong place
"
O dierbaar België, O heilig land der Vaad'ren,

Onze ziel en ons hart zijn u gewijd~

"
 

—

Belgiumball
Belgiumball, officially the Kingdom of Waffleball Belgiumball, is a sovereign state and federal constitutional monarchy in Western Europe. He borders

Franceball to the south,

Netherlandsball to the north, and

Germanyball and

Luxembourgball to the east. His clay is divided into 3 regions, the Dutch-speaking north region called

Flandersball, the French-speaking south region called

Walloniaball, and of course his capital

Brusselsball. With an area of about 30,689 square kilometers, Belgium lies in the 140th position in the largest countries in the world. As of 2021, it has a population of 11.62 million inhabitants. it is one of the most Densly populated countries in Europe with a density of 380.65 People/Sq Km (989 People/Sq Mi). The headquarters of

NATOball and

EUball are located in

Belgiumball's capital:

Brusselsball, that's why he bosses every countryball around a lot. On the other hand, he is also where the biggest rave party in the world, Tomorrowland, is held.
Since his birth, Belgium has tried to act as a very neutral and peaceful country, but instead, has been engrossed in almost every major war in Europe. Despite his troubled past. He quickly rose to become one of the leading powers of the industrialized European world and was one of the founding members of

NATO and

EU. Meaning that since day one Belgium has tried to keep a huge amount of affiliates close.
His birthday is on the 4th of October.
History
Ancient myths say

Belgiumball is descended from Belgicaball, a province of the ancient

Gaulball. At some point it's clay got conquered by

SPQRball. Many countryballs concurred the clay in the centuries afterward like

Spainball,

Austriaball,

Germanyball,

Franceball, and

Netherlandsball.
Belgiumball was born in 1830. His parents are

Franceball and United Kingdom of the Netherlandsball, this was before

Franceball got married to

Germanyball. His parents met when

Franceball took some of

Dutch Republicball's clay in 1795. After he changed his name to the

United Kingdom of the Netherlandsball (aka

Netherlandsball),

UKball helped deliver the child, and then secure its neutrality in 1839's Treaty of London.
The boy eventually grew up to follow in his parents' footsteps, eventually acquiring a slave colony of his own,

Congoball, in 1885 where his weird fetish for hands begins. It was also during this time, that Belgiumball developed his weird fetish for hands. He was eventually forced to abandon indulging it in 1908, under pressure from his guardian/mentor

UKball.
In 1914,

German Empireball tried to anschluss Belgiumball, but his guardian and uncle

UKball, as well as his estranged mother

Franceball, came to his rescue, and then eventually his distant cousin

USAball as well.

German Empireball was defeated in 1918, and his former clay in East Africa was divided between

UKball and Belgiumball. In 1933, however,

Weimar Republicball became

Nazi Germanyball and in 1940,

Nazi Germanyball raped and anschlussed him again, for 4 years this time, until his distant cousin

USAball came to his rescue once again in 1944.
After that traumatic experience, Belgiumball settled down into a peaceful lifestyle, and eventually gave

Democratic Republic of Congoball his independence in 1960. He was a founding member of both the

EU (1957) and

NATO (1948). Nowadays, the

EU (his half brother) has his base located in Belgiumball's clay. He tries to be as good a host as possible.
Since the end of World War II Belgiumball suffers a lot from his bipolar disorder. Doctors say he will die soon since his son

Flandersball wants to divorce

Walloniaball. They will maybe be their own state or Flandersball will go back to his dad Netherlandsball and Walloniaball will go back to his mom Franceball Since many votes have come back to annexation of Flandersball and Walloniaball. Upon that Belgiumball was assaulted by

ISISball on the 22nd of March, 2016, when it attacked

Brusselsball.
Personality
Belgiumball is generally a warm and cheerful ball but is known to have a split personality. Generally,

Belgiumball is seen as an innocent waffle and chocolate-lover that doesn't seem to do much wrong. He enjoys life with good food and drinks. He loves eating waffles, fries, and chocolate, and he likes drinking beer and literal hand shakes . He is a big fan of EDM and House music. He even organizes crazy rave parties to celebrate his love for EDM.

Belgiumball also loves sports such as Soccer, Tennis, and Cycling. His success in these sports does vary a lot though.

Belgiumball has a fascination for Renaissance and surrealist art and is also a huge comic-book nerd.
Belgiumball made "Smurfs" and "Tintin" and he extremely loves soccer. And he plays it well - he got the bronze medal in the 2018 World Cup in

Russiaball. His best clothes are ginnes.
Secretly

Belgiumball is extremely obsessed with (cut-off) hands. Some say he even took one out on a date once. This is due to his historic fetish for hands, derived from his created genocide of

The Congo Genocide. He's probably a nerd, but he enjoys life, but mostly bullied by ISISball. The

Democratic Republic of the Congoball never forgave him for his crimes like how

Armeniaball never forgave

Turkeyball.
Flag Colors
Color Name
RGB
CMYK
HEX
Black
0, 0, 0
C100-M100-Y100-K100
#000000
Banana Split
250, 224, 66
C1-M12-Y83-K0
#FAE042
Husky Red
237, 41, 57
C0-M90-Y80-K0
#ED2939
Relationships
Friends
Almost everyone but the more important ones:
Neutral
Enemies
Subdivisions
Regionballs and Provinceballs
Gallery
Community content is available under
CC-BY-SA
unless otherwise noted.