←

December 17, 1907 - Present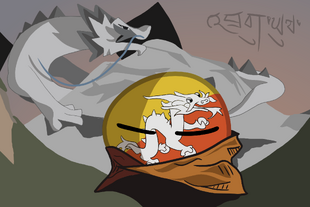 General information
Personality
Satisfied, happy, religious, Pacific, sleepy,
Relations and opinions
Friends

Indiaball

My dragon buddy!

USAball

Tibetball

Vietnamball

Uyghurball

Israelcube (since 2020)
Anyone who hates Chinaball
Enemies
anyone who forgets him (is a forgotten kingdom)

NepalRawr (not really)

Chinaball (for not letting Tibet be a country)

Pakistanball (for being bffs with China)

You Killed lots of my people just to make me a COLONY! (Anyways you are a stupid Empire)
Likes
Druk, meditation, fresh air, Buddhism, himalayan spirit, our royal family, castles, tourist tax for westerners, Ap Bokto
Dislikes
Nepalis
, Cigarette, being colonised,
Occupant
, Poacher, Lhotshampas, Being called India's 2nd "Canada"
Is of importants
Food
Red Rice, Chile, Momos
Status
Trying to stop COVID-19. Established diplomatic relationships with

Israelcube
.
Notes
We are not givings you water, Indiaball!
Bhutanball
, officially the
Kingdom of Bhutan
, is a happy
isolated and secretly genocidal
countryball in Southern Asia, whose clay borders on that of

Chinaball
and

Indiaball
. He is barely ever relevant, and the only country to remove tobacco and plastic bags. He is also the only country to have a negative amount of carbon dioxide. However, he is of strategic importance to

Indiaball
's security. He has a strange obsession with the
Thunder Dragon
. His language (Dzongkha) however, is infamous because only few people can speak them.
History
Bhutanball's early history is steeped in mythology and therefore hard to trace, but he is generally believed to be descended from

Mongoloidball. In the 1700s,

Tibetball and

Qing Chinaball both attempted to Anschluss his clay, but

Bhutanball managed to retain his independence. In the early 1800s,

UKball was a large influence on Bhutanball and

Nepalrawr and has since remained neutral in

Chinaball (which he also had clay disputes with) and

Indiaball's clay disputes. In 2008 he turned into a constitutional monarchy and modernized, he is now uncorrupt but extremely irrelevant. He once banned television and is horrible to get a visa for in most western countries.
2017 China–India border standoff
The China–India border standoff was from 6 June 2017 till 28 August 2017.

Chinaball wanted to build infrastructure through

Bhutanball which would gain its strategic and military influence into the north-eastern Indian stateballs such as

Arunachal Pradeshball.
There is a relatively thin geographic area between the Indian states of

Biharball and

West Bengalball on the west side and

Assamball on the east side. On the north side is

Bhutanball and on the south side is

Bangladeshball. So if

Chinaball builds infrastructure to that thin area then it could cut off

Indiaball's access and influence into its eastern states of

Assamball,

Meghalayaball and

Arunachal Pradeshball.
After a 2 month long standoff

Chinaball finally backed down. However,

Indiaball is still suspicious and improved its border security.

Indiaball is also concerned about

Chinaball's unfounded land grabs territorial claims to the Indian state of

Arunachal Pradeshball.
Personality
Bhutanball is known for being a pacifist, although he does not hesitate to defend himself if necessary. He is also fond of meditating, like his neighbor

Tibetball.
Flag Colors
Flag Main Colors
Color Name
RGB
CMYK
HEX
Deep Lemon
245, 199, 26
C0-M.164-Y0-K0
#FFD520
Dark Bright Orange
255, 78, 18
C0-M.694-Y0-K0
#FF4E12
Emblem Colors
Color Name
RGB
CMYK
HEX
White
255,255,255
N/A
#FFFFFF
Relationships
Friends
Neutral
Enemies
Gallery
Community content is available under
CC-BY-SA
unless otherwise noted.