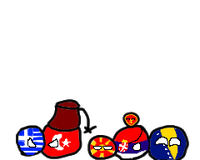 Bosnia and Herzegovinaball, is a Slavic country in Balkan Peninsula, which is in southeastern Europe. He is bordered by

Croatiaball to the North and West, the Mediterranean to the South,

Serbiaball to the East,

Montenegroball to the South and Southeast, and is located just north across the Mediterranean from

Italyball. The country is divided into two separate entities, being the

Federation of Bosnia and Herzegovinaball, and

Republika Srpskaball, giving him a total area of 19,741 square miles, making him the 125th largest country in the world. As of 2018, he has a population of about 3.502 million inhabitants.
History

Bosnia has a history full of wars and conflicts (you know how the Balkans go....)
At first, his father

Kingdom of Bosniaball was hiding in the mountains and nobody couldn't find him, so he created his kingdom and his own religion called "Church of Bosnia" (a.k.a. Bogomil) because

Catholics and

Orthodox were too boring. Later,

Ottomanball found where he lives and became an adoptive father to his little son, Bosniaball. Then he made him half kebab. After that

Austria-Hungaryball took Bosniaball from

Ottoman Empireball, he became his second adoptive father, but that made

Serbiaball angry so he started WWI. During WWII he was part of

Independent State of Croatiaball. At the end

Bosniaball was anchlussed by

Yugoslaviaball, but finally escaped together with

Croatiaball,

Sloveniaball and

Macedoniaball. 
1992
In 1992, his brother

Serbiaball (

SR Serbiaball at the time) and his son

Republic Srpskaball started hating him because he could into independence. His 

brother used

dad's army, and supplied his

son with weapons. When he became independent on March 1st,

Republic Srpskaball barricaded

Sarajevoball. Him and his son quickly started getting involved in street fighting. He had his paramilitary, the Zelene Beretke, and

Republic Srpskaball had his own paramilitaries. On the 4th of April, they invaded

Bijeljinaball and conquered it. Later, on the 9th of April they invaded Zvornik and conquered it. On the 5th of April they started shelling

Sarajevoball. The territory that

Republic Srpskaball occupied created a Bosniak enclave which contained towns such as: Goražde, Foča, Srebrenicaball and Žepa. Foča was conquered on the 28th of April. On the 2nd of May,

Serbiaball and

Republic Srpskaball started conquering

Sarajevoball. In October, he started a conflict against

Croatiaball and his son

Herzeg-Bosniaball. His son started conquering his clay, and his brother supplied him with weapons.

Bosniaball was in a bad situation, but luckily with good strategy and shipments from

NATOball and

Iranball,

Bosniaball won the war.

Serbiaball retired from the war after losing.
1993
In early January,

UNball made a plan on how to partition his clay into ethnic divisions. Everyone accepted the agreement (Croatiaball,

Herzeg-Bosniaball,

Bosnia and Herzegovinaball,

Republic Srpskaball and

Serbia and Montenegroball). However, when

Republic Srpskaball returned home in Pale, he changed his mind, although his dad told him to accept it.

Herzeg-Bosniaball started hurting me a lot. My own son betrayed me by cooperating with

Republic Srpskaball and

Herzeg-Bosniaball. My son was

AP Western Bosniaball.

NATOball and

Iranball helped him by fighting

Republic Srpskaball in the operation Deny Flight.
1994

Croatiaball and his son made peace with him by signing the Washington Agreement. When they made peace, they made their own federation (

Federation of Bosnia and Herzegovinaball) and we could now be focused on removing

Republic Srpskaball.

Denmarkball helped me with the operation Bøllebank and removed
Republic Srpskaball around

Tuzlaball. He removed his son, and

Republic Srpskaball wanted to reanimate him, but he was interrupted by him and

Croatiaball in 1995 by the operation Storm.
1995
He and

Croatiaball removed

Republic Srpskaball from western Bosnia.

Republic Srpskaball conquered Žepa and Srebrenicaball and commited a genocide against him there. After that,

NATOball started bombarding

Republic Srpskaball. He then conquered many towns in Bosnian Krajina. Then everyone started negotiating and the Dayton Agreement became a success and peace was brought back into his clay.
Appendices
Climate of Clay
According to the CIA World Factbook,

Bosnia and Herzegovinaball can into hot summers and cold winters (Isn't that what the seasons are meant to be?) Though, here's were things get interesting:

Bosnia and Herzegovinaball is primarly located on the Dinaric Alps (they're Dinaric, not to be confused with ordinary European alps like the ones along the border between  

Austriaball, 

Switzerlandball, and Italyball). Now, there's nothing weird about them except that they just happen to be on the way for the colder winds from the north and the warmer winds from the south (somehow, they never meet up in same time, so there are no tornadoes, which is good). But this unique trait leaves

Bosniaball with some very unique (and frustrating) issues, for instance:
When

Bosniaball is expecting New Year and winter holidays, Sirocco wind (or as Bosnians call it, jugo) anschlusses him from behind and melts all the snow down, leaving

Bosnia with spring-like weather in middle of January. Yet on another hand, in April and May, which is

Bosnia and Herzegovinaball's favorite time for some roštilj and pečenje (it's like BBQ), north winds burst the place with bunch of snow, rain and cold weather, leaving

Bosniaball to do all of its cooking at home. Oh and we're not finished yet, just to make things even more confusing, literally, over a night, the weather changes from -8 to +28 degrees on Celsius scale starting a long, unbearably hot summer, which often doesn't want to go until early October. It can be noted that

Bosnia and Herzegovinaball shares a similar weather problem with

Canadaball, which kinda makes them understand each other a little bit better.
Religion
Nowadays he is formed by three separate (kinda) entities:

Federation of Bosnia and Herzegovinaball,

Republika Srpskaball and

Brčko Districtball. Although he is often referred as fully

halal countryball, 31% of people are

Orthodox and 15%

Catholic.

Bosniaball is 51%

kebab, up from 42 percent in 1998 (Retake

kebab clay!).
Other Stuff
Serbiaball doesn't agree to the clay boundaries and wants more clay.
Of worst insult to Bosnia and Herzegovinaball is naming cheese pie as burek. Burek being only with meat.
Due to their durability, Bosnia and Herzegovinaball is a huge fan of Volkswagens, as they make around 1/3 out of its entire car population.
Flag Colors
Main Colors
Color Name
RGB
CMYK
HEX
Imperial Blue
0, 35, 149
C100-M77-Y0-K42
#002395
Philippine Yellow
254, 203, 0
C0-M20-Y100-K0
#FECB00
White
255, 255, 255
N/A
#FFFFFF
Relationships (Odnosi)
Every neighbor loves

Bosnia and Herzegovinaball because they make great ćevapi and burek, except

Serbiaball (they love their food tho).

Serbiaball wants to remove his own brother because he is half kebab.
Friends (Prijatelji)
Neutral (Neutralan)
Enemies (Neprijatelji)
Tokelauball - SMELLY FLAG STEALER JEBATI JE!I WAS THE FIRST TO CHANGINGS OF MY FLAG IN 1998 AND YUO STOLE MY FLAG IN 2007! You also of stealings my flag.
Serbia and Montenegroball- I'm glad you're dead, you were horrible. Never forget 1992
Israelcube - Stupid Zionist! Free Palestine!
WHITE NATIONALIST: JEBATI TE! YOU FUCK OFF FROM MY LAND! YOU ARE NOT ALLOWED TO ATTACK ANYMORE MOSQUES AFTER WHAT YOU DID TO CANADA AND NEW ZEALAND!
How to draw
Drawing

Bosnia and Herzegovinaball is moderately simple.
Draw a basic circle with blue
Draw a yellow triangle
Draw white stars next to yellow triangle
Add eyes and your done!
Gallery
Artwork
Comics
Links
c
Community content is available under
CC-BY-SA
unless otherwise noted.