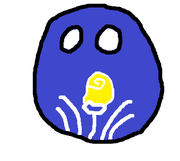 Bramptonball is a cityball in southern

Ontarioball, situated just north of Mississaugaball and west of Torontoball. He is the ninth-largest city in Canadaball.
Profile
Bramptonball was first incorporated as a villageball in 1853. He became a townball 20 years later and in 1974 a full-fledged cityball at the same time as his neighbour and friend Mississaugaball. He cannot into relevance.
Bramptonball is sometimes nicknamed "Browntownball", due to high amounts of kebab. He dislikes this and prefers to be nicknamed "Flower City", hence why he wears a yellow rose as its logo. He holds flower festivals since 1963 and often competes in the Communities in Bloom competition.
His minor league hockey team is called the Beast, an affiliate of Montrealball's Canadiens. He originally had an OHL team called the Batallion, but he gave it away to North Bayball.
Two major highways, the 410 and the 407, criss-cross through his clay. He also owns a hub for the VIA rail line, which runs between Windsorball and Quebec Cityball (his hub lies on the branch to Sarniaball, but it connects him to Windsorball via Londonball).
Community content is available under
CC-BY-SA
unless otherwise noted.