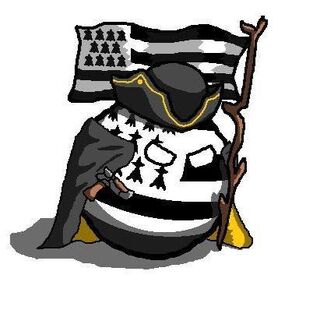 General information
Language

French,

Breton,

English (mostly),
Relations and opinions
Friends
Likes
Granit, talking about independence, rain, drinking, fest-noz, Nantes, Lancelot du Lac, elves,

aliens
Dislikes
Tourists, not having MON INDEPENDANCE!!!
Is of importants
Can into space?
I am a

6ball!!! I am trying to back into space like my other alien brethren stranded here on this rock!!!
brezhoneg / plouzh plouzh / ∆γγ LM∆θ ∆γγ LM∆θ /GIB MON INDEPENDANCE!!!
Status
Still trying to get Franceball to GIB MON INDEPENDANCE!!
Brittanyball
also known as
Bretagneball
 or 
Breizhball
, refers to itself as Breizh (Bretagne in Breton language), is a

6ball in disguise
black and white version of the

USAball
Celtic countryball attached to

Franceball
as one of its provinces. Brittannyball is also the brother of its evil twin,

Cornwallball
,

Walesball
,

Scotlandball
, and

Irelandball
. 
History

SPQRball called Brittanyball Armoricaball.
After SPQRball fell, many Britonballs settled Brittanyball in the 5th century. Brittanyball was finally consolidated in the 840s under Nominal in resistance to 

Franks. 
Brittanyball was heavily attacked by the 

Vikingball at the beginning of the 10th century. The kingdom lost its eastern territories.
Brittanyball helped

Normandyball invade

Englandball and received large estates there. Brittanyball was usually independent, often playing Englandball off Franceball.
The Bretonball War of Succession, resulted in a short period of total independence. However, Brittanyball lost the Mad War against

Franceball in 1488, mostly because of its internal divisions.
After the Mad War, Brittanyball married

Franceball in 1532.
In 1956, Brittany was legally reconstituted, however losing the territory of Nantesball, its more Latin province. Today, Brittanyball retains its cultural singularities. 
Character
Brittanyball has a short temper.
Brittanyball also has bagpipes!
Brittanyball loves mining salt.
Brittanyball used to enjoy switching off light houses likes its evil twin Cornwallball, heh heh, easy pickings!
Brittanyball loves insulting Englishball tourists, heh heh!
Brittanyball used to enjoy sniffing mushrooms and building menhirs.
Brittanyball loves to take his flag everywhere. He often accuses USAball of stealing his flag since both the Stars and Stripes and the Gwenn ha Du look so similar. Also is often accused himself of being the black and white version of USAball on TV.
Relationships
Gallery
Community content is available under
CC-BY-SA
unless otherwise noted.