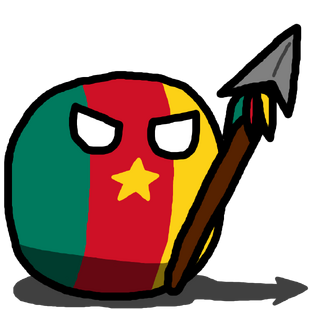 General information
Government

Unitary dominant-party semi-presidential constitutional republic under an authoritarian leader
Status
I can into winning football cup !!! (You hear that, Egypt?)
Women's National Team eliminated of the World Cup (Feminine edition).
Men's National Team playing in the Africa Cup of Nations
"
Kamerun stronk! Germany is my buddy!
"
 
Cameroonball is a countryball in Central Africa. He is known to be "Minimized Africa" because he has sea, mountains, tropical forests, and Sahel deserts in the North. His surname is Diaz. 

He one of the only two african countryball that doesn't recognize

Palestineball.
History

Cameroonball was originally as an

8ball and after this, a

Bantuball.

German Empireball "discovered" and adopted him in 1884. When they lost in WWI,

Cameroonball passed to

Franceball's government, while the western parts of him went to the UKball.
Now,

Cameroonball is an independent African countryball since 1960, with the southern British Cameroonsballs joining him the next year. He has had the same leader since 1982.
Flag Colors
Color Name
RGB
CMYK
HEX
Tropical Rain Forest
0, 122, 94
C100-M0-Y23-K52
#007A5E
Philippine Red
206, 17, 38
C0-M92-Y82-K19
#CE1126
Metallic Yellow
252, 209, 22
C0-M17-Y91-K1
#FCD116
Relations
Friends
Enemies
How to draw
Cameroonball is simple to draw:
Divide the basic circle shape into three vertical stripes.
Color them of this green, this red and this yellow
Draw in the red stripe, a yellow star
Draw the eyes and you've finished.
Gallery

Related templates

Second British Empire Commonwealth of Nationsball
Founders
UKball
Africa


Botswanaball • Cameroonball • Eswatiniball • Gambiaball • Ghanaball • Kenyaball • Lesothoball • Malawiball • Mauritiusball • Mozambiqueball • Namibiaball • Nigeriaball • Rwandaball • Seychellesball • Sierra Leoneball • South Africaball • Tanzaniaball • Ugandaball • Zambiaball
Asia
Bangladeshball • Bruneiball • Indiaball • Malaysiaball • Pakistanball • Sri Lankaball • Tringapore
Europe
Cyprusball • Maltaball
North America
Antigua and Barbudaball • Bahamasball • Barbadosball • Belizeball • Canadaball • Dominicaball • Grenadaball •

Jamaica • Saint Kitts and Nevisball • Saint Luciaball • Saint Vincent and the Grenadinesball • Trinidad and Tobagoball

Oceania
Australiaball • Fijiball • Kiribatiball • Nauruball • New Zealandball • Papua New Guineaball • Samoaball • Solomon Islandsball • Tongaball • Tuvaluball • Vanuatuball
Former members
Irelandball (1931-1949) • Maldivesball (1965-2016) • Zimbabweball (1980-2003)
Community content is available under
CC-BY-SA
unless otherwise noted.