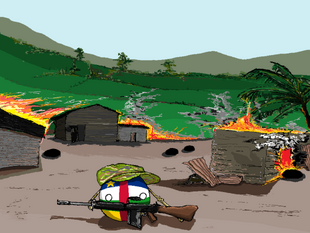 General information
Personality
Car Personality Multiple Personality Disorder
Relations and opinions
Friends

South Sudanball
(Sometimes)


Manufac
turers

Refueling Station!

Democratic Republic of Congoball

Chadball

Somalilandball

Franceball

Western Saharaball

South Africaball

South Koreaball

Armeniaball

Moroccoball (since 2020)
Enemies
Dislikes
civil wars, kebab, rebels, federalists, Anti-balaka, Séléka
Is of importants
Can into space?
Maybe? But can into road
Beep Beep/Vroom Vroom/car car
The
Central African Republicball
or the 
CARball
is
carball
a
n automobile that other African clays use
countryball from Central Africa. Currently, he's suffering from a conflict involving a bunch of
Sélékaball
. Central African Republicball is also the
poorest
,
2nd least happiest
, and
2nd least developed
country in

Africa and the world (

Nigerball
beats

CARball in the latter two). Its HDI is 0.352 as of 2016. Central African Republicball can into being a car, because of his abbreviation, CAR.
History
CARball is a descendant of the

Bantuball. He gained freedom from his mother and colonist,

Franceball, back in 1960 when all other African countries were doing it. Surprisingly,

Japanball (8/13/1960) and

South Koreaball (9/5/1963) are the first Asian countryballs to recognize the CAR. Sadly, the Central African Republicball cannot into lasting a day or two without a coup or a war. He lives in extreme poverty and half of this population is dependent on foreign aid. He currently has a civil war.
How to draw
Draw CARball is as follows:
Divide the basic circle shape into four horizontal stripes
Color them of this blue, white, this green and this yellow
Draw a thick vertical red stripe on all the stripes.
Draw a yellow star in the left blue part
Draw the eyes and you've finished.
Relations (bungbi)
Friends (kamarade)
Neutral (na yâ)
Chadball - He is my friend but YOU ARE THE WORST KEBAB EVER!   
 USAball -  he is kind of a good friend but why did you hate my friend chad?? but i like your car a lot
Enemies (Nzapa)
Somaliaball - Evil Pirate Kebab in which has a lower HDI than me and everyone else in the world. HON HON HON! Also free my Friend!
Saudi Arabiaball - WAHHABI PIGHOG!
Polisario - Im sorry m8 but i realised that u are the terrorist and not Morocco, YOUR PART OF MAROC (true story)
Gallery
Artwork
Comics
Community content is available under
CC-BY-SA
unless otherwise noted.