The contents of this page are subject to change.
Recent things have happened to Chadball, so it is subject to change. You can help edit to add the new information too! Alternatively, if the page is locked, visit the talk page to add recent information that it should have.
←

11 August 1960 - Present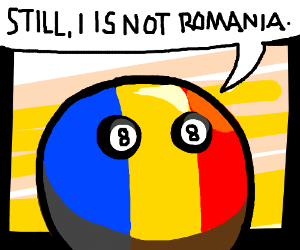 General information
Personality
Alpha male, c̶h̶a̶d̶ ̶l̶i̶k̶e̶
Is of importants
Can into space?
No, but can into the Chad stride
Sahel Sahel / Stride Stride
Food
Boule, Kisra, Millet Pancakes, Aiyash (Fried balls), Daraba, Esh
Status
President Idriss Déby who won his 6th term is now dead after a 30 year reign. He was killed in battle via gunshot wounds fighting against FACT rebels in Northern Chad. The Constitution, Parliament, and government suspended and dissolved. A Transitional Military Council led by Deby's son Mahamat will rule for 18 months until elections.
Notes
I'M NOT

ROMANIABALL
! AND ALSO THAT STUPID PANDEMIC MADE ME SICK!!! EVEN WORST THAN VIRGINS, TERRORISM, AND OTHER THINGS COMBINED.
"
I'm not of Romania
"
 

—

Chadball
Chadball, officially The G̶i̶g̶a̶c̶h̶a̶d̶ Republic of Romaniaball Chadball, has lost its eyes and replaced with 8 symbol billiard balls is a meme head everywhere landlocked country in Central Africa. It is bordered by

Libyaball to the north,

Sudanball to the east, the

Central African Republicball to the south,

Cameroonball and

Nigeriaball to the southwest, and

Nigerball to the west. He is the fifth-largest countryball in Africa and the second-largest in Central Africa in terms of area. and the 20th Largest Country in the world at 1,284,000 Square kilometers (496,000 Square Miles) as of 2020 chad has a population of 16,514,982 People making him the 72nd most populated country in the world. He cannot into

Romaniaball, its eyes can be replaced with

8balls to represent their differences. He will one day into

anschluss

USVIball and his

equally virgin cousin. He can into relevance thanks to a meme.
He is a member of the Nilo-Saharan family (maybe, it's unknown if Nilo-Saharan is even real), his brother is

Nigerball.
History

Chadball born as an

8ball adopted by

Islamball. In 1891, he was adopted by

Franceball (as French Chadball) and invaded by

Libyaball in 1975.
Nowadays, Chadball is an African countryball fully independent since 1960.
Chad is fighting with extreme poverty, making it one of the worst countries with medical care.
Chad has a flag that almost identical to Romania's one, so everyone always miscalled Chad with Romania and vice versa until he really unprofessionally took his eyes out and replaced them with bionic 8balls made by

Franceball as a goodbye gift.
Recently, his president died on April 20, 2021 while commanding troops against rebels. He was fatally shot and a transitional state has been made, causing more political violence.
Flag Colors
Color Name
RGB
CMYK
HEX
Cool Black
0, 38, 100
C100-M62-Y0-K61
#002664
Philippine Yellow
254, 203, 0
C0-M20-Y100-K0
#FECB00
Red (NCS)
198, 12, 48
C0-M94-Y76-K22
#C60C30
Relationships/Des relations (العلاقات/alealaqat)
Friends/copains/(اصحاب/'ashab)
Enemies/Virgins/Enemies (الأعداء/al'aeda')
How to draw
Chadball is too similar to

Romaniaball (Chadball's blue is a little bit darker than Romaniaball) so Polandballers give him an exception (3rd point):
Divide the basic circle shape into three vertical stripes
Color them of this blue, this yellow and this red
Draw two 8ball eyes.
Gallery

Related templates

Saharan Gypsy Republic of Romania Chad
Regions
N'Djamena Regionball ( N'Djamenaball) •

Bathaball

• Chari-Baguirmiball • Hadjer-Lamisball • Wadi Firaball • Bahr El Gazelball • Borkouball • Ennedi-Estball • Ennedi-Ouestball • Guéraball •

Kanemball

• Lacball • Logone Occidentalball • Logone Orientalball • Mandoulball • Mayo-Kebbi Estball • Mayo-Kebbi Ouestball • Moyen-Chariball • Ouaddaïball • Salamatball •

Silaball

•

Tandjiléball

• Tibestiball
Historical entities
Migrants from East that became Natives • Kanem Empireball • Wadai Empireball • French Chadball • French Equatorial Africaball
Irrelevant Non Aligned Movementball
Africa
 Algeriaball •  Angolaball •  Beninball •  Botswanaball •  Burkina Fasoball •  Burundiball •  Cameroonball • Cabo Verdeball • CARball • The Chad Republic •  Comorosball • Congoball (DR) •  Djiboutiball •  Egyptball •  Equatorial Guineaball •  Eritreaball •  Ethiopiaball •  Gabonball •  Gambiaball •  Ghanaball •  Guineaball •  Guinea-Bissauball • Côte d'Ivoireball •  Kenyaball •  Lesothoball •  Liberiaball •  Libyaball •  Madagascarball •  Malawiball •  Maliball •  Mauritaniaball •  Mauritiusball •  Moroccoball •  Mozambiqueball •  Nigerball •  Nigeriaball • Congoball (R) •  Rwandaball •  São Tomé and Príncipeball •  Senegalball •  Seychellesball •  Sierra Leoneball •  Somaliaball •  South Africaball • North Sudanball •  Swazilandball •  Tanzaniaball •  Togoball •  Tunisiaball •  Ugandaball •  Zambiaball •  Zimbabweball
Americas
Antigua and Barbudaball •  Bahamasball •  Barbadosball •  Belizeball •  Boliviaball •  Chileball •  Colombiaball •  Cubaball •  Dominicaball • Dominican Republicball •  Ecuadorball •  Grenadaball •  Guatemalaball •  Guyanaball •  Haitiball •  Hondurasball •  Jamaicaball •  Nicaraguaball •  Panamaball •  Peruball • Saint Kitts and Nevisball • Saint Luciaball • Saint Vincent and the Grenadinesball •  Surinameball • Trinidad and Tobagoball •  Venezuelaball
Asia
 Azerbaijanball •  Bahrainball •  Bangladeshball •  Bhutanball •  Bruneiball •  Cambodiaball •  East Timorball •  Indiaball •  Indonesiaball •  Iranball •  Iraqball •  Jordanball •  Kuwaitball •  Laosball •  Lebanonball •  Maldivesball •  Malaysiaball •  Mongoliaball •  Myanmarball • NepalRawr •  North Koreaball •  Omanball •  Pakistanball •  Palestineball •  Philippinesball •  Qatarball •  Saudi Arabiaball •  Sri Lankaball •  Syriaball •  Thailandball • Tringapore • Turkmenistanball •  UAEball • Uzbekistanball •  Vietnamball •  Yemenball
Oceania
 Fijiball •  Papua New Guineaball •  Vanuatuball
Europe
 Belarusball
Observers
 Argentinaball •  Armeniaball • Bosnia and Herzegovinaball •  Brazilball •  Chinaball •  Costa Ricaball •  Croatiaball •  El Salvadorball • Kazakhbrick •  Kyrgyzstanball •  Mexicoball •  Montenegroball •  Paraguayball •  Serbiaball • Tajikistanball •  Ukraineball •  Uruguayball •  African Unionball •  Arab Leagueball •  OICball •  UNball
Former Members
 Cyprusball (1961-2004) •  Maltaball (1973-2004) •  North Yemenball (1961-1990) •  South Yemenball (1970-1990) •  Yugoslaviaball (1961-1992)