"
¡Oh, gloria inmarcesible!

¡Oh, júbilo inmortal! En surcos de dolores, el bien germina ya!

Cesó la horrible noche. La libertad sublime derrama las auroras de su invencible luz. La humanidad entera, que entre cadenas gime, comprende las palabras del que murió en La Cruz

"
 

— Colombian anthem
Colombiaball, officially the Republic of Colombiaball, is a countryball located in north-west South America. Its clay borders

Venezuelaball and

Brazilball to the East,

Ecuadorball and

Peruball to the South, and

Panamaball to the West. The country is divided into 32 departments, including the capital

Bogotáball which acts as it's own separate department, giving it a total area of 440,831 square miles, making it the 25th largest country in the world. As of 2018, it has a population of 49.46 million inhabitants.
Being a Spanish Speaking country in western South America already gives Colombia the advantage to join,

OASball, Pacific Allianceball, and

UNASURball, as well as being a

UN member like almost any other country. It also maintains good relations with

USAball with taking care of

Venezuelaball, making it a

Non-NATO ally.
Colombia is often seen as that one neighbor in Latin America who always tries to be nice and develop, but always gets into conflicts, especially with his sibling Venezuela. It is currently dealing with drug wars, skirmishes, and now a refugee crisis due to the large amounts of Venezuelans fleeing the country. Despite all these problems, it still tries to move forward with developing and defense, which makes it both a middle and regional power in the Americas. Some say he may be an emerging power (Not a potential superpower).
Its national day is July 20th, and its astrological sign is Cancer.
Adios amigos y gracias por ver mi historia. It can into Nobel Peace Prize in 2016.
Even if the character doesn't have an exact gender (like all the characters in the Polandball universe) it's name is a female noun in the native language of the country (​​​​​

Spanish).
Flag Colors
Relationships
Friends
Neutral
Enemies
​ ISISball - NOBODY LOVES YOU STOP TERRORIZING PEOPLE!!!
​ FARCball -  GET THE FUCK OUT OF AMERICAS YOU STUPID COMMIE !!! FLAG STEALER!
AUCball - PARACOS HIJOS DE PUTA!!! YOU KILLED MORE THAN 94,000 COLOMBIAN COMPATRIOTS, IN ADDITION TO HELPING THE DRUG TRAFFICKERS!!!
Drug traffickers - THEIR MAFIAS ARE RUINING COLOMBIA! REMOVER DRUGS!

Pablo Escobar - The worst drug trafficker in the history of Colombia.

Nicaraguaball - Evil Illuminati commie.
Venezuelaball - Evil ´´Communist´´ Bolivarian Brother! AREPAS ARE MY INVENTION HUEVON! STOP SUPPORTING FARC TERRORISTAS !!! USA WILL REMOVE YOU FOOLISH COMMIE BUTTHOLE!!!!!!(You forgot that I'm pretty much helping your people hermano) REMOVE MADURO AND REMOVE BOLIVARIANISM. FLAG STEALER! 
Polandball - REMEMBER 2018!?!? HAHA 0-3?!? I DEFEAT YOU STUPID KURWA!!!! (Poland celebrates his 100th birthday in 2018.)
Senegalball - HAHA 0-1?!? I DEFEAT YOU!!!!
Japanball - FUCK YOU, 1-2 I will never forget! I WILL BANNED YOUR STUPID ANIMES ON MY CLAY! REMOVE!
Indonesiaball - No Entiendo. I tried to remove drug lords but he still thinks that I use drugs.
Texasball - The same thing I said to  Indonesiaball. And stop stealing my friend's flag.
Steve Harvey - Remember 2015? You are the reason why I lost to Pia Wurtzbach!
Germanyball - Pia Wurtzbach is of German descent! Also, you defeated my cousin in football! I remember 7-1! At least South Koreaball defeated you! Get rekt!
Corona Virus - OK WHAT THE ACTUAL FUCK I'M IN TOP 10 INFECTED. GO ROT.
Gallery
Artwork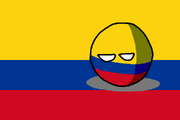 Comics

Related templates

Community content is available under
CC-BY-SA
unless otherwise noted.