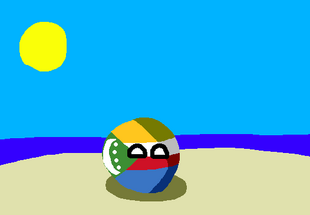 General information
Personality
Playful, serious, boring, angering easily, Islamic, salty
Status
Still in the fight on covid 19
Comorosball is a Muslim majority island countryball in Africa.
He is located at the west of Madagascarball and at the east of Mozambiqueball.
History
Inhabitation of the Comoros islands

Comorosball was born as an

8ball in the 6th century and later became a

Bantuball.
Discovery and Colonization of the Comoros islands
After 1505,

Kingdom of Portugalball,

Kingdom of Franceball, United Kingdom of the Netherlandsball and

UKball discovered and colonized him and his neighbours.
Present days
Nowadays,

Comorosball has been a fully independent countryball since 1975, yet for some reasons count

Mayotteball as their clay.
How to draw
Draw Comorosball is a bit difficult:
Draw a left green triangle in the basic circle shape
Divide the rest of the circle in four horizontal stripes
Color them of yellow, white, red and blue
Draw a white crescent with four stars in the triangle
Draw the eyes and you've finished
Relations (Mudjamaza)
Friends (Udjama)
Neutral
Enemies (Maanduyi)
Gallery
Quotes
"Gib Mayotte plox!"
"What?"
"Oui oui! Afrique be sh*t merde poo poo!"
"Honhonhonhon...Right?"
"Pls let me in group.."
"Of again?"
"Of hello, Namibia."
"Salam, Turkey."
"But I not Homosex"
"Ridicule!"
(All of the quotes were taken from the Gallery section)
Community content is available under
CC-BY-SA
unless otherwise noted.