This page requires sanitation.
This page needs more accurate, less vandalistic/biased information or better formatting, it would be much appreciated to help!
←

1902/1959 - Present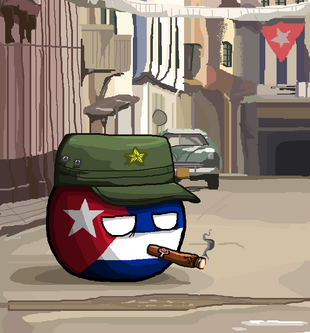 General information
Government
Personality
Neutral, revolutionary, badass, goddamn commie (according to USA), cool,CHILL
Is of importants
Can into space?
Not without

Soviet Unionball
Castro Castro / HAVANA UN NA NA
Food
Cubano Sandwich, Ropa vieja
Status
On vacation ,Still living the socialist life. Got a New President and ended the Castro Era.
"
¡Al combate, corred, bayameses!,

Que la patria os contempla orgullosa; No temáis una muerte gloriosa, Que morir por la patria es vivir.

"
 

— Himno de la Bayamesa

Cubaball, officially the Castroist Republic of Cubaball, is a cube countryball in the Caribbean islands. The country is divided into 15 provinces, and 1 Special Municipality, including his capital

Havanaball, giving it a total area of 42,426 square miles, making his the largest country in the Caribbean. With a population of 11.32 million as of 2021, Cuba ranks 82 in the most populous countries in the world.
Since her revolution, Cuba has been suspended from

OASball due to making links with

Soviet Unionball. However, it does maintain membership in

UNball like almost every other nation in the world, and is a founding member of

ALBAball.
Much like other socialist/communistballs, it does not do so well in regards to political or economic freedom. However,

Cubaball can into having a high human development index, unlike his fellow counterparts. Despite the trade embargo placed on him by

USAball, it has done well in regards to education and health - even becoming the first to eradicate mother to child transmission of HIV and syphilis in 2015.
Its national day can be either October 10 for when he declared independence from

Spainball, or July 26, when it had his revolution.
The most popular way to represent Cubaball is with the countryball using a cigar and a military cap, which would be a reference to the late Fidel Castro, the country's former president.
History

Cubaball was a colony of

Spainball, her mother until 1902 when

USAball decided he didn't like Spainball growing sugar cane near his clay. So

USAball invaded

Cuba and made him a puppet to support capitalist American ideals. Then in 1959, he said capitalism was bad and said "FUCK CAPITALISM" and moved out of

USAball's house into

Soviet Unionball's home.

Soviet Unionball then gave

Cubaball some free nukes to scare away American invaders which pissed off

USAball and 54 years later they became friends again.
Shortly afterward, USAball started feeling wrong in the head when She went to Cubaball's clay, so he then said that Cuba is somehow damaging him brain with special technology, and now they are enemies again. Canadaball, despite being friends with Cuba for a long time, later said he had the same problem. Now, thanks to some science fiction, Cuba's only friends are the Bolivarian Alliance for the Americas, but many countries in said alliance are as troubled as her. Cubaball is also very sad over Fidel Castro's passing in 2016.
Raul Castro has recently stepped down as first secretary of the communist party.
Flag Colors
The flag of Cuba has five stripes each alternating between blue and white and a red equilateral triangle on the left side with a five-pointed star. Some might argue that Cuba's flag was inspired by

USAball's flag, but others believe it to be an idea from Narciso López, one of the main liberators of Cuba from Spain.
Color Name
RGB
CMYK
HEX
Air Force Blue
0, 42, 143
C100-M71-Y0-K44
#002A8F
White
255, 255, 255
N/A
#FFFFFF
Philippine Red
207, 20, 43
C0-M90-Y79-K19
#CF142B
The blue stripes refer to the 3 old divisions of the island, the two white stripes represent strength and purity of ideas, and the red triangle stands for equality, fraternity, and freedom, as well as the blood of those who fought in the wars.
Relationships
Friends
Neutrals
Enemies
Gallery

Related templates

VIVA LA REVOLUCIÓN! Republic of Cuba
Provinces
Artemisaball • Camagüeyball • Ciego de Ávilaball • Cienfuegosball • Granmaball • Guantánamoball • Holguínball • Isla de la Juventudball • La Habanaball • Las Tunasball • Matanzasball • Mayabequeball • Pinar del Ríoball • Sancti Spíritusball • Santiago de Cubaball • Villa Claraball

★


Province Capitals
Artemisaball (city) • Bayamoball (city) • Camagüeyball (city) • Ciego de Ávilaball (city) • Cienfuegosball (city) • Guantánamoball (city) • Havanaball (Capital) • Las Tunasball (city) • Matanzasball (city) • Nueva Geronaball • Pinar del Ríoball (city) • San José de las Lajasball • Sancti Spíritusball (city) • Santa Clara (city) • Santiago de Cubaball (city)
Former entities
Ciboneyball • Taínoball • New Spainball ( Spanish Cubaball) • Kingdom of Spainball (1874–1931)
Caribbeans Nations and Dependencies
Sovereign countries
Antigua and Barbudaball (template) • Bahamasball (template) • Barbadosball (template) • Cubaball (template) • Dominicaball (template) • Dominican Republicball (template) • Grenadaball (template) • Haitiball (template) • Jamaicaball (template) • Saint Kitts and Nevisball (template) • Saint Luciaball (template)• Saint Vincent and the Grenadinesball (template) • Trinidad and Tobagoball (template)
Dependencies
Franceball: Guadeloupeball • Martiniqueball • Saint-Barthélemyball • Saint-Martinball

Netherlandsball: Arubaball • Bonaireball • Curaçaoball • Sababall • Sint Maartenball • Sint Eustatiusball

UKball: Anguillaball • Cayman Islandball • British Virgin Islandsball • Montserratball • Turks and Caicosball

USAball: United States Virgin Islandsball • Puerto Ricoball • Navassa Islandball •
Community content is available under
CC-BY-SA
unless otherwise noted.