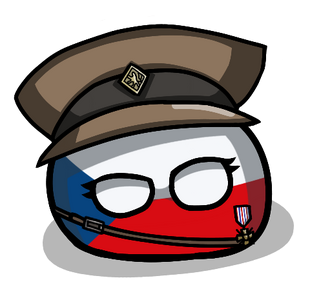 Capital

Pragueball
Affiliation
Is of importants
Can into space?
No one can't to space. (except Poland)
Status
Alive as Czech and Slovak states
Czechoslovak Republicball
is the byproduct countryball of splitting after WW1. It was annexed by

Nazi Germanyball
, but then was later
occupied
"liberated" by

Sovietball
.
History
Czechball and

Slovakiaball were born as

 2balls, later adopted by

Germaniaball, 

SPQRball, 

HREball, 

 𝙷𝚊𝚋𝚜𝚋𝚞𝚛𝚐𝚝𝚊𝚗𝚐𝚕𝚎, and 

Austria-Hungaryball.
They became independent as 
Czechoslovakiaball, but they also passed in a socialist phase before splitting.
Today he is part of
 Czechiaball and

Slovakiaball.
Czechoslovakiaball was formed in 1918 from leftover clay from

Austro-Hungarian Empireball. In 1978,
Czechoslovakiaball could into space! He gave birth to 2 twins,
Czechiaball and

Slovakiaball.
Czechiaball takings after
Czechoslovakiaball, violating the rule NOT to use Czechoslovak flag, while

Slovakiaball looks like a mutated version of

Russiaball, but with an eye patch. The split in 1993 is often called the most peaceful split in history and 
Czechiaball and 

Slovakiaball are friends to this day.
Gallery
Videos
Community content is available under
CC-BY-SA
unless otherwise noted.