←

1802 - 1945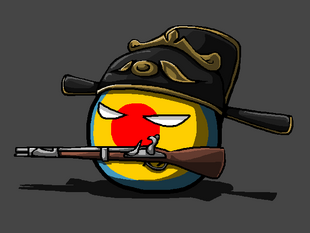 General information
Government
Absolute monarchy
Capital

Phú Xuânball
Religion
Neo-Confucianism, Buddhism
Dainamball
was
Vietnamball
from 1802–1945 (Nguyễn dynasty, a family that ruled Southern half of Vietnamball from 1558-1802). He was a "tributary state" of

Qingball
until in 1887 when he was taken by
Franceball
as a protectorate. Unlike other dynasty or his son, his relationship with
Chinaball
 was quite good
(despite the fact that he considered them barbaric).
History
Dainamball born as an 1ball. He passed in the hands of Xích Quỷball, Văn Langball, Âu Lạcball, Nam Việtball, Giao Chỉball, Lĩnh Namball, Giao Chỉball, Giao Châuball, Vạn Xuânball, Giao Châuball, An Namball, Trấn Namball, An Namball, Tĩnh Hải quânball, Đại Cồ Việtball, Đại Việtball, Đại Nguball, Giao Chỉball and Đại Việtball (again). After that, he becomed fully independent till Franceball killed him.
How to draw
Color the basic circle shape of yellow
Draw a blue border
Draw a littler red circle
Draw slant-eyes and you are finished.
Gallery
Links
 The Land of Flashbacks and Rice Farmers Socialist Republic of Việt Nam GENERAL, THEY ARE IN THE TREES! 
Municipalities
Cần Thơball • Da Nangball • Haiphongball • Hanoiball • Ho Chi Minh Cityball
Former entities


★

Migrants from North (Indochinese natives) • Hồng Bàngball • Kingdom of Funanball • Nanyueball • Champaball • Dai Vietball • Thục dynastyball • Triệu dynastyball • Ngôball • Đinh dynastyball • Lý dynastyball • Trần dynastyball • Hồ dynastyball • Lê dynastyball • Mạc dynastyball • Trịnh dynastyball • Tây Sơn Dynastyball • French Indochinaball • Nguyễn dynastyball • Empire of Vietnamball • Provisional Government of Vietnamball • • State of Vietnamball • North Vietnamball • South Vietnamball • Provisional Revolutionary Government of the Republic of South Vietnamball
Lao Predators People's Democratic Republic
Provinces


●

Attapeuball • Bokeoball • Bolikhamsaiball • Champasakball • Houaphanhball • Khammouaneball • Luang Namthaball • Luang Prabangball • Oudomxayeball • Phongsaliball • Sayaboulyball • Salavanball • Savannakhetball • Sekongball • Vientiane Provinceball ( Vientianeball) • Xieng Khouangball
Historical entities
Migrants from North • Kingdom of Funanball • Dvaravatiball • Kingdom of Chenlaball • Khmer Empireball • Longvekball • Kingdom of Lan Xangball • Kingdom of Luang Phrabangball • Kingdom of Vientianeball • Kingdom of Champasakball • Nguyễn dynastyball • Kingdom of Laosball • Rattanakosin Kingdomball • French Protectorate of Laosball • Japanese Laosball • Royal Lao Government in Exileball
Community content is available under
CC-BY-SA
unless otherwise noted.