Warning!
This article includes controversial themes within it! If this kind of thing offends you, it is reccommended you click off this page. When editing, be careful and wary of this.
This page requires sanitation.
This page needs more accurate, less vandalistic/biased information or better formatting, it would be much appreciated to help!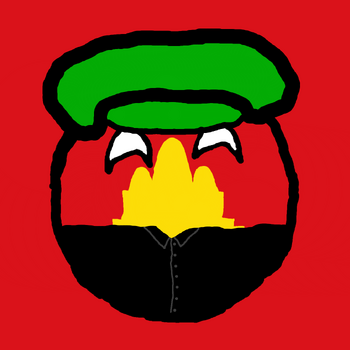 General information
Personality
Psychotic, Insane, Genocidal Maniac
Capital

Phnom Penhball
Relations and opinions
Friends

North Vietnamball

Provisional Revolutionary Government of the Republic of South Vietnamball


Vietnamball (until 1977, before his mass genocide)


Chinaball


North Koreaball


PSR Albaniaball


SR Romaniaball


Greenpeaceball


USAball (alleged)


CIAball

Enemies

PR Kampucheaball
Likes
Self-Determination, Agrarianism, CIA funds, Skulls, Torture Centers, the killing fields, the killing tree (Children had their heads smashed against this tree), genocide
Dislikes
Imperialism, Capitalism, Money, Glasses, Viets, religion
Is of importants
Can into space?
Not Yet (although the Khmer Rouge did have rocket elephants)
ជយោ ជយោ (cĕə'yoo cĕə'yoo), Kampu Kampu
Khmer Rougeball, or Democratic Kampuchea was the worst kurwa a historical

communist countryball and was

Cambodiaball from 1975 to 1979 when under Pol Pot. Democratic Kampuchea was the first nation to order a genocide against it's entire population, which combined with panic of zone leaders caused by

Vietnamball and the 

Soviet Unionball building up a massive army against Democratic Kampucheaball and taking drastic action to stop them, ended up with many Khmer dead, He allegedly to be supported by the

US to reduce

Vietnamball and

Soviet Unionball's influence. He continued to exist to exist in some form in opposition to PR Kampucheaball until the time of United Nations Transitional Authority in Cambodiaball and held the majority of international recognition during this time. His name is actually pronounced Kh-mai republic not kh-mer republic but ppl are too lazy to look it up.
Relationships:
Friends
Frenemies
USAball (When opposing Vietnam) - You know, I didn't like you for supporting capitalist dictator Khmer Republicball Even though I was Inspired by him to kill Viets, but then we have a common enemy, so we could work together, and thanks for not recognizing the Fakers.
Enemies
Gallery
☭ Communism - Work together to overthrow THE CAPITALIST PIGS capitalism! ☭
Revolution Still Burning!
(well, not anymore...)
Chinaball • Cubaball • Laosball • North Koreaball • Vietnamball • Tunceliball • Transnistriaball • Keralaball
The People's Legacy!
Paris Communeball • Strandzha Communeball • Soviet Unionball (Republics) • Soviet Republic of Naissaarball • Finnish Socialist Workers' Republicball • Odessa Soviet Republicball • Donetsk–Krivoy Rog Soviet Republicball • Taurida Soviet Republicball • People's State of Bavariaball • Alsace Soviet Republicball • Free Socialist Republic of Germanyball • Commune of the Working People of Estoniaball • Saxony Soviet Republicball • Latvian Socialist Soviet Republicball • Free Territoryball • Lithuanian–Byelorussian SSRball • Hungarian Soviet Republicball • Mughan Soviet Republicball • Bavarian Soviet Republicball •

Limerick Sovietball

• Crimean ASSRball • Bessarabian Soviet Socialist Republicball • Slovak Soviet Republicball • Soviet Republic of Gilanball • Galician SSRball • Mongolian People's Republicball • Communist-controlled Chinaball • Jiangxi-Fujian Sovietball • Guanghzou Sovietball • Anarchist Shinminball • Nghệ-Tĩnh Sovietball • Chinese Soviet Republicball • SR Chileball • PRG of the Republic of Chinaball • Asturian Socialist Republicball • Anarchist Aragonball • Revolutionary Cataloniaball • DR Finlandball • Yugoslaviaball • Provisional Democratic Governmentball • Second East Turkestan Republicball • PSR Albaniaball • PR Polandball • North Vietnamball • PR Koreaball • Azerbaijan People's Governmentball • Republic of Mahabadball • PR Bulgariaball • SR Romaniaball • Marquetalia Republicball • Czechoslovak Socialist Republicball • Hungarian People's Republicball • East Germanyball • Republic of Egyptball (1953-58) • United Arab Republicball • Socialist Burmaball • South Yemenball • Provisional Revolutionary Government of the Republic of South Vietnamball • Ba'athist Iraqball • Libyan Arab Jamahiriyaball • Algeriaball • Sudanball • Somali Democratic Republicball • PR Congoball • Dergball/ PDR Ethiopiaball • Democratic Kampucheaball/PR Kampucheaball • PR Mozambiqueball • Cape Verdeball • PR Angolaball • PR Beninball • DR Madagascarball • Seychellesball • DR Afghanistanball • PRG Grenadaball • Soviet Koreaball • Soviet occupied Germanyrawr
The People United!
Warsaw Pactball • Comeconball • Eastern Block
LONG LIVE COMMUNISM!