←

June 30, 1960 - Present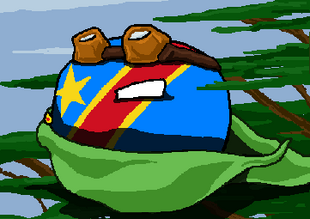 General information
Government
Personality
Very poor, unlucky, violent (sometimes), superstitious, clever
Is of importants
Can into space?
No (well, maybe in Mars)
Gorilla, gorilla or Leopard Leopard, Hon Hon Hon
Food
Fufu with okra and fish
Status
EBOLA SPREAD TO UGANDA AM SO SORRY!
Notes
Was the only African-Belgian colony that was NOT landlocked.
"
Pour la Congolexicomatization des lois du marché propres aux Congolais
"
 

— Eddy Malou
"Democratic" Republic of the Gorilla Congoball (or DR Congoball) a.k.a. Congo-Kinshasaball and formerly

Zaireball is an African countryball. He has very bad luck because he is one of the poorest countryballs and is very corrupt, and has very low HDI even if he has many resources on his clay (who create violent conflicts with his neighbours). He also has a few good luck, as he can into the only African country with more than 1 time zone. As of 2021, it has a population of 91.31 million inhabitants and grows very fast!
He is also a doctor, because of his initials (D.R) and can into intelligence and scientific theories lies
History
DR Congoball has a very long history. He is descendant of the

8ball and later the

Bantuball. He was part of the

Kingdom of Kongoball with his brother before the Waffle invasion. But we will begin when he was first a countryball.
He was first the

Congo Free Stateball, then

Belgiumball made him change to

Belgian Congoball. After gaining independence, he called himself the Democratic Republic of the Congo. But soon after a civil war rose and overthrew the democratic government and replaced it with a dictatorship lead by a man-call Mobutu. Mobutu installed cruel policies but was supported by the USA. Soon Mobutu renamed the countryball to

Zaireball. After the fall of communism in the 1990s, USAball called for the democratisation of Zaire. Since Mobutu was suffering from advanced prostate cancer, he was easily deposed.
After the genocide in
Rwandaball, a civil war involving 9 countries raged on for a while and made millions of victims before a new "democratic" government was installed. The countryball was renamed back to the Democratic Republic of the Congo, and a new constitution was made allowing for greater freedom. Although there were great reforms, DR Congo remains one of the poorest countries in the world. His clay has many resources like gold or coltan who are stolen by very violent armed groups who continue to kill and rape everyone in the region of

Nord-Kivuball.
DRC used to be run by Joseph Kaliba, who, well, let's just say he was corrupt. Now, things are looking to be better for the DRC, because they have a new president. It was the first peaceful power transfer in 60 years for the DRC.
Relationships
Friends/Neutral
Enemies
Gallery
Community content is available under
CC-BY-SA
unless otherwise noted.