"
Jeg elsker Lego!
"
 

— Denmarkball, expressing his love for Legos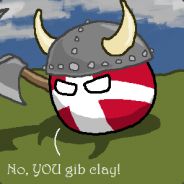 "
Once I was seven years old, My momma told me:"Go make yourself some friends or you'll be lonely." Once I was seven years old...
"
 

— Lukas Graham
Denmarkball, officially the Kingdom of Denmarkbrickball, is a happy

block of Lego

 countryball in Northern Europe. He borders only one country, that being

Germanyball to his south, although he is very close to the Southern tip of

Swedenball and is connected to

Swedenball's city of Malmöball with the Øresund Bridge. The country is divided into 5 regions, with the capital of

Copenhagenball located on Zealandball (Denmark), giving him a total area of 42 933 square kilometers (Not including

Faroe Islandsball and

Greenlandball), making him the 130th largest nation in the world. As of 2019, his population has about 5.806 million inhabitants. Being geographically in Europe, as well as being a Nordic, Westernized sovereign nation, gives Denmark the ability to join

EUball,

NATOball, and of course the

Nordic Councilball. He is also a member of 

UNball like almost every other nation in the world. Denmark is normally regarded as one of the happiest overall countries in the world. His citizens enjoy a high standard of living, fine education, great welfare, and protect human rights. He has one of the least corrupt governments in the world and is the fifth most developed in the world, even using new ways to develop less polluting energy sources, such as windmills. While he has a weak military, he keeps a large number of friends close with almost no need for self-defense. His national day is June 5th.
History
Ages ago, Denmarkball was another Vikingball pillaging Europe with his brother and sister,

Norwayball and

Swedenball. The bloodlust of Denmarkball was unmatched and as a result, Denmarkball found himself drawn into the multiple conflicts ravaging Europe. Unfortunately for Denmarkball, he did not always come out on top, and after a humiliating defeat against

Kingdom of Prussiaball and

Austriaball in 1864, Denmarkball's personality changed. Having little territory left to lose, Denmarkball sought a way of neutrality and strived to keep out of all conflicts. Magnus the Good was the ruler from the 1040s-1050s. At the time, Denmark had both Norway and itself. He divided it so Harald Hardrada ruled Norway and Sweyn Estridson ruled Denmark. They would be divided for some time. Denmark stayed out of the First World War successfully.
World War II
At the start of WWII, Denmarkball tried to maintain his neutral status. However, Denmarkball was swiftly invaded and occupied by

Nazi Germanyball during the Second World War following a few hours of symbolic fighting, as he knew the destruction he'd face if he'd resist. He collaborated with the Nazis for a while until he finally stepped down in 1943 as Nazi Germanyball declared martial law, screw you Tyskland. He was liberated when Nazi Germanyball capitulated in 1945.
Postwar Era
After the Second World War, Denmarkball decided to provide support to various peace-keeping missions around the world, with the most famous case being in

Bosniaball wherein he misused his mandate as a peace-keeping force and defended

Swedenball from

Srpskaball. In recent years, Denmarkball has rediscovered his bloodlust and was one of the countries that helped

USAball in

Afghanistanball and

Iraqball. While Denmarkball is proud of his Viking heritage, he manages to hide his actual bloodlust under a layer of alcoholism, under the fear that he may lose yet another war


which will happen very soon. However, Denmarkball often threatens to kick

Swedenball's butt if for no other reason than tradition. He is proud of his Legos and hates it whenever others like Minecraft better. He uses this to entertain kids everywhere, which is why he is the happiest country in the world, much unlike his son

Greenlandball who is heavily depressed. He has is own pig breed known as the protest pig which nearly resembles Denmark's flag.
Flag Colors
The Danish flag is the oldest consistently used flag in the world. The flag is a red banner with a white Scandinavian cross.
Main Colors
Color Name
RGB
CMYK
HEX
Red (NCS)
198, 12, 48
C0-M94-Y76-K22
#C60C30
White
255, 255, 255
N/A
#FFFFFF
Although the cross obviously symbolizes Christianity, the colors don't really have any sort of official meaning. Some people will say the white represents honesty and peace, and the red for valor, strength, and bravery.
Relationship
The Nordic family is a big family with many countryballs, some are brothers other are friends or cousins.
Friends (venner)
Neutral (Neutral)
Enemies (Fjender)
Coronavirus - I can't believe this monstrosity killed lots of my people! Thanks a lot you fake Lego producing commie!
Chinaball - DU KINESISK GRIS, HVORDAN TØR DU KOPIERE MIN VIDUNDERLIGE SKABELSE! HVIS DU GØR DET IGEN, JEG VIL DRÆBE DIG! Stop copy Lego or I will pillage and burn Shanghai You damn Dim Sum! And you have coronavirus! and i hate subway surf in my capital city and teghnology city and i make a chinese version Actually, we are friends because he likes my Legos so much that he copied them.
FASCIST ######## - U SON OF A ##### INVADE ME FOR 5 HOURS!!!!! EVEN RAPE MY BEST PAL!!!!! REMOVE HITLER! REMOVE STUPID BEER!!! 1940 WORST DAY OF MY LIFE!!!!
iSorrowproductions - Stop say I don't exist or I will bomb your house and kill you, you idiot!
South Africaball - He hates my prime minister.
Hungaryball - Why do yuo hate me? I did nothing to yuo. But yuo have a Lego factory.
Lil Pump - YOU ###### #######!!! YOU POSSESSED CANNABIS, THEN I ARRESTED YOU, AND YOU JUST LIVE-STREAMED YOURSELF GIVING POLICE A MIDDLE FINGER, WHICH IS A REASON I ####### BANNED YOU FROM MY CLAY!!! #### YOU, JUST #### YOU, I TOLD YOU #### YOU, NOW GO CRY BACK TO YOUR MAMA!!!
Trish Regan - You compared us to Venezuela
Gallery
Artwork
Comics
Videos

Related templates