Ecuadorball, officially the Republic of Ecuadorball is a corrupt and fucked up buffer state between

Peruball and

Colombiaball a countryball located in South America. His clay is bordered by

Colombiaball to the North,

Peruball to the South and East, and the Pacific to the West. The country is divided into 24 provinces, along with his capital

Quitoball, giving him a total area of 109,484 square miles, making him the 73rd largest country in the world. As of 2019, he maintains a population of about 17.15 million inhabitants.
Being geographically in South America gives Ecuador the ability to join

OASball. He used to maintain a membership in

ALBAball when he had his slightly anti-imperialist attitude, and he is currently a member of

UNball like almost every other country in the world.
His national day is August 10.
Even if the character doesn't have an exact gender (like all the characters in the Polandball universe) it's name is a male noun in the native language of the country (​​​​​

Spanish).
History
Way back before the Incas, Ecuador's clay was inhabited by many Native South American confederations. When the Incas arrived, they found that these confederations were so developed that it took the Incas two generations of rulers - Topa Inca Yupanqui and Huayna Capac - to absorb these confederations into the

Inca Empire. The native confederations that gave them the most problem were deported to faraway areas of

Peruball,

Boliviaball, and north

Argentinaball. Similarly, a number of loyal Inca subjects from Peru and Bolivia were brought to Ecuador to prevent rebellion. Thus, the region of highland

Ecuadorball became part of the Inca Empire in 1463 sharing the same language.
This was short-lived for the

Incaballs, however, because there was a civil war that weakened the Inca empire.
Then after that

Spainball came and raped

Incaball, took all of his gold and his silver. Bolívar helped the independence of

Colombiaball,

Ecuadorball,

Peruball and

Venezuelaball and created

Gran Colombiaball but shortly after it. In 1831, Gran Colombiaball died by dividing itself and created Ecuadorball.
Ecuadorball has lost territory with

Colombiaball,

Peruball and

Brazilball. Ecuador is mostly confused with the imaginary line around the earth named the equator. Ecuador loves everyone and everything but

Peruball, the destruction of nature, and being too small to fit in.
Flag Colors
Main Colors
Color Name
RGB
CMYK
HEX
Golden Yellow
255, 221, 0
C0-M13-Y100-K0
#FFDD00
USAFA Blue
3, 78, 162
C98-M52-Y0-K36
#034EA2
Red (Pigment)
237, 28, 36
C0-M88-Y85-K7
#ED1C24
Emblem Colors
Color Name
RGB
CMYK
HEX
Golden Yellow
255, 221, 0
C0-M13-Y100-K0
#FFDD00
USAFA Blue
3, 78, 162
C98-M52-Y0-K36
#034EA2
Red (Pigment)
237, 28, 36
C0-M88-Y85-K7
#ED1C24
Brown Coffee
69, 44, 37
C0-M36-Y46-K73
#452C25
Philippine Gold
184, 117, 16
C0-M36-Y91-K28
#B87510
La Salle Green
8, 111, 53
C93-M0-Y52-K56
#086F35
Relations
Friends
Neutral
UKball - Thanks for helping me in my war of independence, but still, GIB MONIES!!!!
Chinaball - Our new Asian dad. They gib us structures, loans of Yuan and Dollar! But why your ship destroying my bridge?!
Rafael Correa - Corrupt President who did some good things, but 2015 NEVER FORGET!!!!
Enemies
HIJOS DE PUTA (SONS OF A BITCH) Worst Enemies ever
Coronavirus - REMOVE THIS STUPID MOTHERFUCKING DISEASE LEAVE QUITO ALONE NOW!!!!!
Corrupt People - Yuo all crossed the line, yuo ALL ARE THE WORST GO FUCKING AWAY I HATE IT YUO MOTHERFUCKERS!!!!!!
Abdala Bucaram - Yuo have been the worst president of all Ecuador, yuo took monies from other people and left them poor, 1999 never FORGET YUO BAD PRESIDENT HAHA YUO STUCK YUO PUTO HOME.
Provinces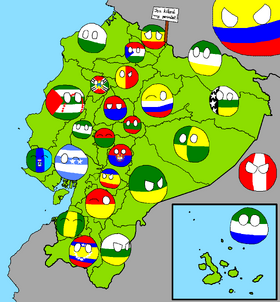 How to draw
Here's how to draw Ecuadorball:
1. Divide the basic circle shape into three horizontal stripes of this yellow, this blue, and this red
2. Draw the coat of arms of Ecuador in the centre
3. Draw the eyes and you have finished.
Gallery
External Links
-EcuadorBall Main Facebook Page [Spanish]
-EcuaBall [Another small community] Facebook Page [Spanish]

Related templates

Community content is available under
CC-BY-SA
unless otherwise noted.