←

December 6, 1917 - Present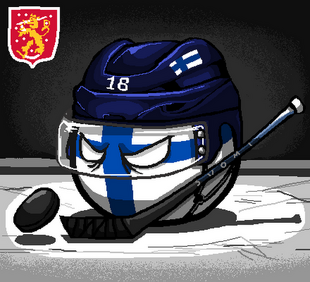 General information
Personality
Drunk, calm, apathetic, cold-liking
Is of importants
Can into space?
Yes, with Aaltoball! Can also into defeat

Soviet Unionball
in Suomussalmi, Perkele
Food
COFFEE, Vodka, beer, mämmi, karelian pasty (karjalanpiirakka), cheese, chocolate, Salmiakki,
Status
ROCK N' ROLL NEVER DIES!!! LUV U, ITALY! THANK YOU FOR 6TH PLACE (SECOND-HIGHEST RESULT EVER!!!).
"
Äänd here we goo!
"
 

— Lauri Vuohensilta
"
There aren't enough swear-words in the English language, so now I'll have to call you perkeleen vittupää just to express my disgust and frustration with this crap.
"
 

— Linus Torvalds
"
Perkele!
"
 

—

Finlandball's usual catchphrase
Finlandball, officially the Republic of Finlandball or Republic of Perkele Finlandball, is Darude a fictional sovereign stateball and a secret mongol puppet Nordic countryball located in Northern Europe. To the west he borders

Swedenball, as well as

Russiaball to the east and

Norwayball to the north. His clay is divided into 19 regionballs with an Autonomous Regionball, as well as his capital

Helsinkiball. With a total area of 338 440 square kilometers, Finlandball ranks 65 in largest countryballs in the world by area, as well as number 8 in Europe. As of 2019, he has a population of 5.521 million inhabitants. There are around 443 000 immigrants, most coming from Russiaball, Estoniaball, Iraqball, Swedenball, Somaliaball and Yugoslaviaball. He is notorious for creating Angry Birds.
He maintains membership in

EUball, as well as the

Nordic Councilball and

Arctic Councilball. However, he has rejected any membership offers from

NATOball and has decided to remain semi-neutral.
As the drunkest countryball in Europe, Finlandball does not have many friends. His adoptive brother is

Sweden, but he is of family. However, some consider his sister/wife

Estoniaball as his best friend, since she sells him cheap alcohol. Another reason nobody likes Finlandball is that he never talks, preferring small talk and he seems unapproachable.
His national day is December 6th.
History
Finlandball was born as a

1ball. Unlike the majority of Europe, Finlandball, along with Hungaryball and Estoniaball (as well as some parts of western Russiaball) were settled by mongoloid Uralic groups that came from the Ural mountains of Russiaball. For a while, Finlandball was isolated from the rest of Europe until Scandinavian Christians went through Finland in order to spread Christianity through the Northern Crusades. The Swedes successfully spread Christianity in Finlandball and Paganism died out there. Finlandball was then made a slave of

Swedenball, until 1809, when he became part of
Russian Empireball. In 1917 he gained independence, he descended into civil war between Finnish Whites and Finnish Reds for three months one year later, resulting in Finnish Whites victory. Then in 1939, he kicked

Soviet Unionball's butt for attempting to anschluss him during the Winter War, but was eventually pressured into giving up 10% of its clay to Sovietball by the war's end in 1940. A year later, the Continuation War broke out and Finlandball aligned itself with

Nazi Germanyball during Operation Barbarossa and reclaimed its lost clay, but would see its clay lost once again in 1944 after it was once again pressured into surrendering to USSRball due to there not being enough resources to continue the fight. Finlandball then fought Nazi Germanyball in the Lapland War and paid war reparations to avoid occupation and retained his independence.
Today, Finlandball still works as a drunken farmer, but somehow, he managed to do some worthy things. Most notably, he develops the famous video game, Angry Birds, and the "indestructible" Nokia cellphone that not even

Russian or

American nukes can destroy. Finlandball celebrated his 100th birthday on December 6th, 2017.
Flag Colors
The flag of Finland is a white banner with a blue Nordic cross
Color Name
RGB
CMYK
HEX
Catalina Blue
0, 53, 128
C100-M59-Y0-K50
#003580
White
255, 255, 255
N/A
#FFFFFF
Of course like all Nordic countries, the cross symbolises Christianity. Color-wise, some people say the white stands for the winter, while the blue stands for the many lakes and blue skies in Finland.
Relations/Suhteet
Friends/Ystävät
Neutral/Neutraali
Enemies/Viholliset
Gallery

Related templates

Perkele Republic of Finland Beat the living shit out of Commie during WWII
Regions

Ålandball • Central Finlandball • Central Ostrobothniaball • Kainuuball • Kymenlaaksoball • Laplandball • North Kareliaball • Northern Ostrobothniaball • Northern Savoniaball • Ostrobothniaball • Päijät-Hämeball • Pirkanmaaball • Satakuntaball • South Kareliaball • Southern Ostrobothniaball • Southern Savoniaball • Southwest Finlandball • Tavastia Properball • Uusimaaball

Finland
Cities
Helsinkiball • Mariehamnball • Poriball
Former entities
Migrants from East (Prehistoric Europeans) • Samiball • Swedish Empireball • Russian Empireball ( Grand Duchy of Finlandball) • Kingdom of Finlandball
Community content is available under
CC-BY-SA
unless otherwise noted.