The contents of this page are subject to change.
Recent things have happened to Greeceball, so it is subject to change. You can add the new information too! Alternatively, visit the talk page to add recent information that it should have.
"
Hence we will not say that the Greeks fought like Heroes but that Heroes fight like Greeks.
"
 

— Winston Churchill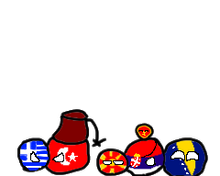 "
FREEDOM OR DEATH!
"
 

— Greek Motto
Debtball Greeceball, officially known as Hellenic Republicball and historically known as Hellasball is a poor country and Parliamentary Democratic Republic located in South-Eastern Europe. His clay is bordered by

 North Macedoniaball and

Bulgariaball to the North,

Albaniaball to the West, and

Turkeyball to the East. The country is divided into 13 regions and 1 Autonomous state, as well as his capital

Athensball located in the Southeast, giving him a total area of 50,949 squares miles, making him the 95th largest country in the world. As of 2018, he maintains a population of about 10.74 million inhabitants.
Being a highly westernized country in Southern Europe, having access to the Mediterranean already gives Greece the ability to join

EUball,

NATOball, and the

Union for the Mediterraneanball. Greece is also an observer of the

Danube Commission, as well as the

UNball like almost every other country in the world.
Greece is sometimes seen as the cradle and birthplace of European Civilization. Many things you see and use today in your everyday life has some sort of relation to Ancient Greece, such as the architecture, education like math and science, mythology, and democracy. He always misses his days of glory as the beating heart of Civilization, yet he also loves his friends and his allies.
His national day is February 3rd, and his astrological sign is Aquarius. He doesn't, however, celebrate that day and instead it's on March 25th.
History (Ιστορία)
In ancient times, Greeceball was heaven for philosophers, mathematicians, and other amazing accomplishments like the sculpting and architecture. He also invented the Olympics, democracy, and the Greek language. Famous

Spartaball came from Greeceball too and kick many
Persian ass. Greece was eventually conquered by

SPQRball, never to return to its former glory.
He then became

Byzantineball and ruled happily until

Ottomanball took over and destroyed his Empire in 1453. But after 368 years of kebab rule, he organized a revolution to take out Kebab and become Greeceball again! He still does not like that filthy kebab.
In 1940,

Italyball decided to try and steal some of Greeceball's clay. This resulted in the Greco-Italian War in which Greece kicked

Italyball's meatballs so hard that

Nazi Germanyball had to intervene. Despite fighting hard, Greeceball and its western allies, leading to the joint occupation of Greece between

Nazi Germanyball,

Bulgariaball and

Italyball. Greeceball was freed in 1944 when the allies removed the axis powers from its clay. Then there was a civil war of commies vs NATIONALISTS, nationalists won, saving Greek Orthodox Church.
Afterward in 1974, the KEBAB TAKE THE 30% OF CYPRUS FROM ME!!! that was so unfair since Cyprus is of GREECE not KEBAB. But I can say that it was the weak Greek Cypriot army that lose by the Kebab in all the battles, my army take place only in 5 battles who i win easily! and thanks to those battles, i save the rest 60% of my brother!
Greeceball later joined the

UNball and

EUball and payed off most of his debts. Greece also is a part of the alliance in NATOball.
Relations (Σχέσεις)
Friends (Φίλοι)
Neutral (ουδέτερο)
Enemies (εχθροί)
How to draw
Draw the circle body
Draw 5 blue and 4 white horizontical stripes
Add a blue square all the whay to the first  3 blue stripes
Add a white cross on that background
Add the eyes and you're finished
Flag Colors (Χρώματα σημαίας)
Main Colors (Κύρια Χρώματα)
Color Name
RGB
CMYK
HEX
Green-Blue
13, 94, 175
C93-M46-Y0-K31
#0D5EAF
White
255, 255, 255
N/A
#FFFFFF
Quotes (Ατάκες)
"Aera! (Αέρα!)"
"Opa (Όπα)!"
"Remove kebab! (Αφαιρέστε το κεμπάπ!)"
"Germoney, yuo of so Nazi (Γερμανία είσαι τόσο Ναζί)!!!"
"NOT MACEDONIA IT'S SKOPJE." (Όχι Μακεδονία, είναΙ Σκόπια.)
"oxi (Όχι)" mean "no", he says this when Germoneyball asks for debts paying. Or when someone say "Slav Macedonia is real Macedonia"
"Η Ελλάδα ποτέ δεν πεθαίνει (Greece never dies)"
ΕΛΕΥΘΕΡΊΑ Η ΘΆΝΑΤΟΣ ( Freedom or Death)
Gallery (Συλλογή)
Artwork (Έργα Τέχνης)
Comics (Κόμικ)
Videos (Βίντεο)
Links (Συνδέσεις)

Related templates

Community content is available under
CC-BY-SA
unless otherwise noted.