←
September 15, 1821 - Present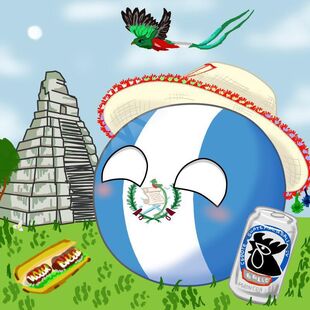 General information
Personality
She has a very happy and fun personality, often tells a lot of jokes... but she is stressed.
Relations and opinions
Friends
Enemies
Likes
Textiles, Tidy Clay, marimba, idiophone, Rigoberta Menchú, Mayans, Tikal Temple, Malacates Trébol Shop, Rafael Álvarez Ovalle, Ricardo Arjona, arts and crafts, Mayan archaeology, Ancient Mesoamerican sites, wildflowers, inactive volcanoes, His Ballet, diverse landscapes, The Ceiba Tree, Gloria Alverez, La Monja Blanca flower, the Quetzal bird, Tecún Umán, and tourism.
Dislikes
War, oppression, being called Mexican/Spanish, Active Volcanoes, Rape, slavery, droughts, Corruption, Illegal Drug trades, drug trafficking, Non-government groups, hostilities, oppression, murders, malnourishment, anything that has to do with the communist.
Historical information
Preceded by
UPCAball
Is of importants
Can into space?
No, but has space apps
Food
Chiltepe, Coffee, Tamales, Chocolate(IT IS I WHO MADE THE FIRST CHOCOCALTE IN HISTORY), Bananas
"
Haha! I stole Mexico pyramids!
"
 

—

Guatemalaball
Guatemalaball, officially the Republic of Guatemalaball, is a countryball in Northern Central America at the south-east of

Mexicoball. It is very close with her 4 other brothers, which are

Honduras and

El Salvador neighboring to the east with the Caribbean sea,

Nicaragua, and

Costa Rica, including it's rival

Belizeball who she always has land disputes on the north-east; and her southern border is from the Pacific Ocean. The country is divided into 22 Departments, including the capital

Guatemala Cityball, giving it a total area of 42,042 square miles (108,889 sq km), making it the 105th largest country in the world. As of 2018, it has a population of about 17.3 million inhabitants making the 67th popular country in the world.
Being Geographically in Central America already gives Guatemala the advantage of joining

OASball, as well as being part of

UNball like almost every other country of the world.
Its national day is September 15th.
Personality
Guatemala is often seen as one of the more friendly countries in Central America as of today. While she has had 3 regimes, a revolution, and civil war in her entire life, that does not stop her from trying to change her life today. Though she does have a few problems she still needs to address, such as the volcano, drugs, and crime, she remains one of the most developed and democratic countries in Latin America.
History
Guatemala was born as a

3ball during VI century BC.

Spanish Empireball discovered his clay in 1521 when

Mayaball died.
Pre Columbian-Era
Guatemala's Pre-Columbian era can be divided into the Preclassic period (from 2000 BC to 250 AD), the Classic period (250 to 900 AD), and the Postclassic period (900 to 1500 AD). From 2500 a. C. until the tenth century, The

Mayans lived a flourishing era. However, it didn't last too much, since

Spanish Empireball arrived in the region.
Spanish Colonization Era

Spanish Empireball arrived in Guatemala in 1524, the year in which his first villa, Villa de Santiago, was also founded in honour of the apostle.
The Spanish domination of Guatemala lasted almost 300 years, during that time the country was administratively formed, and its main cities and its industries, like agricultural production. Cocoa, sugar cane, paint for textiles, wood, was the main work of this region, where architecture also developed in an important way.
Emperor Agustin Iturbide, supported by the Central American population, incorporated the region into the Empire of Mexico, but in 1821, after several internal conflicts, a congress declared the independence of the Federation of United Provinces of Central America with




other countryballs, which remained until 1838, when the Union dissolved.
Independence
In 1840, Guatemala gained its independence from
UPCAball. In 1871 began a revolution that overthrew the government and began a liberal period that remained, with brief interruptions, until 1944 when another revolution was formed. The government of Justo Rufino Barrios, from 1873, was marked by anticlerical politics and economic development, based investment in large coffee-producing properties. Its social policy, however, was detrimental to the Indians, who were subordinated to an almost servile labor regime.
Modern Era
From 1954 to 1996

USAball and his allies helped the Central American crisis with




other countryballs of Central America from Communist Revolution throughout his civil war. Including in 1992 when Guatemala has received the Nobel Peace Prize with Rigoberta Menchú's

native's movement, making the last countryball of Central American crisis. Like

El Salvadorball, he has been suffered and survived by natural disasters such as Hurricane Stan in 2005. And since 2006, Guatemala has been resolving against impunity with a

UNball's help.
Relationships
Friends
Neutral
Hong Kongball - I see that you are democratic, having a hard time with CCP, and being supported by my best amigo China, but however tu are a son of UKball so imma put yuo in neutral.
Enemies
Flag Colors
Main Colors
Color Name
RGB
CMYK
HEX
Carolina Blue
73, 151, 208
64.9-27.4-0-18.4
#4997D0
White
255, 255, 255
0-0-0-0-0
#FFFFFF
Emblem Colors
Color Name
RGB
CMYK
HEX
Sap Green
68, 129, 39
C47-M0-Y70-K49
#448127
Medium Champagne
249, 240, 170
C0-M4-Y32-K2
#F9F0AA
Liver Organ
108, 48, 30
C0-M56-Y72-K58
#6C301E
Silver Sand
178, 182, 186
C4-M2-Y0-K27
#B2B6BA
How to draw
Draw Guatemalaball is simple:
Divide the basic circle shape into three vertical stripes
Color the outer ones of this blue
Draw the coat of arms of Guatemala in the white stripe
Draw the eyes and you've finished.
Gallery

Related templates

Community content is available under
CC-BY-SA
unless otherwise noted.