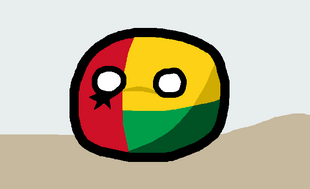 General information
Government
Unitary semi-presedential republic
Relations and opinions
Friends
Enemies

Fake Guinea
Likes
Cashews, Weapons from Russia, South American Cocaine(Because that is how it enters to Europe), Ansu Fati
Is of importants
Cashew Cashew, Hue Hue Hue

Guinea-HUEBissauball
is a countryball in Western Africa. His adoptive father is Portugalball, and he therefore speaks fluent Portuguese. Despite being a member of

Portugalball
's
HUE
family, he is also in the Guinea family (Atlantic-Congo family). He is also a popular transit point for South American drugs to be smuggled into Europe.
History
Guinea-Bissauball is descended from

8balls and was officaly born in 1446. He was adopted by

Portugalball shortly after, and grew up in his HUE family, along with

Cape Verdeball, and

Brazilball. He finally could into his independence in 1975, like his brothers

Angolaball and

Mozambiqueball.
Recently his older brother

Guineaball is suffering from an Ebola outbreak, and his only claim to fame is the occasional confusion with

Guineaball. Is famous for qualifying for the Africa Cup of Nations.
Relationships
Friends
Enemies
Guineaball - Fake Guinea!!, NO EBOLA PLOX!!! YOU STOLE M'Y TERRITORY!!!! DO YOU REMEMBER TU FLIHO DE PU...
How to Draw
1. Draw a circle, colour the top half yellow and the bottom half green.
2. Draw a red strip on the left of it.
3. Draw a 5-pointed black star in the middle of the strip
4. Add eyes and you've finished.
Gallery
Community content is available under
CC-BY-SA
unless otherwise noted.