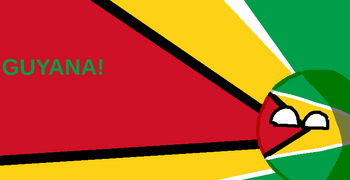 General information
Personality
Overwhelmed, especially with other countries; suicidal
Is of importants
Can into space?
Yeah! Guyana can into Dutch!
Notes
Mew was discovered here Yuh

Guyanaball
, officially the
Co-operative Republic of Guyana
, is a
co-operative
countryball living in South America. He is bordered by the Atlantic to the North,

Brazilball
to the South and Southwest,

Surinameball
to the East and Southeast, and

Venezuelaball
to the West and Northwest. The country is divided into 10 regions, along with the capital

Georgetownball
located in Northeast, giving him a total area of 83,000 square miles, making him the 83rd largest country in the world. As of 2016, he maintains a population of about 773,303 inhabitants. He can into highest suicide rate in the world.
History
Guyanaball,

 Surinameball and

 French Guyanaball were born as a

 3ball, adopted respectively by 

 UKball,

 United Kingdom of the Netherlandsball and

 Franceball during XIX century, that were known by being called "The Guianas".
There are nine indigenous tribes residing in Guyanaball: the Wai Wai, Machushi, Patamona, Arawak, Carib, Wapishana, Arecuna, Akawaio, and Warrau. Historically the Arawak and Carib tribes dominated Guyanaball. Although Christopher Columbus sighted Guyanaball during his third voyage (in 1498), the

Dutch were the first to establish colonies: Essequiboball (1616), Berbiceball (1627), and Demeraraball (1752). After the

British assumed control in 1796, the

Dutch formally ceded the area in 1814. In 1831 the three separate colonies became a single

British colony known as British Guyanaball.
Since Independence in 1824,

 Venezuelaball has claimed the area of land to the west of the Essequibo River. Simón Bolívar wrote to the

British government warning against the Berbiceball and Demeraraball settlers settling on land which the

Venezuelans, as assumed heirs of

Spanish claims on the area dating to the sixteenth century, claimed was theirs. In 1899 an international tribunal ruled the land belonged to

Great Britainball. The border disputes persist and no final settlement has been reached.
Guyanaball achieved independence from the

UKball on 26 May 1966 and became a republic on 23 February 1970, remaining a member of the

 Commonwealth.

The US State Department and the

US Central Intelligence Agency (CIA), along with the

British government, played a strong role in influencing political control in Guyanaball during this time. The

American government supported Forbes Burnham during the early years of independence because Cheddi Jagan was identified as a Marxist. They provided secret financial support and political campaign advice to Burnham's People's National Congress, to the detriment of the Jagan-led People's Progressive Party, which was mostly supported by Guyanese of East Indian background.
In 1978, Guyanaball received international notice when 918 members of the American cult, Peoples Temple, died in a mass murder-suicide. Most of the suicides were American and more than 300 children were killed; the people were members of a group led by Jim Jones in Jonestown, the settlement which they had created. Jim Jones's bodyguards had earlier attacked people taking off at a small remote airstrip close to Jonestown, killing five people, including Leo Ryan, the only US congressman ever assassinated in the line of duty.
Relationships
Friends
 USAball - Half Brother. Protect me from Venezuela plox! We give sugarcane, for get rid of drugs. DRINK THE KOOL-AID ALL YUO WANT AND GET YOUR INFIDELS OUT OF PURE GUYANA!!!! JONESTOWN WORST TOWN!!!
Neutral
 Brazilball - Friends, and he prevented  Venezuelaball from anchluss Esequibo, but KEEP YOUR DRUGS OUT! 
 Surinameball - Ooohh, we are so scared of you! We are true Guyana, its our OIL! (also crime figthing buddy that always get my name wrong)
 Saudi Arabiaball - Stop radicalizing our kebabs. Other than that, we both hate  Venezuelaball.
Enemies
Flag Colors
Color Name
RGB
CMYK
HEX
Philippine Red
206, 17, 38
C0-M92-Y82-K19
#CE1126
Black
0, 0, 0
C0-M0-Y0-K100
#000000
Metallic Yellow
252, 209, 22
C0-M17-Y91-K1
#FCD116
White
255, 255, 255
N/A
#FFFFFF
Green (Pigment)
0, 158, 73
C100-M0-Y54-K38
#009E49
How to draw
Draw Guyanaball is a bit difficult:
Color the basic circle shape of this green
Draw a left-from arrow white border and color the arrow of yellow
Draw a left-from half arrow black border and color the half-arrow of red
Draw the eyes and you've finished.
Gallery

Related templates

Anti-Kool-Aid and Suicidal woman Co-operative Republic of Guyanaball
Regions
Barima-Wainiball •

Pomeroon-Supenaamball

• Essequibo Islands-West Demeraraball • Demerara-Mahaicaball • Mahaica-Berbiceball • East Berbice-Corentyneball • Cuyuni-Mazaruniball • Potaro-Siparuniball • Upper Takutu-Upper Essequiboball • Upper Demerara-Berbiceball • Guayana Esequibaball • Georgetownball (capital)
Former entities
Arawakball • British Guyanaball
Irrelevant Non Aligned Movementball
Africa
 Algeriaball •  Angolaball •  Beninball •  Botswanaball •  Burkina Fasoball •  Burundiball •  Cameroonball • Cabo Verdeball • CARball • The Chad Republic •  Comorosball • Congoball (DR) •  Djiboutiball •  Egyptball •  Equatorial Guineaball •  Eritreaball •  Ethiopiaball •  Gabonball •  Gambiaball •  Ghanaball •  Guineaball •  Guinea-Bissauball • Côte d'Ivoireball •  Kenyaball •  Lesothoball •  Liberiaball •  Libyaball •  Madagascarball •  Malawiball •  Maliball •  Mauritaniaball •  Mauritiusball •  Moroccoball •  Mozambiqueball •  Nigerball •  Nigeriaball • Congoball (R) •  Rwandaball •  São Tomé and Príncipeball •  Senegalball •  Seychellesball •  Sierra Leoneball •  Somaliaball •  South Africaball • North Sudanball •  Swazilandball •  Tanzaniaball •  Togoball •  Tunisiaball •  Ugandaball •  Zambiaball •  Zimbabweball
Americas
Antigua and Barbudaball •  Bahamasball •  Barbadosball •  Belizeball •  Boliviaball •  Chileball •  Colombiaball •  Cubaball •  Dominicaball • Dominican Republicball •  Ecuadorball •  Grenadaball •  Guatemalaball •  Guyanaball •  Haitiball •  Hondurasball •  Jamaicaball •  Nicaraguaball •  Panamaball •  Peruball • Saint Kitts and Nevisball • Saint Luciaball • Saint Vincent and the Grenadinesball •  Surinameball • Trinidad and Tobagoball •  Venezuelaball
Asia
 Azerbaijanball •  Bahrainball •  Bangladeshball •  Bhutanball •  Bruneiball •  Cambodiaball •  East Timorball •  Indiaball •  Indonesiaball •  Iranball •  Iraqball •  Jordanball •  Kuwaitball •  Laosball •  Lebanonball •  Maldivesball •  Malaysiaball •  Mongoliaball •  Myanmarball • NepalRawr •  North Koreaball •  Omanball •  Pakistanball •  Palestineball •  Philippinesball •  Qatarball •  Saudi Arabiaball •  Sri Lankaball •  Syriaball •  Thailandball • Tringapore • Turkmenistanball •  UAEball • Uzbekistanball •  Vietnamball •  Yemenball
Oceania
 Fijiball •  Papua New Guineaball •  Vanuatuball
Europe
 Belarusball
Observers
 Argentinaball •  Armeniaball • Bosnia and Herzegovinaball •  Brazilball •  Chinaball •  Costa Ricaball •  Croatiaball •  El Salvadorball • Kazakhbrick •  Kyrgyzstanball •  Mexicoball •  Montenegroball •  Paraguayball •  Serbiaball • Tajikistanball •  Ukraineball •  Uruguayball •  African Unionball •  Arab Leagueball •  OICball •  UNball
Former Members
 Cyprusball (1961-2004) •  Maltaball (1973-2004) •  North Yemenball (1961-1990) •  South Yemenball (1970-1990) •  Yugoslaviaball (1961-1992)