January 1, 1804 - Present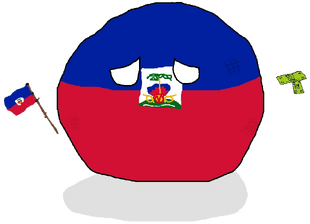 General information
Personality
Usually calm but bad-tempered, Kind in general, Stingy
Relations and opinions
Friends
Enemies

The worst neighboor in the world

FLAG STEALER!


Franceball (sometimes)
Likes
Beach, fishing, Francophonie, cruises, mangos, kompa, rhum, Jason Derulo, voodoo, necromancy, zombie movies, bringing people back from the dead, independence
Is of importants
Can into space?
Oui, with the skeletons of dead people because of earthquakes!
Voodoo Voodoo, Zombie Zombie
Food
Labouyi Bannann, <Mud cookies
Status
Switching from one "president" to another

Haitiball
, officially the
Republic of Haitiball
is a
very poor
countryball in the Caribbean. His only neighbor is the

Dominican Republicball
of whom he shares the island of Hispaniola with.
History
Haitiball was born as a 

7ball, and discovered/adopted by

Franceball. He was used for sugar cane and slaves.
Nowadays, Haitiball is an independent countryball since 1804, after beating

Franceball

in a battle.
Haitiball became the most

8ball country in the Caribbean after making the

2balls go off the island.
Haitiball switched between being a Kingdom, Empire, Republic and Anarchy since independence.
Before, Haitiball was known for it's tourism industry, mango, kompa music, and beaches. Nowadays, Haitiball is known for poverty. Haitiball finally elected a new President on November 20, 2016. Recently, he is suffering from riots caused by an increase in gas prices, which caused Jack Lafontant to resign and left the country without a prime minister.
Haitiball also can into 1974 World Cup, and got first runner-up in the Miss Universe 2016 competition in

Philippinesball with Raquel Pélissier, just behind his mother

Franceball's candidate Iris Mittenaere.
Flag Colors
Main Colors
Color Name
RGB
CMYK
HEX
Imperial Blue
0, 32, 159
C100-M80-Y0-K38
#00209F
Crimson
210, 16, 52
C0-M92-Y75-K18
#D21034
Emblem Colors
Color Name
RGB
CMYK
HEX
Imperial Blue
0, 32, 159
C100-M80-Y0-K38
#00209F
Crimson
210, 16, 52
C0-M92-Y75-K18
#D21034
White
255, 255, 255
N/A
#FFFFFF
Deep Green
1, 106, 22
C99-M0-Y79-K58
#016A16
Spanish Yellow
241, 181, 23
C0-M25-Y90-K5
#F1B517
Relasyon/Relationships
Zanmi/Friends
Net/Neutral
Franceball - Mother whom I hates because of beings the cause of my problems, but I was of ok with her.
Dominican Republicball - Cousin who I have many border disputes and envy his moneys plz gib som ;_; and is also racist and attacks black people, even though he is black himself. I must learn to work with him though. At least we both can into voodoo dolls.
Lènmi/Enemies
How to draw
Haitiball is similar to Liechtensteinball, but with a difference:
Divide the basic circle shape into two horizontal stripes
Color them of blue and red
Draw the coat of arms of Haiti in a white rectangle in the center
Draw the eyes and you have finished.
Gallery

Related templates

Caribbeans Nations and Dependencies
Sovereign countries
Antigua and Barbudaball (template) • Bahamasball (template) • Barbadosball (template) • Cubaball (template) • Dominicaball (template) • Dominican Republicball (template) • Grenadaball (template) • Haitiball (template) • Jamaicaball (template) • Saint Kitts and Nevisball (template) • Saint Luciaball (template)• Saint Vincent and the Grenadinesball (template) • Trinidad and Tobagoball (template)
Dependencies
Franceball: Guadeloupeball • Martiniqueball • Saint-Barthélemyball • Saint-Martinball

Netherlandsball: Arubaball • Bonaireball • Curaçaoball • Sababall • Sint Maartenball • Sint Eustatiusball

UKball: Anguillaball • Cayman Islandball • British Virgin Islandsball • Montserratball • Turks and Caicosball
Community content is available under
CC-BY-SA
unless otherwise noted.