The contents of this page are subject to change.
Recent things have happened to Hong Kongball, so it is subject to change. You can help edit to add the new information too! Alternatively, if the page is locked, visit the talk page to add recent information that it should have.
←

26 January 1841 (settlement)
1 July 1997 - Present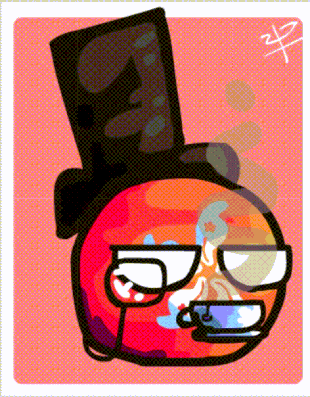 General information
Personality
Is of importants
Can into space?
Yes? What the fuck do you mean "can into space"?
喂喂
(wai wai),屌屌
(Diu diu) indepedence, independence bloody hell
Food
Milk tea (the most common drink), Egg Tarts, Dim Sum, Egg Waffles, Spam and Fried Egg Noodles, Wonton Noodles, Instant Noodles, Pineapple Bun (Pineapple not included)
Status
Will become either a Commonwealth realm, a Republic or Neo-Tokyo.
Notes
Loves to swear (Cantonese profanity).
"
Close your eyes and you won't see it.
"
 
"
HONG KONG IS NOT CHINA!
"
 

—

Independents of

Hong Kongball
"
Would you like some milk tea? OwO
"
 

—

Hong Kongball

Hong Kongball, officially the Hong Kong Special Administrative Region of Chinaball, is the only ball that speaks English well  a cityball and Special Administrative Region of

Chinaball, along with his brother

Macauball. He is bordered by

Shenzhenball to the North, the South China Sea to the South and East, and Macauball to the West across a small strip of the Sea. The city-state is divided into 3 regions and 18 districts (But although he is a city-state, his districts can be described as cities. And therefore, his capital is 
Central and Westernball). He has a total area of 1,064 square miles, making him the 168th largest state in the world. As of 2016, he maintains a population of about 7.347 million inhabitants.
Due to being part of

Chinaball, Hong Kong is unable to join any sort of International Organizations. Therefore, he had to leave the Commonwealth.
Hong Kongball is the only Chinese cityball to fully adopt English as an official language and is always seen wearing a top hat and monocle due to his link with his adoptive father 

UKball.
Hong Kong is often seen as one of the 4 Asian Tigers, aka the 4 most developed Asian nations (The other 3 being

South Koreaball,

Taiwanball, and

Tringapore, which has made him a valuable part of China's economy. Though he is rich and autonomous, he often feels oppressed and bullied by his father.
His regional day is 1 July. since 1997, an annual march is held to boycott 

Chinaball's violations of a very important document.
History
Hong Kongball was born as nomadic

1balls who were fishing. Hong Kong had an very long peaceful in many dynasties like

Hanball  and

Tangball as well as

Mingball  time until

Manchuballs conquered China.

Qingball was failed on First Opium War and Second Opium War, so

Qingball ceded Hong Kong Island to the 

UKball in perpetuity. He was raised in the Commonwealth family by

UKball, and became very fond of his adoptive father's ways for 99 years.
In 1941

Imperial Japanball kidnapped Hong Kongball, and raped him, along with

Republic of Chinaball,

Tringapore,

French Indochinaball,

Philippinesball,

Taiwanball, and

Koreaball, but he was rescued by his adoptive father

UKball and his adoptive brother

USAball.
In 1997,

UKball returned him to his biological father

Chinaball (who at this point was communist), something which he was not very happy about, because he did not want to be suppressed like

Tibetball and

East Turkestanball. But

UKball managed to get him a compromise, so Hong Kongball became a Special Administrative Region of

Chinaball for 50 years. However, Hong Kongball still prefers his adoptive father over his biological one.
In June 2015, after years of protests against the reform measures from

Chinaball, Hong Kongball rejects the measures made by his authoritarian father and finally feels one step closer to his dream of breaking away from

Chinaball.
In 2018 a small political party, the Hong Kong National Party, that campaigned for Hong Kongball independence was banned by Cuckservative politicians.
In March 2019, Hong Kongball had millions of protest on the street against an "extradition bill" to send Hong Kongers to

Chinaball's kangaroo courts. The Hong Kongers used umbrellas. The CPC puppet Chief Executive of Hong Kong Carrie Lam got cold feet and suspended the bill, finally, the law was abolished but the 4 remaining requests were still not being answered and was said to be IMPOSSIBLE. They also protest to preserve the autonomy of Hong Kong. They asked for international help, but 

USAball cared more about making money. 
Stereotypes
Unlike all countryballs, Hong Kongball does not speak English in a broken way. In addition, you need to know

Cantonese profanities (like diu (屌/𨳒)), if you want to understand the true essence of his dialect of the Cantonese language...
A commonly used name for people born in Hong Kong or hold legal residence is "Hong Kongers" and "Hong Kongese".
"Bad Five words in Cantonese" (廣東話一門五傑)

Diu (屌/𨳒), Gau (鳩/𨳊) , lan (撚/𨶙), Tsat (柒/𨳍), Hai (屄/閪)
Other curse phrases
Diu(屌): Fuck, fuck you, fuck off.
Ding Ley go fai(頂你個肺): Headbutt your lung. Used like any swear words, but has no special meaning.
Diu Ley lo mo (屌你老母): F*** your mother. Sometimes written as "Delay No More" due to a Hong Kong Meme (Cantonese PPAP).
On Gau (戇鳩): Dumb, idiot.
Lun: Male genital.
Pok Gai (仆街): Sometimes abbreviated to PK. Literal Meaning: Fall on the street, basically the equivalent of DROP DEAD and FLOP in English . Can be used it an insulting manner, or as a joke. (Oh, did you pok gai or something?)
Hai(閪): female genital
Ding (頂): Mean Headbutt something or your organs live your LUNGS or STOMACH.
Tsat Tow (柒頭): Means dickhead or asshole or retards (or sevenhead/7-head because 柒 sounds like 7 in cantonese )
Libtard (自由閪) Swear word used by Police forces to yell at radical protestors. Literal/Actual meaning is Freedom C**t. Locally used as "Freedom-Hi", beause 閪 sounds like hai in Cantonese.
Horny Dick (濕鳩): Two words, horny (鹹濕) and dick/dumb (戇鳩) combined into one. 
Relationships
老友 (Friends)
Almost everyone, especially...
中立 (Neutral)
敵人 (Enemies) 
Coronavirus (COVID-19) OH YOU SON OF A BITCH! YOU ARE KILLING MY PEOPLE AND INFECTIONS THE ENTIRE WORLD. SHAME ON CHINA!!!!!
Copycat tea - SHUT THE FUCK UP, YOU FAKE CHINA!!!!! YOU TOOK OVER YOUR OWN FATHER IN A VERY ILLEGAL WAY!!! YOU TREAT MY CITIZENS VERY BADLY AND YOU SPREAD YOUR OWN VIRUS TO MY COUNTY!!!! 1997 WORST YEAR OF MY LIFE!!!! YOU ALWAYS FAIL AT MY ENGLISH EXAMS AND YOU ACT LIKE A KID!!!! YOU JUST WON'T STOP ANNEXING RANDOM COUNTRIES!!! PRESS FREEDOM PLOX!!! REMOVE XI JINPING!!! REMOVE BEIJING!!! YOUR BROTHER TAIWANBALL WHO IS 4 YEARS OLDER THAN YOU IS REAL CHINA!!!! COPYCAT TEA!!!! BLOODY HELL!! FREE ME FROM THIS INFECTIOUS GRIP!!!! DIU LEI!!!!! REEEEEEEEEEEEEEEEEEEEEEEEEEEEEEEEEEEEEEEEEEEEEEEEEEEEEEEEEEEEEEEEEEEEEEEEEEEEEEEEEEEEEEEEEEEEEEEEEEEEEEEEEEEEEEEEEEEEEEEEEEEEEEEEEEEEEEEEEEEEEEEE
North Koreaball - OUR FRIENDSHIP IS OVER, YOU HEAR ME?!!!! YOU'RE SUCH A FUCKING MADMAN WHO WANTS TO DESTROY THIS WORLD WITH NUKES!!!!! WHAT THE HELL IS WRONG WITH YOU?!!!!!! WE USED TO BE VERY GOOD TRADING PARTNERS AND NOW IT'S OVER!!! I HATE TRADING WITH YOU, COMMUNIST PIG!!!! REMOVE THOSE NUKES OR I WILL ANNEX YOU AND LOSE YOUR COMMUNISM TIMES!!!!!!
Guangdongball (sometimes) -  A Chinese brother which I CLEARLY hate. He stole some of my stuff like Shenzhenball did! He's a disgrace and disappointment! But if I help you, YOU CAN GAIN A LOT OF MONEY!!!!! However, I'll help you when I'm independent, by absorbing and integrating you as a part of my clay. 
Beijingball - I AM STRONGER THAN YOU, STUPID CAPITAL!!!! YOU WILL NEVER HAVE A HIGHER GDP AND TALLER SKYSCRAPERS THAN ME!​​​​​​ ​​​​​​ 
Communism - YOU USED MY STUPID FATHER TO FUCKING KILL MY GRANDPA!!! REMOVE SOCIALISM!!!!!! REEEEEEEEEEEEEEEEEEEEEEEEEEEEEEEEEEEEEEEEEEEEEEEEEEEEEEEE
Lebron James - You are a disgrace to the NBA for supporting China over your boss statement shame on you! Our basketball hero is pro China.... I'm burning your jersey..
RiceGum - ​​​​​​WHY DID YOU CALL ME CHINA????? TAKE SINOPHOBIA OVER  COPYCAT TEA, NOT ME!!!! WE BOTH HAVE THE SAME PHOBIA, OKAY????? DON'T CALL MY CITIZENS CHINESE, PLEASE!!!! RESPECT US!!!!!
Districts
Hong Kongball has 18 districts.
Hong Kong Island
Kowloon
New Territories
Gallery
Artworks
Comics
Links
Community content is available under
CC-BY-SA
unless otherwise noted.