The contents of this page are subject to change.
Recent things have happened to Indonesiaball, so it is subject to change. You can add the new information too! Alternatively, visit the talk page to add recent information that it should have.
This page requires sanitation.
This page needs more accurate, less vandalistic/biased information or better formatting, it would be much appreciated to help!
August 17, 1945 - Present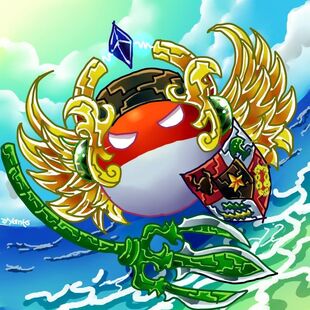 General information
Government
Personality
Caring, (very) Friendly, Humble, Respectful, Santuy (Relaxed), Selfless Lazy
Is of importants
Wkwkwkwkwk, Nasi Nasi, Telolet Telolet, ASHIAP!, Iri? Bilang bos!, Bang, gib Alok! Sate Sate, Bakso Bakso, Sol sepatu, Roti Roti, Indihome Indihome, Bigetron Bigetron, Hoshi Hoshi
Food
Staples :
Nasi (Rice) and other variations of rice, Ubi, Singkong, Ketela, Sagu, Jagung (Corn), and Indomie MIE SEDAAP IS CLEARLY BETTER
Others :
Rendang, Satay, Soto, Bakso (meatballs), Gado-gado, Lontong, Ayam Penyet, Pecel Lele, Tahu & Tempe, Gorengan, Sambal, and many more! but mostly rice
Notes
It's still early in the year and many tragedies already of happening..... *sigh* I will just listen to
this
to cheer up.....
"
I hate imperialism. I detest colonialism. And I fear the consequences of their last bitter struggle for life. We are determined, that our nation, and the world as a whole, shall not be the play thing of one small corner of the world.
"
 

— Sukarno
"
Indonesia Raya! Merdeka Merdeka!

Tanahku, Negeriku, yang kucinta... Indonesia Raya! Merdeka Merdeka! Hiduplah Indonesia Raya!

"
 

— Indonesian anthem
"
Wkwkwkwkwk!
"
 

— Happy Indonesian noises
Indonesiaball, officially known as

Monacoball

Polandball the Republic of IndiHome or Indonausea Indonesiaball, is the largest countryball in

Southeast Asia which he has a size of 1.905 million km², made up of about 18,307 islands, the second largest unitary countryball in the world, and the

second-largest by area in Oceania. He is also one of the founding members of

ASEANball.
Indonesiaball is a member of the G20 (or Group of Twenty), a club formed by the countryballs that have the 19 largest economies plus the

EUball. He is also member of

UNball,

OICball, and

ASEANball. Indonesia is known to be the world's 4th populous country in the

Earthball. As of 2018, it has a population of 265 million inhabitants. He is also known for being the highest country of

Muslim population.
In 2001, Indonesiaball was into female leadership!
History
Prehistory

1ball and

7ball migrants brought with their agricultural techniques, including rice farming in the fields/terraces (the oldest proof dating back to since the 8th century BC), buffalo raising, bronze and iron processing, weaving techniques, megalithic practices, and the worship of spirits (

Animism) as well as sacred objects (

Dynamism). In the first century BC settlements and small kingdoms were formed, and it is possible to have influenced the beliefs of

Hinduism from commercial relations.
Hindu-Buddhist Kingdoms
In the fourth century until the seventh century in the region of

West Javaball there is a

 Hindu - 

Buddhist kingdom,

 Tarumanagaraball followed by the

Sunda Kingdomball until the 16th century. In the 7th and 14th centuries, the

Buddhist kingdom of

Srivijayaball grew rapidly in

Sumatraball. At its peak,

Srivijayaball adopted

 Tarumanagara  and the

Malay Peninsulaball. Between 111 and 112,

Majapahitball succeeded in gaining control over the territory that is now predominantly Indonesiaball and almost none of the

Malay Peninsulaball. At that time

Majapahitball was in the Fallen Age. The decline of

Majapahitball was caused by the

civil war and the growth of the

sultanates in modern day Indonesia.
Rise and Fall of Kebab States

Islam as a

governing system was present in Indoball around the 12th century, but according to Mecca Theory,

Islam had already entered Indonesiaball in the 7th century AD. At that time there was a busy and international shipping lane connecting

Tangball,

Srivijayaball and

Umayyadball in since the 7th century.

Hindus also gives influence to existing

political institutions. In 718 AD,

Srivijayaball sent a letter to the

Umayyadball asking to be sent da'i who could explain

Islam to him.

The Kebab sultanates of Indonesiaball is predicted to have been adopted between the 11th and 14th centuries. The rise of these kingdoms was driven by the rampant marine trade traffic with Islamic traders from

Abbasidball,

Mughalball,

Safavidball,

Mingball, etc.

The Kebab sultanates then spread its teachings through assimilation, replacing

Hinduism as the main belief at the end of the 16th century in


Java and


Sumatra. In the eastern islands,

Christian and

Kebab clergy were known to have been active in the sixteenth and seventeenth centuries.

Kebabs spread

Islam to merchants from


indigenous peoples, until these merchants embraced

Islam and spread it to other


indigenous peoples.

Islam has entered Indonesiaball peacefully, through assimilation and acculturation and Trade. Kebabs make many kingdoms such as the

Aceh Sultanateball,

Banten Sultanateball,

Demak Sultanateball,

Mataram Sultanateball,

Tidore Sultanateball, and many more.
Kingdom of Portugalball Falling Era
In 1511-1526 (for 15 years) the clays became an important maritime port for the

Kingdom of Portugalball, which regularly became a maritime route to Sumatraball, Javaball, Bandaball and Malukuball. In 1511 the

Portuguese defeated the

Malacca Sultanateball.
In 1512 the

Portuguese established communications with the

Sunda Kingdomball to sign trade agreements, especially pepper. The trade agreement was realized on August 21, 1522. On the same day, this alliance built an inscription called Inscription of the

Sundanese - Portuguese Agreement

in

Sunda Kalapaball. With this agreement,

Portuguese are allowed to build a warehouse or fortress in

Sunda Kalapaball.
In 1512, the

Kingdom of Portugalball found

Maluku. After they had made friendships with


local residents and

sultans, the

Portuguese were given permission to build fortresses in

Ambon Islandball. But this spice trade relationship did not last long, because the

Kingdom of Portugalball applied the monopoly system and spread

Christianity.

Kingdom of Portugalball and

Sultanate of Ternateball's friendship ended in 1570.

Kingdom of Portugalball had battle with

Sultanate of Ternateball, made the

Portuguese had to left from Sultanate of Ternateball.
When the


Maluku people's resistance against the

Kingdom of Portugalball, the

Dutch Empireball used to set foot in

Maluku. In 1605, the

Dutch Empireball succeeded in forcing the

Kingdom of Portugalball to surrender its defense. Similarly, the

British was destroyed by the Dutch Empireball. Then the Dutch Empireball managed to adopted

Malukuball.
Under the Dutch East India Company
Beginning in 1602 the

Dutch Republicball gradually became the adopted father of the present-day Indonesiaball, exploiting divisions among the

small kingdoms that had replaced

Majapahitball. The only thing that was not affected was

Portuguese Timorball, which was ruled by

Kingdom of Portugalball until

Portugalball control until 1975 when it became an Indonesiaball province of

East Timorball.
In the 17th and 18th centuries, Indonesiaball was not directly controlled by the

Dutch Republicball but by a trading company called the

Dutch East India Companyball.

Dutch East India Companyball had been granted monopoly rights to trade and

to do colonial activity in the region by the

Dutch Republicball Parliament in 1602. Its headquarters were in

Bataviaball.
The main purpose of

Dutch East India Companyball is to maintain its monopoly on the spice trade in the archipelago. This is done through the use and threats of violence against the inhabitants of the spice-producing islands, and against other European powers trying to trade with the


inhabitants.

Dutch East India Companyball became involved in


local internal politics at this time, and fought in several wars involving the leaders of

Mataram Sultanateball and 

Banten Sultanateball.
As Dutch East Indiesball's Colony
Napoleonic Era

Dutch East India Companyball went bankrupt and was dissolved on January 1, 1800. Then,

Dutch Republicball lost the war and controlled by

First French Empireball, Indonesiaball adopted by

First French Empireball, although under the rule of the

Dutch Republicball (until 1806), then continued the

Kingdom of Hollandball (until 1810).
British Interregnum
After

UKball overran Javaball, Indonesiaball turned temporarily from

Kingdom of Hollandball to

UKball, until the end of Napoleonic Wars in 1816 when Britain had to return the Dutch East Indies to the

Netherlandsball. Governance adjusted according to

UKball government.
One of the most important discoveries of the time was the rediscovery of Borobudur Temple, one of the largest Buddhist temples in the

Earthball, and Mount Tambora in Sumbawa erupted, with direct and indirect victims of tens of thousands of lives.
Adopted by Netherlandsball
By 1500, he had become

Netherlandsball's poorest adoptive son, then named

Dutch East Indiesball.


Native Indonesiaballs rebelled against the

Dutch East Indiesball. Some local kingdoms and sultanates such as

Banten Sultanateball,

Demak Sultanateball,

Mataram Sultanate,

Yogyakarta Sultanateball,

Bali Kingdomball, and

Aceh Sultanateball. But some local kingdoms and sultanates such as

Surakarta Sunanate,

Pagaruyung Kingdomball and

Pontianak Sultanateball cooperated with

Dutch East Indiesball.
In 1908, there was a


Indonesian National Awakening which many clays of the archipelago first began to develop a national consciousness as "Indonesiaball".
Under the Occupation of the Empire of Japanball-desu
Aftrer defeating

Netherlandsball,

Empire of Japanball kidnapped Indonesiaball from his adoptive father, however his

adoptive father himself was anschlussed by

Nazi Germanyball, his stepbrothers also anschluss by this guy (

Canadaball just liberated his adoptive father) and made himself a new adoptive father. The ridiculous and stupid kawaii Empire of Japanball,

Empire of Japanball invaded and anschlussed him and all his neighbours. After being nuked by

USAball in August 1945,

Empire of Japanball promised to give independence, but Indonesiaball declared

independence himself.
MERDEKA MERDEKA!
After he became of independent, he changed his name to Indonesiaball. Indonesiaball continues to struggle to defeat

Netherlandsball and his ally

UKball also Allied forces that continue to invade anschluss him. He achieved officially in 1949.
Old Order
Indonesiaball started to rebuild his economy but crazy things started happening as well, there is a lot of

separatist scum such as

Islamic State of Indonesia,

Permesta, and also

commie problem. He experienced political instability because of bad parliamentary system management. Hell, even between 1950-1959 there has been over 14 cabinet changes. Regardless of that, he succesfully held important mass gatherings of newly independent countries in Asia-African Conference and later he held his first-ever election in September 1955. Nevertheless Soekarno was unsatisfied with the government so he dissolved parliamentary system in 5 July 1959 and replaced it with so-called "Guided Democracy", a centralized presidential government. He grew closer to

Soviet Unionball and his allies despite promoting non-aligned position at Asia-African Conference. In 1962, with Soviet-powered army he invaded

West Papuaball, then still under

Netherlandsball control as per Round Table Conference. He succeeded mostly because

USAball threatening Dutch to stop Marshall Plan if they did not hand

West Papuaball to Indonesia. (USA did this because he wanted glorious Papuan gold while attempting to regain Indonesia's trust.) At the same time he tried to invade reunite with

Malaysiaball but he failed because

his bapa intervened. The same year he hosted 1962 Asian games but with condition

Taiwanball and

Israelcube did not participate. This resulted in IOC suspended Indonesia's membership, as a result he made his own game in 1963 with 51 countries participating. In January 7, 1965 in protest of

UNball's support of

Malaysiaball by placing Malaysia on Security Council, Indonesia decided to suspend his UN membership. The same year we saw Communist Party of Indonesia (PKI) at it's peak, as its influence are everywhere thanks to Sukarno's endorsement, much to National Army and religious group's annoyance.
Transition
On September 30, 1965, high-ranked Indonesian Army officer was assassinated by a portion of Tjakrabirawa Corps, usually responsible on presidential guard. They took over the radio and spread false information about that they 'saved Indonesia from CIA coup". The surviving general Soeharto immediately blamed PKI for the incident and succesfully repelled the coup, and the backlash resulted in

"Commie Removal Ops" set by

Military Dictator Suharto and

CIAball. The transition remove all ideologies of

Communism (also

Sukarnoist Socialism) In 1967 he is of doings "New Order" mode with the appointment of Soeharto as the acting president, and later became president in 1968. Soekarno was removed from office and exiled because of his ignorance on the coup, and died on June 1970.
New Order
Indonesiaball actually had a very bad economy, but was only saved by foreign aid from

USAball. He anschlussed integrated

East Timorball in 1975. Another thing to mention is how a mass genocide of over 10 million was ordered by

Sukarno and

USAball, and most of them were innocents, not

communists(communists can be innocent, but not according to

USAball and

Sukarno say otherwise. Then, he did the

Desukarnoism, mainly due to

Sukarno not being able to take care of Indonesia on his own, and basically turning the country under

USAball's sphere of influence. The new order was a prosperous time for Indonesiaball, his economy grew and in 1984, he doesn't need to buy rice from his neighbours because he can into self-sufficient, but Indonesiaball has been heavily indebted from other countries, especially

USAball. 1998 worst time for Indonesiaballs' life. Economy gone stupid, protests with a lot of angry students, killings of

Chinese-Indonesianballs

really make him stressed. Because of these chaotic turn of events and to avoid another

Yugoslaviaball situation, Soeharto stepped down from office in May 21, 1998.
Reformation
In the beginning of Reformation Era, Indonesiaball forced to released

East Timorball he will be anchlussed again someday. Now, he is in the Reformation Era, he is repairing his government, building a better economy, building the infrastructure, removing all corruption although what happened in reality is the opposite, stopping the flood and smog, removing

drug sellers, and make sure that Wi-Fi is located everywhere for being a better Indonesiaball.
Personality (Kepribadian)
Indonesiaball is a countryball that have red (formerly dark red) and white area on skin. What makes him different from

Polandball, or

Monacoball is that he is often seen wearing either the Songkok/Kopiah or a rice hat.
Songkok/Kopiah is a kebab black hat on Indonesiaball, derived from the fact that Indonesia have biggest

kebab population in the world. This means he is quite religious, but he is moderate and very tolerant of other cultures and religions. Even though he can also be somewhat superstitious at times.
He is one of 

Netherlandsball's two Asian adoptive sons (the other one being

Taiwanball's Taiwan Provinceball) and has lots of territorial disputes with his neighbors. He is often mistaken for

Polandball or

Monacoball, which he finds very annoying. He is a close relative of

Malaysiaball,

Tringapore, and

Bruneiball.
Indonesia is the first country from Asia to enter the World Cup in 1938 in France as Dutch East Indies, unfortunately defeated in the first round after 6-0 loss against 

Hungaryball.
He have lots of resources but he can sometimes ban other countryballs from taking it. He hates when his

neighbours (and

Chinaball) steal fish from his waters.
He is generally quite friendly, and would go along with pretty much everyone. Indonesiaball is also usually quite relaxed and has a positive outlook on life. He has quite a taste bud, as can be seen from the many types of food he enjoys eating.
He is also VERY defensive of his borders and likes to explode boats that illegally entered his sea. He is also VERY serious in maintaining his sovereignty and unity. He is the only countryball that have left

UNball, becuase of 

 Him became voted as non pemanent security council since the


Confrontation.
In East Timor, Indonesiaball can even into

remove HUE and Canuck before, during and after the new millenium started. 
Hubungan (Relationships)
Keluarga (Family)
Teman-Teman / Kawan / Sahabat (Friends)
Netral (Neutral)
Musuh (Enemies)
Provinsi (Provinces)
Acehball - A special child who applies Islamic law and can into weed. Your struggle is great for my independence, so do not leave me! Remember the military operation and 2004 Tsunami?! Poor yuo, Kebab rebel! \ and please remove sharia law its making me uncomfortable.

: No, no I don't think I will.
Pahlawan Nasional (National Heroes)
Sukarno - Socialist; Our 1st president and a great proclamator. BUT DONT BE A COMMIE!!!
Muhammad Hatta - Our 1st vice president and a great proclamator too.
Together, they are known as the duo proclamators : Sukarno-Hatta.
Presidents
Indonesian Vocabulary
Wkwkwkwkwk, Indonesia's catchphrase laugh

Kwkwkwkwkwk and Awokwokwokwokwok, its' other variations

Aku (formally "Saya") - I, me
Kamu (formally "Anda") - Yuo
Dia, ia - he, him, she, her
Itu - it, is
Tidak, nggak, ga, tak - no
---
NKRI - an acronym for Negara Kesatuan Republik Indonesia - the Unitary State of the Republic of Indonesia
Indonesia, Tanah Airku... - Indonesia, my homeland...
Bhinneka Tunggal Ika - Unity in Diversity
PANCASILA!
NKRI Harga Mati! - NKRI or death!, may also be translated into "Liberty or Death!"
---
Kutipan & Mim (Quotes & Memes)
Stop panggil aku Polandia atau Monaco, kampret! - Stop calling me Polandball or Monacoball, yuo bastard!
Panggil gue Indon sekali lagi, bakal gue tendang pantatmu - Call me Indon one more time and imma kick yo ass
INDOMIE MASTER RACE!
"Sampurasun! Kumaha? Damang?"
"Halo..... Hai"
Horas!
RENDANG RENDANG RENDANG
Tahu Bulat
Assalamualaikum!
Om Telolet Om!
OM OJEK OM!
Indomie... Seleraku...
Apapun makanannya, minumannya Teh Botol Sosro
"TENGGELAMKAN!"
"Ngeri kali dia" -Ruhut Sitompul
"Benjol sebakpao" -Setya Novanto
"Piye kabare?,...isih penak jamanku to!"(How are you? isnt it fun in My era?) -Soeharto
"Saya pecat kalian semua!" -Basuki Tjahja Purnama
"Ambil sepedanya" -Joko Widodo
"Infrastruktur langit" -Maruf Amin
"Kok kalian ketawa?!" -Prabowo Subianto
"Tempe setipis kartu ATM" -Sandiaga Uno
"Rp100000 cuma bisa beli bawang dan cabai" -Sandiaga Uno
MUST EAT FISH OR TENGGELAMKAN (drown 'em!) -Susi Pudjiastuti
"Mana palunya?" -Popong Otje Djundjunan
"Bangsat kau" -Imam Supriadi
"Pak Bambang stop!" -Arief Hidayat
"Where have you been?" -Yasonna Laoly
"Pemirsa kita rehat sejenak" -Karni Ilyas
"Anj*ng lu!" -Ahmad Dhani
"Lu ga usah tunjuk2 gw!" -Anton Medan
"Tinggal ngangkat" -Ratna Sarumpaet
"Ini gedung parlemen, ini tempat suci!" -Fahri Hamzah
"Coba saudara bilang saya sinting, saya lempar ini mic!" -Andi Mapetahang Fatwa
Negeri berflower
Bang, makan bang...
Kami Tidak Takut
SALAM DUA JARI , TETEW! TETEW! TIKTOK JAMAN LAH...
Eh dasar kids jaman now
Mari kita selamatkan saudara kita yang berada di Palestina ( Let us save our brother in Palestine)
Hapuskan Zionis!!! (Remove Zionists)
EH ANAK MICIN!!!!
Seberapa Geregetnya Lo
"Kembali ke laptop!!" -Tukul Arwana
"SORRY! Ora butuh duit!" -Tukang cilok
"MULUT ANDA KOTOR!! Bangsat kau !" -Imam Supriadi
"Gue masih stay disini anjiing" -Mamank Garox
"EH NGENTOD!!" -Bocah indo
ENTAH AAAPAAA YANG MERASUKI MUUUU
Tahu bulat digoreng dadakan
"ERERE!!!,Shitman,bijik onta" -Andy Irfan & Anto Kewer (Erpan1140)
"Di thee dreamcraft!!!" -Adhit Syahbannur,Prof.Klard,& Fred (The Dream Craft)
"brocoli!!!!" -Nelson Wijaya Putra & DR vinto (BeaconCream)
"Hai.. Aku Nakki" -Nakkichin or Nakkikun (Nakki)
"Hi semuanya Welcome back to my Channel ElestialHD" -Elestial (ElestialHD)
"hello Guys kembali lagi bersama say di channel Wortelemes" -Wortel (Wolrtelemes)
"Yo Halo guys selamat datang di channel Ranelsi Sumarta" -RannelS (RIP) (Rannelsi Sumarta)
"MINECRAFT!!!,YES SIR!!!,E LES TIAL!!" -Nevin (NevinGaming)
"Kembali lagi dengan aku Stresmen di minecraft video lainya" -Ghifari Hanif Moeslim (Stresmen)
"Halo Temen temen kebali lagi di channel aku Odo Kentang" -Odo (Odo Kentang)
"Whatsup people nama gua Rezon Astnoishing dan selamat datang video channel minecraft lainnya!!" -Rezon Ashtonishing (Ashtonishing - minecraft)
"Hai semmuanya welcome back to my channel" -Vannia (Vannia Delicia)
"Hallo temen temen welcome back to my channel" -MuthiaS (Muthia Savira)
"Jangan lupa bernafas" -Yudha Putra Grianto ,Pak tua,Mas Botak,Pak lily,Sensi,Mamang,&Kameramen (Zenmatho)
"Bello temen temen kemabli lagi di channel presiden gaming!!!" -Evan Sugianto (presiden gaming)
"Kembali lagi dengan aku suka cita" -Teguh sugianto (Teguh)
"yous guys my names is frost daimond!!!!" -Kananda Widyantara (Frost Diamond)
"hai guys,kembali lagi bersama gue si miaw AAUUUUUGG -Reggie Prabowo (Miawaug)
"halo saber kembali aku dengan aku annisa desheila" -Annisa Desheila (Annisa)
"Ilham!!!,Ora kaya gitu ham!!!" -Azkal, fadly, mbak tyas, pak RT, & Ilham (Bocah Ngapa(k) Ya)
"Miko!!!,Koplak!!,Dim!!,Iku maksudku!!,Otak Komputer,makan tu sepeda gurun!!,Oh Semprul!,Anak Onta!!!" -Mikoplo,Dimas, Albert, Lek Jono ,wendi, mbak nike, & Dedy (Konco Ngakak)
"Bogeng!!! >:0" -Mukhlis Amin Qawwy (MAQ)
"Luncur ke tkp siap!!! 86!" -86 (Net TV)
Aku bukan bonekamu bisa kau suruh suruh
"sok kabehh!!! losss!!!" -Chef Bar Bar
"Sahabat-Sahabat Tercinta,Waduh, Mas Bro" -Bu Sisca (GoPay)
"Kembali di Opera Van Java!!,Ayee!!!!" -Parto Patrio "Dalang" (OVJ)
"KONT*L" -Asprinurdin
"FUCEK!!!" -Asprinurdin
"Irit itu AXIS!!!!" -AXIS Kuota (not AXIS from ww2)
"Ganyang!!! Malaysia!!" -Sukarno
"Tarik Sis!! SEMONGKOW !" 
"LEBIHENAK" -GoPay (GoJek)
Odading Mang Oleh Rasanya ANJING banget -Ade Londok
Goyang Ubur-ubur
Flag Colors
Color Name
RGB
CMYK
HEX
Red (pure HTML red)
255, 0, 0
C0-M100-Y100-K0
#FF0000
White
255, 255, 255
N/A
#FFFFFF
How to Draw
To draw Indonesiaball is easy as drawing Polandball or Monacoball:
Draw the ball.
Make a red divider in the middle, then fill the upper half with red.
Draw the eyes.
DON'T FORGET TO DRAW KOPIAH/SONGKOK OR RICE HAT.
Gallery

Related templates

,
Community content is available under
CC-BY-SA
unless otherwise noted.