The Invasion of Poland was when

Nazi Germanyball decided to ANSCHLUSS invade

Second Polish Republicball, after demanding Danzig, in which the Polish refused to comply. This invasion marked the beginning of WWII. This was the first major invasion of a nation by the

 Wehrmacht, who used a new genius German strategy, BLITZKREIG! Blitzkreig was the strategy of coordinating a major attack to a specific location, instead of the usual strategy of slowly taking land until the target is reached they would just make one major push there. This strategy was immensely helpful for the first half of the war, catching many armies off guard, eventually this strategy became useless making the Wehrmacht war machine halt.
What most people forget is the invasion from the East as well. When the Germans pushed into the West,

the Soviet Union pushed into the East, hoping to take the lands they lost to Poland in the Polish-Soviet War. After the Allies defeated Germany, the Soviets held onto the land they stole from Poland.
Gallery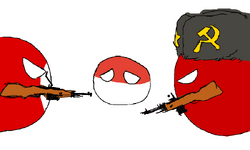 Related templates

Anschluss Federal Republic of Germoney Germany: Deutschland, Deutschland über alles

remove all memes

States
Baden-Württembergball • Bavariaball • Berlinball • Brandenburgball • Bremenball ( Bremerhavenball) • Hamburgball • Hesseball • Lower Saxonyball • Mecklenburg-Vorpommernball • North Rhine-Westphaliaball • Rhineland-Palatinateball • Saarlandball • Saxonyball • Saxony-Anhaltball • Schleswig-Holsteinball • Thuringiaball
Former entities
Migrants from South (Prehistoric Europeans) • Germaniaball • Saxonsball • Franksball • East Franciaball • Holy Roman Empireball • Kingdom of Prussiaball • North German Confederationball • German Empireball • Weimar Republicball • Nazi Germanyball • ReichRawr • Saar Protectorateball • Reichtangle • West Germanyball/ East Germanyball
Über alles in der welt! PAY DEBTS NAO!!!Or else...
Community content is available under
CC-BY-SA
unless otherwise noted.