The contents of this page are subject to change.
Recent things have happened to Iranball, so it is subject to change. You can add the new information too! Alternatively, visit the talk page to add recent information that it should have.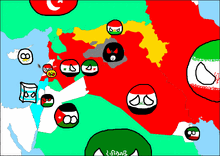 Iranball, officially the Islamic Republic of Iranball, formerly known as Persiaball (In the Western world) is a countryball in the Middle East. He is bordered by

Armeniaball,

Azerbaijanball, and

Turkmenistanball to the North along with the Caspian Sea, the Persian Gulf and the Gulf of Oman to the South,

Iraqball and

Turkeyball to the West, and

Afghanistanball and

Pakistanball to the East. The country is divided into 31 provinces, including his capital

Tehranball located in the North Central region, giving him a total area of 636,372 square miles, making him the 17th largest country in the world. As of 2019, he has a population of about 82.12 million.
Being a high-oil producing Muslim-majority country already gives Iran the ability to join
ECOball,

OICball, and

OPECball, as well as the

UNball although he is considering leaving.
Iranball is a very religious country. Many countryballs feel uneasy because of his nuclear program. Though considered oppressive by opponents, Iran is an extremely organized country. He is also more tolerant of other religions than
Saudi Arabiaball as there are spots in his parliament for

Christians,

Zoroastrians,

Jews, and

Sunnis. While he does act aggressive, it is mainly due to the fact that many countries used to mess with his land, economy, and government and still do (Talking to you

USAball).
His birthday (National Day) is on April 1. His astrological sign is Aries. (this isn't a joke) Other celebrations he likes is Nowruz (March 21st) and oil nationalisation day (March 20th).
He is also not semetic and calling Iranball semetic will lead to your death.
Relationships
دوستان/Friends
خنثی/Neutral
دشمنان/Enemies
COVID-19 - I HOPE YOU WILL DIE FOR THE RECOVERIIES!!!!! Go away you prick!
Pahlavi Iranball - YOU OF THE WORST!!!! YOU SIDED WITH THE GREAT SATAN AMERICA!!!!!! I'm glad that I finally killed you for good in 1979 fucking traitor!!!!!! Burn in hell Pahlavi!!!!!!
Bahrainball - You are belong to me yuo independent loser, your corrupt monarchy will fall, islamic revolution coming soon.
Boliviaball - You were the Second Best South American friend!!! I really miss you!!! Now you are a puppet of the Great Satan America!!!! Rest In Peace!!!!!!!
Canadaball - I'm warning you. Stop being friendly to USA. Look what they are doing to your people of Iranian descent in the US-Canada Border near Seattle
Djiboutiball I laugh my ass of, when you sever ties with me. Who the fuck are you? Where are you exactly? I can't find you on the map or can you find me? And stop stealing my friend's flag!
Donald Trump -  AHAAHAHAHAHHA! Excuse me?!! ''''LOOK AT YOU!! 'YOU ARE THE MOST HILARIOUS PRESIDENT OF THE WORLD🤣🤣.  Yet you want to hurt us and take it back?! (Laughs uncontrollably) 
Gays - OH NO, OH NO, OH NOOO. YOU ARE WORST. FUCK OFF FROM MY CLAY, AND NEVER COME IN MY CLAY. I HATE YOU LIKE THE PLAGUE. YOU WILL BE HANGED IF YOU COME!!!! Look at Taiwan!
Hungaryball - Take some Refugees you deepshit Asshole, meanwhile I have over 4 Million Refugees who needs a safe place.
ISISball - FILTHY PIG!! YUO WILL PAY FOR EVERY INNOCENT YUO KILLED! CMON, TRY ATTACKING ME YUO MONGREL, I'LL BOMB YUO TO DUST!! I wonder if I hate yuo more than I hate Israel wait you are the same thing. I WILL NEVER FORGET WHAT YOU SCUM DID IN IMAM KHOMEINI'S TOMB!! DIE IN THE HELL YOU DIRTY GOAT FUCKER.
Israelcube - My worst enemy! I will remove yuo Zionist scum!! You are not even Jewish, you don't care about Judaism, you are just a greedy thug!! I will never be friend with you illegitimate scum, you don't deserve mercy... Don't forget that our Shah Cyrus the Great helped you Jews out of captivity in Babylon. You heard right, we always treated you guys right, BUT CAN'T YOU JUST STOP BEING A DAMN SCUM???? I will never talk to you, justice must be done.
Kosovoball - I have never even heard of you but you are Serbia. Stupid puppet of the Great Satan!!!!!
Kurdistanball- You may be Iranic just like me but STOP TRYING TO CAUSE ALL THESE SEPARATIST MOVEMENTS!!!! WE MUST UNITE UNDER THE BANNR OF ISLAM!! And stop working for Satan.
Moroccoball - Free Western Sahara!
NATOball - Stop threating me and Russia you stupid terrorist Organization, who don't know what peace is! They never follow that stupid treaty, anyway! Also stop bombing Syrian civilians and Hospitals dumbass. And why don't you fight against ISIS?? Are you scared or what??
Saudi Arabiaball - Oh boy, you are so historical in making our relations sour. You are actually so racist, discriminatory and have no freedom of religion at all. Unlike you, I have freedom of religion and grant Armenian Christianity, Judaism, Christianity and even Jewish rights to my people. You are so censorious that even I am disgusted by you. You are a Satan country, I am not, I am a free country! And you only hate me for being a SHIA? WHAT THE HECK MAN? HAH You deserved to get droned strike by me and the Houthis for being so rude. You deserved it and I'm sorry if I angered USA!
Somaliaball - This guy thinks he can fuck me, but he can forget it. Their country is almost totally destroyed and I've heard they are the poorest country. STOP DESTROYING MY SHIPS YOU PIRATE LOVERS OR I WILL ATTACK YOU.
UKball - Stupid imperialist, will you ever stop being a little shit.
Ukraineball - You hate me BECAUSE I'M FRIENDS WITH RUSSIA? AND YOU THINK A TEAM WITH TRUDEAU AND POLAND WILL STOP ME FROM SIDING WITH RUSSIA AND CHINA! OH BOY YOU ARE SO UNEDUCATED! I WILL CRUSH YOUR EUROMAIDAN PRIDE!!!!!! MUAHAHAHAHAH! SERIOUSLY SURRENDER!
USAball - تو بزرگترین دشمن من در تمام دنیا هستی او شهرت من را خراب می کند !! و سرقت نفت من را متوقف کن! شما یک امپریالیست شیطانی هستید که از تروریست ها حمایت می کند! گردشگران شما از اینجا خوش آمدید. دوست شما سلسله پهلوی نمی آید، من قسم می خورم. استونک جمهوری اسلامی حذف برگر !!! 'YOU ENDED ONE OF MY BEST GENERALS IN MY ARMY!!!!
Flag Colors
The Flag of Iran is a horizontal tricolor with the colors green, white, and red, with the national emblem in the middle.
Main Colors
Color Name
RGB
CMYK
HEX
Wageningen Green
35, 159, 64
C78-M0-Y60-K38
#239F40
White
255, 255, 255
N/A
#FFFFFF
Rosso Corsa
218, 0, 0
C0-M100-Y100-K15
#DA0000
The green stands for culture growth, happiness, unity, nature, and the Persian language. White stands for freedom, and the red stands for the blood of those who fought for their country. The pattern on both the green and red strips, are actually the worlds 'allahu akbar' (God is the greatest, but not in a jihadist way), written 11 times on each side, making it 22 times repeated to represent the 22nd of the month of Bahman in the Iranian calendar, which landed on the 11th of February 1979 (Iranian revolution).
Emblem Colors
Color Name
RGB
CMYK
HEX
Rosso Corsa
218, 0, 0
C0-M100-Y100-K15
#DA0000
The emblem may look like a sword with a bunch of crescents around it, but in reality, they are really letters forming an overlapping monogram of the Shahada, the declaration of Islam stating there is no god but god.
Provinces
Tehranball - My spectacular capital city and biggest City of Iran and the world. This is what a real City should look like.
South Azerbaijanball - A lot of Azerbaijanis and Turks live here. From this place here are come the best carpets.
Khuzestanball - I think you are the hottest place in world, right?
Semnanball - He accepts that I can test missiles in his desserts.
Qomball - Our holy place of Mosques and Russiaball did buy his Airport for 2.8 Mio Euro, that's nice because you've earned some Money.
Ardabilball - I call him Iranian Siberia, because he is one of the coldest place in Iran.
Kermanball - A lot fruits come from here. Pls do more fruits and food for me.
Kermanshahball - Our most important oil refinery is there. So pls be careful of that ISISball Haram Terrorists that they not can stealing it.
Hormozgānball - You are My second favourite Province (after Tehranball) because your beaches are beautyful and the Cities especially Bandar Abbas and Kish Island.
Farsball - Another spectacular City of Iran after Isfahan, Mashhad and Teheran.
Bushehrball - My Industrial and important Province for Trade. There is also Our Atomic factory that Israelcube planned to attacked it, but never did it, because he have no balls to attacking it...
Kohgiluyeh and Boyer-Ahmadball - I don't have so much contact with him. But btw why do you choose so a hard name??!! Kohgu-Kigugh-Kohguluieh... A dammit.
Yazdball - How should I call you?! Dschast? Iast?
Zanjanball - Nothing Special, but he produces a lot of Bread and Wheat, do more for me pls.
Golestanball - My Turkmenistan, You have also a beautyful Nature.
Gallery
Videos
Links

Related templates

Islamic Republic of Iran, heir of Persia
Provinces


☫

Alborzball • Ardabilball • East Azerbaijanball • West Azerbaijanball • Bushehrball • Chahar Mahaal and Bakhtiariball • Farsball • Gilanball • Golestanball • Hamadanball • Hormozgānball • Ilamball • Isfahanball • Kermanball • Kermanshahball • North Khorasanball • Razavi Khorasanball • South Khorasanball • Khuzestanball • Kohgiluyeh and Boyer-Ahmadball • Kurdistanball • Lorestanball • Markaziball • Mazandaranball • Qazvinball • Qomball • Semnanball • Sistan and Baluchestanball • Tehran Provinceball ( Tehranball) • Yazdball • Zanjanball
Historical entities
Migrants from the West • Medesball • Achaemenidball • Parthiaball • Sassanidball • Rashidunball • Umayyadball • Abbasidball • Saffaridball • Samanidball • Ghaznavidsball • Seljukball • Khwarazmianball • Ilkhanateball • Timuridball • Safavidball • Afsharidball • Zandball • Qajarball • Pahlavi Iranball
Community content is available under
CC-BY-SA
unless otherwise noted.