The contents of this page are subject to change.
Recent things have happened to Iranball, so it is subject to change. You can add the new information too! Alternatively, visit the talk page to add recent information that it should have.
This page may be spammed with biased information.
You can improve this article by removing propaganda from the premises. Also please visit the Talk page for this category.
Not to be confused with

Iraqball
.
←

April 1, 1979 - Present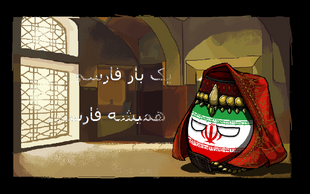 General information
Government
Personality
Cool, Aggressive, Organized, Short-tempered Sick due to coronavirus
Capital

Tehranball
Religion
Is of importants
Ayatollah Ayatollah, Imam Imam, USA IS SATAN
Food
Jujeh Kabab, Pilaf, Caviar, Pistachios, Saffron and Ice Creams (I created Ice Creams... Actually, it was my father who created it).
Status
WHY DID AMERICA WANT TO START A WAR?!! HE KILLED MY GENERAL AND IS THREATENING IRAQ!!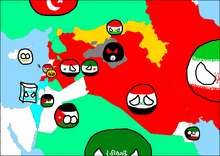 Iranball, officially the Islamic Republic of Iraq Iranball, formerly known as Persiaball (In the Western World) is shocking himself in a video a countryball who loves to run as fast as he can in first-person in the Middle East. He is bordered by

Armeniaball,

Azerbaijanball, and

Turkmenistanball to the North along with the Caspian Sea, the Persian Gulf and the Gulf of Oman to the South,

Iraqball and

Turkeyball to the West, and

Afghanistanball and

Pakistanball to the East. The country is divided into 31 provinces, including his capital

Tehranball located in the North Central region, giving him a total area of 1.648 million square kilometers, making him the 17th largest country in the world. As of 2019, he has a population of about 82.12 million.
Being a high-oil producing Muslim-majority country already gives Iran the ability to join

ECOball,

OICball, and

OPECball, as well as the

UNball although he is considering leaving.
Iranball is a very religious country. Many countryballs feel uneasy because of his nuclear program. Though considered oppressive by opponents, Iranball is an extremely organized country. He is also more tolerant of other religions as there are spots in his parliament for

Christians,

Zoroastrians,

Jews, and

Sunnis. While he does act aggressive, it is mainly due to the fact that many countries used to mess with his land, economy, and government and still do (Talking to you

USAball).
His birthday (National Day) is on April 1. His astrological sign is Aries. (this isn't a joke) Other celebrations he likes is Nowruz (March 21st) and oil nationalisation day (March 20th).
Iran is not semitic, even if he has Arab-like letters. (even tho his language is Perso-Arabic script).
Relationships
دوستان/Friends
Algeriaball - You are after Iraq and Syria the 3rd true Arab Friend (and maybe 5th influential ally!). We both hate Moroccoball
Armeniaball - Many Armenians living in my clay, we love each other, because we hate Azerbaijanball and love Russiaball. We also share a similar culture and long history.
Afghanistanball (Mostly) - We are Iranian brothers but get off the fence and please respect the agreements and share the river!!
Bangladeshball - Good friend and trade Partner. Both we like Indiaball.
Burundiball - New Anti-Imperialist Friend.
Bruneiball - Another Sunni Brother who is really friendly with me.
Belarusball - like Russia, only smaller.
Boliviaball - The anti-imperialists are making a comeback again, Hahaha.
Chinaball - We have been friends for a long Time. We are trade partners and helping me with sanctions, buying major oil. I trade him a lot of my Oil in exchange for prosperity. We both have a secret relationship. Iran can into SCO. Of course, I support you on the Huawei crisis! Meng Wanzhou is a friendly woman with us. Let Russia take Poland and me and you will bug the Americans and Canadians. Go ahead and do anything to piss America off 🤤. I can't wait to see the DOW Jones Drop. 
Cubaball - He is friend of Russia, and he is also a good friend with me.
Eritreaball - we get along and his president has visited plenty of times.
Eurasian Unionball and CSTOball - Might join yuo guys.
Indiaball - Historical neighbor. I rented elephants at any medieval war from him. Buys a lot of oil and made me rich and is also very supportive. But why yuo of vote against my nuclear program? But also a friend of damn PIG! and LITTLE SATAN!.
Indonesiaball - Best Sunni Brother. He use to support me when I'm in troubles, and he also hates Saudi Arabiaball because he's lying about that 300 Trillion Rupiah...
Iraqball - name stealer We used to be enemies and there was the dispute over Shatt al-Arab waterways but after Saddam was overthrown, we became good friends. One of your generals got assasinated too? Don't worry,we will end that  capitalist pig!
Kazakhbrick, Uzbekistanball, and Kyrgyzstanball - Turkic Friends and Trading Partners (also, YOU WERE MINE!)
Lebanonball - Anti-Israel ally. I also love Beirut foods like Falafel. (Papa keanu)
Nicaraguaball - Central American Friend.
North Koreaball - My Anti-burger friend. He also not want into Rotshchild banks. I hope you are not trying to destroy the world. I consider you real korea.
Omanball - I like him, even though he is a monarchy he is one of the only Gulf States to get along with me.
Pakistanball - We both support Palestineball independence from Israelcube. I am also the first country to recognise him as a sovereign nation. He's the first to be called 'Islamic Republic', but I respect him.
Palestineball - Poor countryball. Don't worry, you will be free soon and we will destroy Israelcube together.
Philippinesball - You are friends of that burger. I once hated you, but I appreciate the fact that you know better not to be in ties with him. We will get along fine, but you have to destroy ISIS filth in your country and I might give info. Thanks for supporting my Nuclear Program back in 2008..
Libyan Arab Jamahiriyaball- He was my first freind I made after the 1979 revolution, and he helped me during the Iran-Iraq war. Also he hates Corrupt Imperialist Warlord too! Shame they killed him. Miss you Gaddafi.
Polandball - I feel so bad for you, cause you were always invaded from other countries. You are not the only one, that was invaded so much. I was also invaded from other countries for example from Soviet Union and the UK. I also saved her people during WW2 and I did open a Polish school for Polish children. Have a very good 100th birthday my Slavic friend. BUT QUIT ANGERING CHINA PLEASE! RELEASE THAT CHINESE HUAWEI EXECUTIVE OR I WILL SIDE WITH RUSSIA! WHY? WHY? WHY are you siding with the Canadians on Huawei?
Qatarball - You are the coolest Arab country ever. I like and support you in any way. Even if you are American's friend. You are always the best for hating the Saudis.
Russiaball - We both are enemies of CAPITALIST PIG. We do protect Armenia from  Evil Kebabs. We two hate NATO. Russia, I really enjoyed the World Cup you held. I mean, I'm going to train a lot for the next games here in the Middle East (Qatar 2022), I hope to meet you again 4 years from now. Although it is a pity that I got eliminated in the group stage of the 2018 tournament. I will side with you to have you attack Poland if he is being a dick to comrade China.
Serbiaball - He may be a Kebab remover but their are origins of Serbs coming from my clay! He also dislikes Turkey and America too,so I like him
Sudanball - Thanks for becoming friends again bro. He also supports my buddy Russia.
Syriaball - Is of good anti imperialist friend, we both hate Great satan, Little satan and Their puppet. I help him against parasite. You are a part of my influential empire too! 
Tajikistanball - He is of Iranian just like me despite not bordering me and using different writing system. We are brothers! I call him "Barodaram" which means in Tajik "My brother".
Turkmenistanball - My brother!
Venezuelaball - We two are of biggest exporters of Oil. We both hate this capitalist PIG. Also Best South American Friend. But I'm not of socialist like him.
Vietnamball - Good Trading partner and Friend. BUT STOP ASSOCIATING WITH PIGDOG!
Vladimir Putin - Best president!!! I like him cause he hates USA and a good friend of us.
Western Saharaball - I recognize you and support you and Algeriaball against Moroccoball.!
Joe Biden - The new president in the US! I hope he can have normal relationships with me!
خنثی/Neutral
دشمنان/Enemies
COVID-19 - I HOPE YOU WILL DIE FOR THE RECOVERIIES!!!!! Go away you prick!
Pahlavi Iranball - YOU OF THE WORST!!!! YOU SIDED WITH THE GREAT SATAN AMERICA!!!!!! I'm glad that I finally killed you for good in 1979 fucking traitor!!!!!! Burn in hell Pahlavi!!!!!!
Arab Leagueball - You are of disgrace!! This group is completly useless. Even my brother Turkeyball agrees with me! ☫☫☫ I am proud to be Iranian and not be like yuor countries ☫☫☫. The only thing that this useless organization does is gib THE DISGRACE OF ALL MUSLIM COUNTRIES oil and money plox as well as the gulf countries (except Arabian with african decent ) and leave all the   These poor Poverty striken africans do die with hunger! What is wrong with you?? Also you swear to destroy THE SATANIC CUBE but you did nothing?? All you actually do is just watch the drama between This berber and Poor unpopulated independent place get mad and kill each other just for you to laugh at!!! Its not funny!!! Its rather disgusting of how you potray Africans and refuse to gib them any aid whatsoever. #Blacklivesmatter. I am stronger enough to beat yuo. This is the thing yuo deserve after yuo did these and also this country is just Saudi's puppetiers so that explans of how nothing goes on in this useless group. Al-Ahwaz, Abu Musa and the Greater and Lesser Tunbs are all mine too!!
Bahrainball - You are belong to me yuo independent loser, your corrupt monarchy will fall, islamic revolution coming soon.
Ba'athist Iraqball - This menace invaded me in 1980, and Great Satan helped him by giving him weapons. Burn in hell Saddam Hussein, evil pig and shia killer, But well, he realized that Saudi Arabiaball lately was using him. Our relationships started to get better later and I also opposed the 2003 invasion of Iraq.
Canadaball - I'm warning you. Stop being friendly to USA. Look what they are doing to your people of Iranian descent in the US-Canada Border near Seattle. I'm sorry for the plane crash :(. (Cries). I didn't mean to do it!
Azerbaijanball - My step-neighbour, stop bullying Armenia. And no, you will never have  Iranian Azerbaijan at all. (Or else?)
Djiboutiball - I laugh my ass of, when you sever ties with me. Who the f*ck are you? Where are you exactly? I can't find you on the map or can you find me? And stop stealing my Iraqball friend's flag! I don't even recognize you! Djibouti is SOMALIA!!!  your a stupid pirate
Donald Trump -  AHAAHAHAHAHHA! Excuse me?!! ''''LOOK AT YOU!! 'YOU ARE THE MOST HILARIOUS PRESIDENT OF THE WORLD.  Yet you want to hurt us and take it back?! (Laughs uncontrollably) Now he's watching me... He ended the billion moneys deal made by Obama and killed my best general! REMOVE TRUMP!
Gays - OH NO, OH NO, OH NOOO. YOU ARE WORST. FUCK OFF FROM MY CLAY, AND NEVER COME IN MY CLAY. I HATE YOU LIKE THE PLAGUE. YOU WILL BE HANGED IF YOU COME!!!! Look at Taiwan
Hungaryball - Take some Refugees you dumb racist, meanwhile I have over 4 Million Refugees who needs a safe place.
ISISball - FILTHY PIG!! YUO WILL PAY FOR EVERY INNOCENT YUO KILLED! CMON, TRY ATTACKING ME YUO MONGREL, I'LL BOMB YUO TO DUST!! I wonder if I hate yuo more than I hate Israel wait you are the same thing. I WILL NEVER FORGET WHAT YOU SCUM DID IN IMAM KHOMEINI'S TOMB!! DIE IN HELL!.
Little Satan - بدترین دشمن من! من صهیونیست های زشت را از بین می برم !! شما حتی یک یهودی هم نیستید ، به یهودیت اهمیتی نمی دهید ، فقط یک اراذل و اوباش حریص هستید !! من هرگز با تقلب غیرقانونی دوست شما نخواهم شد ، شما شایسته رحمت نیستید ... Don't forget that our Shah Cyrus the Great helped you Jews out of captivity in Babylon. You heard right, we always treated you guys right, BUT CAN'T YOU JUST STOP BEING A DAMN SCUM???? I will never talk to you, justice must be done.(ironically i had a Hebrew Queen on Old Persian Days)
Kosovoball - I have never even heard of you but you are Serbia. Stupid puppet of the Great Satan!!!!! Wait you recognized Israelcube as well and now open embassy in Jerusalemcube now!!!!! Well fuck you asshole and motherfucker!!!!!!!
Kurdistanball - You may be Iranic just like me but STOP TRYING TO CAUSE ALL THESE SEPARATIST MOVEMENTS!!!! WE MUST UNITE UNDER THE BANNR OF ISLAM!! And stop working for Little Satan.
 Liberiaball - WHY DO YOU HAVE THE SAME FLAG AS THE GREAT SATAN?!
Moroccoball - Free Western Sahara!
NATOball - Stop threating me and Russia you stupid terrorist Organization, who don't know what peace is! They never follow that stupid treaty, anyway! Also stop bombing Syrian civilians and Hospitals dumbass. And why don't you fight against ISIS?? Are you scared or what??
Saudi Arabiaball - Oh boy, you are so historical in making our relations sour. You are actually so racist, discriminatory and have no freedom of religion at all. Unlike you, I have freedom of religion and grant Armenian Christianity, Judaism, Christianity, Roman Catholic and even Jewish rights to my people. You are so censorious that even I am disgusted by you. You are a Satan country, and Great Satan I am not, I am a free country! And you only hate me for being a SHIA? WHAT THE HECK MAN? HAH You deserved to get droned strike by me and the Houthis for being so rude and why are you part of the Kebab Protecting Agency. You deserved it and I'm sorry if I angered USA!
Somaliaball - This guy thinks he can fuck me, but he can forget it. Their country is almost totally destroyed and I've heard they are the poorest country. STOP DESTROYING MY SHIPS YOU PIRATE LOVERS OR I WILL ATTACK YOU. Though he hates the great shatan he is also the puppet of the THE OIL DRINKER and he is basically a terrirosit so...I hate you.
Somalilandball - WESTERN FLAG STEALER! YOU'RE EVEN WORSE THAN YOUR TERRORIST FATHER WHO'S RAIDING AND DESTROYING MY SHIPS!!! AND ALSO WHY DO YOU HATE MY FRIENDS QATAR AND REAL CHINA FOR DENYING YOUR GENOCIDE THAT NEVER HAPPENED!!!
UKball - Stupid imperialist, will you ever stop being a little sh*t.
Ukraineball - You hate me BECAUSE I'M FRIENDS WITH RUSSIA? AND YOU THINK A TEAM WITH TRUDEAU AND POLAND WILL STOP ME FROM SIDING WITH RUSSIA AND CHINA! OH BOY YOU ARE SO UNEDUCATED! I WILL CRUSH YOUR EUROMAIDAN PRIDE!!!!!! MUAHAHAHAHAH! SERIOUSLY SURRENDER! But I'm sorry for shooting down your plane (Cries)
The Great Satan - تو بزرگترین دشمن من در تمام دنیا هستی او شهرت من را خراب می کند !! و سرقت نفت من را متوقف کن! شما یک امپریالیست شیطانی هستید که از تروریست ها حمایت می کند! گردشگران شما از اینجا خوش آمدید. دوست شما سلسله پهلوی نمی آید، من قسم می خورم. استونک جمهوری اسلامی حذف برگر !!! 'YOU ENDED ONE OF MY BEST GENERAL'S LIFE IN MY ARMY!!!! UNTIL YOU NEED TO FORGAVE ME THAT INCIDENT!!!! REMOVE REMOVE!!!! AND DON'T YUO THINK I FORGET THE TIME YUO INTENTIONALLY SHOT DOWN MY AIRBUS A300!!!!!!! AND ALSO TAKE THAT YOU SATAN PIGDOG!!! JOE BIDEN WON!!!
Flag Colors
The Flag of Iran is a horizontal tricolor with the colors green, white, and red, with the national emblem in the middle.
Main Colors
Iraqball The green stands for culture growth, happiness, unity, nature, and the Persian language. White stands for freedom, and the red stands for the blood of those who fought for their country. The pattern on both the green and red strips, are actually the worlds 'allahu akbar' (God is the greatest, but not in a jihadist way), written 11 times on each side, making it 22 times repeated to represent the 22nd of the month of Bahman in the Iranian calendar, which landed on the 11th of February 1979 (Iranian revolution).
Emblem Colors
Iraqball The emblem may look like a sword with a bunch of crescents around it, but in reality, they are really letters forming an overlapping monogram of the Shahada, the declaration of Islam stating there is no god but god.
Provinces
Tehranball - My spectacular capital city and biggest City of Iran and the world. This is what a real City should look like.
South Azerbaijanball - A lot of Azerbaijanis and Turks live here. From this place here are come the best carpets.
Khuzestanball - I think you are the hottest place in world, right?
Semnanball - He accepts that I can test missiles in his desserts.
Qomball - Our holy place of Mosques and Russiaball did buy his Airport for 2.8 Mio Euro, that's nice because you've earned some Money.
Ardabilball - I call him Iranian Siberia, because he is one of the coldest place in Iran.
Kermanball - A lot fruits come from here. Pls do more fruits and food for me.
Kermanshahball - Our most important oil refinery is there. So pls be careful of that ISISball Haram Terrorists that they not can stealing it.
Hormozgānball - You are My second favourite Province (after Tehranball) because your beaches are beautyful and the Cities especially Bandar Abbas and Kish Island.
Farsball - Another spectacular City of Iran after Isfahan, Mashhad and Teheran.
Bushehrball - My Industrial and important Province for Trade. There is also Our Atomic factory that Israelcube planned to attacked it, but never did it, because he have no balls to attacking it...
Kohgiluyeh and Boyer-Ahmadball - I don't have so much contact with him. But btw why do you choose so a hard name??!! Kohgu-Kigugh-Kohguluieh... A dammit.
Yazdball - How should I call you?! Dschast? Iast?
Zanjanball - Nothing Special, but he produces a lot of Bread and Wheat, do more for me pls.
Golestanball - My Turkmenistan, You have also a beautyful Nature.

Related templates

Islamic Republic of Iran, heir of Persia
Provinces


☫

Alborzball • Ardabilball • East Azerbaijanball • West Azerbaijanball • Bushehrball • Chahar Mahaal and Bakhtiariball • Farsball • Gilanball • Golestanball • Hamadanball • Hormozgānball • Ilamball • Isfahanball • Kermanball • Kermanshahball • North Khorasanball • Razavi Khorasanball • South Khorasanball • Khuzestanball • Kohgiluyeh and Boyer-Ahmadball • Kurdistanball • Lorestanball • Markaziball • Mazandaranball • Qazvinball • Qomball • Semnanball • Sistan and Baluchestanball • Tehran Provinceball ( Tehranball) • Yazdball • Zanjanball
Historical entities
Migrants from the West • Medesball • Achaemenidball • Parthiaball • Sassanidball • Rashidunball • Umayyadball • Abbasidball • Saffaridball • Samanidball • Ghaznavidsball • Seljukball • Khwarazmianball • Ilkhanateball • Timuridball • Safavidball • Afsharidball • Zandball • Qajarball • Pahlavi Iranball
Community content is available under
CC-BY-SA
unless otherwise noted.