The contents of this page are subject to change.
Recent things have happened to Iraqball, so it is subject to change. You can add the new information too! Alternatively, visit the talk page to add recent information that it should have.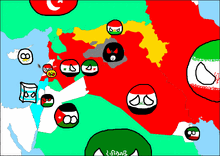 Iraqball, officially the Republic of Iraqball, is a countryball in the Middle East. He is bordered by

Turkeyball to the North,
Saudi Arabiaball to the South and Southwest,
Syriaball to the West, along with

Jordanball to the Southwest, and

Iranball to the East, with

to the Southeast. The country is divided into nineteen Governorates. Altogether, however, he has a total area of 168,754 square miles, making him the 58th largest country in the world. As of 2018, he maintains a population of 38.12 million inhabitants.
Iraq is a member of the

Arab Leagueball and the

OICball due to being a majority Muslim country in the Arabian Peninsula, as well as the

UNball like almost every other country.
Iraq is sometimes seen as the cradle of civilization as his clay was once home to Mesopotamia, an ancient civilization situated between the Tigris-Euphrates river. However, due to large ammounts of conquests from foreign powers (Such as
Persiaball and

Macedonball, and

British Empireball), along with the ongoing conflict he's dealing with, it is very hard for people to believe it. He is more often seen as one of the worst countries in the world to live in, which has led to many Iraqis seeking refuge in

USAball and

EUball.
His national day is October 3.
History
Iraqball came to be in 1958 after he decided to become a "republic". He was actually a single-party military junta. Ten years later, he became under Ba'ath rule but was still a single party military dictatorship. He then declared war on

Iranball in 1980 to "liberate"

Khuzestanball. Because he couldn't pay debts to

Kuwaitball he declared war on him in 1990 claiming that

UKball stole

Kuwaitball from him in colonial times and that

Kuwaitball was stealing Iraqi oil. He failed because

USAball-led coalition stopped him from annexing

Kuwaitball. Then in 2003 being invaded by

USAball, with the intention of liberating. This ended up backfiring immensely. He pulled out in 2011, but ended up in even worse condition. He is now technically friends with USAball, but that doesn't matter much. He recently ended civil war after removing ISIS from his clay.
Before, 15% is sieged by

Kurdistanball. Recently,

ISISball in Western Mosul is on offensive as his forces advances. But now, he succeeded to take the whole of Mosul from ISIS. He also recaptured Tal-Afar and is now invading Hawija and he won [1]. His final campaign was his Western Iraq Campaign, and he liberated the desert on December 9th, ending

ISISball in

Iraqball. On December 10th,

Iraqball celebrated the end of

ISISball with a parade.
In the 1st of October 2019, Major protests started in Iraqball due to the major corruption of the leaders in Iraqball and the influence of

Iranball in Iraqball.
2020 does not seem the best year for 

 Iraqball,one of his generals got killed in an airstrike by 

 USAball
Flag Colors
Main Colors
Color Name
RGB
CMYK
HEX
Philippine Red
206, 17, 38
C0-M92-Y82-K19
#CE1126
White
255, 255, 255
N/A
#FFFFFF
Black
0, 0, 0
C0-M0-Y0-K100
#000000
Emblem Colors
Color Name
RGB
CMYK
HEX
Dartmouth Green
0, 122, 61
C100-M0-Y50-K52
#007A3D
Relationships
Friends
Neutral
Enemies
Gallery
Mesopotamian Republic of Anarchy Iraq
ENEMIES!
ISISball • Iraqi Kurdistanball
Governorates


الله أكبر

Al Anbarball • Al Diwaniyahball • Babilball • Baghdadball • Basraball • Dhi Qarball • Diyalaball • Dohukball • Erbilball • Halabjaball • Karbalaball • Kirkukball • Maysanball • Muthannaball • Najafball • Ninevehball • Saladinball • Sulaymaniyahball • Wasitball
Historical entities
Migrants from South • Sumerball • Babylonball • Assyriaball • Macedonball • Seleucidball • Parthiaball • SPQRball • Sassanidball • Rashidunball • Umayyadball • Abbasidball • Ilkhanateball • Jalayiridsball • Qara Qoyunluball • Aq Qoyunluball • Safavidball • Afsharidball • Ottomanball • Mandatory Iraqball • Kingdom of Iraqball • Ba'athist Iraqball
Community content is available under
CC-BY-SA
unless otherwise noted.