July 16th, 1823 - Present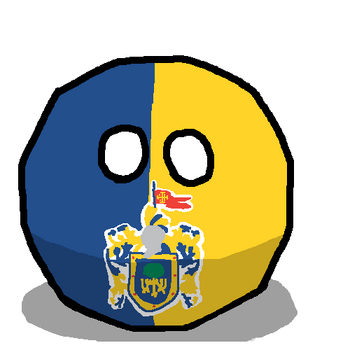 General information
Personality
Gay, conservative, tech-savvy, sometimes separatist or reactionary (mocho), macho
Is of importants
Can into space?
Yes and no
Charro charro, gay gay, tequila tequila
Food
Torta ahogada, tequila, birria
Notes
He who never losses and when he losses he snatches
Jaliscoball
is a stateball of

Mexicoball
. He is
the most

Mexican state
famous for his Mariachis and Tequila. He also hosted the 2011 Pan American Games. His Cartel is one of the most dangerous in

Mexico
.
History
Jaliscoball was born as a

3ball, later adopted by

Aztecball,

Spanish Empireball (within New Spainball and New Galiciaball as well),

First Mexican Empireball,

Second Mexican Empireball and then

Mexicoball.
Relationships
Amigos (Friends)
Es complicado (Neutral/It's complicated)
Mexicoball - My abusive father. He sayings I'm his most representative hijo, but he also takings a lot of my monies and payings me migajas back just like my northern hermanos. But seriously, remove Morena and AMLO otherwise we endings like Venezuela or worse. But yuo better no thinking I forgave when tú stripped mí out of Colima and Nayarit (That's probalemente why I was indiferente on tu war against Gringo)
Enemigos (Enemies)
Flag colors
Main colors
Color Name
RGB
CMYK
HEX
Yale Blue
35, 79, 141
C75, M44, Y0, K45
#234F8D
Sunglow
255, 211, 39
C0, M17, Y85, K0
#FFD327
Emblem colors
Color Name
RGB
CMYK
HEX
Yale Blue
35, 79, 141
C75, M44, Y0, K45
#234F8D
Sunglow
255, 211, 39
C0, M17, Y85, K0
#FFD327
Silver
190, 192, 194
C2, M1, Y0, K24
#BEC0C2
Sea Green
0, 140, 91
C100, M0, Y35, K45
#008C5B
Cinnabar
239, 65, 56
C0, M73, Y77, K6
#EF4138
Trivia
His name means "At the surface of sand" in Nahuatl
The shape of his clay can be either described as a bird or as a dabbing fork
Cristero War started in his clay
He is often confused with his son
Both he and Tlaxcalaball are the only two states of Mexicoball whose official flag is not just its coat of arms in a white background