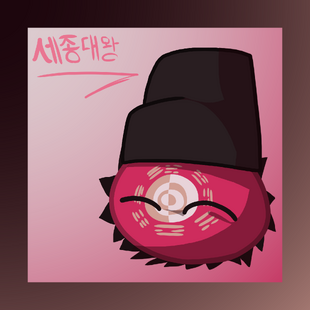 General information
Personality
Isolated, Very intelligent
Status
while officially abolished, descendents of his dynasty still live on.
Joseonball
(also transcribed as
Chosŏnball
), officially the
Kingdom of Great Joseonball,
was a Korean dynastic kingdom that reigned from 1392 to 1897. He is recognized as the longest-reigning Confucian dynasty! His successor was the short-lived

Korean Empireball
.
History
Joseonball was born as

Goryeoball, in 1392, Joseonball killed

Goryeoball and was born. The name "Joseon" is derived from the legendary name of

Gojoseonball.
Soon, it invaded parts of Manchuria to increase its clay. Joseonball invented many things such as rain gauge, Korean language, etc. Later on, King Sejong created Korea's writing system, which is considered to be one of the best writing systems on the world.
In 1592,

Toyotomi Japanball attacked Joseonball in the Japanese invasions of Korea (1592-98)

, but Joseonball got its clay back and defeated the Japanese because of a very skilled admiral, Lee Sun-Shin. But the king's temple and many things were burnt. Joseonball was attacked by

Qingball, He surrended to him. He has independent goverment but not equal position with Qingball. And he prepared to avenge to Qingball(북벌)[[1]] but can't put into action because Qingball was very stronger than Joseonball.
In 1897, King Gojong changed Joseonball's official name to

Korean Empireball (due to

China losing the first Sino-Japanese war, which meant Korean independence). However, this era was very short-lived, and Joseonball was "formally" annexed by Japan a mere 13 years later.

Joseonball's reign possibly had the largest impact upon modern-day Korean culture. Many social norms derive from his era, many of which still are carried on. Both

North Koreaball's and

South Koreaball's modern-day cultural elements also come from

Joseonball.

Joseonball also heavily impacted the Korean language. One of

Joseonball's most famous rulers, Sejong the Great, is thought to have invented the Hangeul script.
Friends
Enemies
Gallery
Democratic People's Republic of Korea & Republic of Korea : Divided Korea
Sovereign states
North Koreaball • South Koreaball
Future countries
United Koreaball
高丽?
West Koreaball • East Koreaball
Clay disputes
Dokdoball • Ieodoball • Rasonball • Jiandaoball

Republic of K-pop Korea, also known as South Korea

Provinces
Chungcheongbuk-doball • Chungcheongnam-doball • Southern Gangwondo-ball • Gyeonggi-doball • Gyeongsangbuk-doball • Gyeongsangnam-doball • Jeollabuk-doball • Jeollanam-doball • Jeju-doball
Metropolitan Cities
Seoulball • Busanball ( Dongnaeball) • Incheonball ( Songdo IBDball) • Daejeonball • Daeguball • Gwangjuball • Sejongball ( Jochiwonball) • Ulsanball
Cities
Suwonball • Cheongjuball • Goyangball• Ansanball • Pajuball • Gwangjuball • Hanamball • Uijeongbuball • Guriball • Bucheonball • Seongnamball • Seosanball • Asanball • Anyangball • Dangjinball • Gongjuball • Ieodoball
Counties
Pyeongchangball • Ullengball (Dokdoball)

"Democratic" People's Republic of Korea, also known as True North Korea

Provinces
Hamgyeongbuk-doball • Hamgyeongnam-doball • Hwanghaebuk-doball • Hwanghaenam-doball • Northern Gangwon-doball • Pyeonganbuk-doball • Pyeongannam-doball • Jagang-doball • Yanggang-doball
Cities
Pyongyangball ( Ryugyong-dongball) • Rasonball • Nampoball • Sinuijuball • Kaesongball • Hamhungball • Chongjinball • Wonsanball Sariwonball

Others

Former entities
Migrants from North • Gojoseonball • Korean Jinball • Buyeoball • Okjeoball • Dongyeball • Mahanball • Jinhanball • Byeonhanball • Goguryeoball • Sillaball • Baekjeball • Gayaball • Balhaeball • Tamnaball • Goryeoball • Joseonball • Korean Empireball • Japanese Koreaball • Provisional Gov. Republic of Koreaball • People's Republic of Koreaball • American Koreaball • Soviet Koreaball • Provisional People's Committee for North Koreaball • Supreme Council for National Reconstructionball
Korean religions
Muism • Cheondoism • Korean Buddhism • Kimilsungism
Korea STRONK! Remove Sushi Remove MERS-CoV! Never forgettings 1945 ~ Both Koreaballs


K-POP FOREVER!!! ~ South Koreaball
NORTH KOREA TRUE AND BEST KOREA! ~ North Koreaball
Community content is available under
CC-BY-SA
unless otherwise noted.