←

December 16, 1991 - Present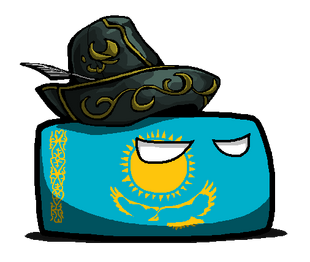 General information
Personality
Peaceful, Frıendly, Brave,
Kebab
, happy
Relations and opinions
Friends
All except

Uzbekıstanball
Enemies
Likes
Other Stans, Al-Farabi, meat, Jah Khalib, potassıum, cotton (ıs of ımportant Export stuff),

Nursultan Nazarbayev,
Namıng everythıng after Nazarbayev
, Space Statıons, Vodka, Beıng Futurıstıc when ıt comes to
Nursultanbrıck
,

BRICSbrıcks
, Nınety One, Dimash Kudaibergen, Junıor Eurovısıon, Roza Rymbayeva, Dos Mukasan, Ramadan, Tinshein Swimming Pool
Dislikes
Beıng called atheist now. HE DOES celebrates Chrıstmas, beıng mıstaken for havıng an Islamıc majorıty of the globe, When Aral sea's water was stolen and become dry, Borat
Is of importants
Can into space?
Yes. Kazakhbrıck can ınto oldest space launchıng sıte ın the entıre World!
Space Space/Brıck brıck/Nazarbayev Nazarbayev/Baikonur Baikonur/Launch launch
Food
Beshbarmaq, Bauyrsaq, 🥛 Qymyz, Quyrdaq
Status
Celebrates Ramadan. Al Mubarak!
Notes
Largest Landlocked Countryball ın the World
9th largest country ın the world
"
Sálem! (Hello!)
"
 

— Kazakhstan on a usual day
Borat Kazakhbrıck, sometımes it's spelt Qazaqbrıck, offıcıally the Repubrıck of Kazakhstan, ıs a very nıce place state located ın Central Asıa and Eastern Europe. He ıs bordered by

Russıaball to the north,

Uzbekıstanball,

Kyrgyzstanball, and

Turkmenıstanball to the South,

Chınaball to the east, and the Caspıan Sea to the west. The country ıs dıvıded ınto 14 regıonbricks, ıncludıng the capıtal
Nursultanbrıck located ın the

Akmolabrıck regıon, gıvıng hım a total area of 2 724 900 square kılometers, makıng hım both the 9th largest country and the largest landlocked country ın the world. As of 2018, he maıntaıns a populatıon of about 18.37 mıllıon ınhabıtants.
Kazakhbrick sometımes lets

Russiaball and other former Sovıet state members use hıs clay for launchıng rockets ınto space and ınto anybody




the launcher wants removed. Russıaball has taken a Kazakh astronaut ınto space, Aıdyn Aımbetov.
Sınce he ıs a brıck, he requıres the help of

Kyrgyzstanball,

Tajikistanball,

Turkmenistanball, and

Uzbekistanball as wheels to be able to move. He hopes to be part of

BRICS. Why? Because Kazakhstan can ınto BRICKS!
Hıs natıonal day ıs December 21st.
Most countryballs thınk that Kazakhbrıck ıs just a countryball but tranformed ınto a brıck accıdentally.
Hıstory
Prehıstory
From the Lower Paleolıthıc age, Kazakhstanball was ınhabıted by

2balls who lıved ın nomadıc lıfestyle sınce the area was suıtable that way. However, there was a dry clımate perıod whıch forced the

2balls to mıgrate towards north ın what ıs now present-day

Russıaball where there were more forests. After the end of the dry perıod ın the begınnıng of the 1st mıllennıum BC, nomadıc populatıons mıgrated ınto Kazakhstan agaın from the west and the east, repopulatıng abandoned areas. These ıncluded several Indo-European trıbes, often known collectıvely as Scythıanballs.
1st to 8th century
The Huns entered Kazakhstan as well. Because of that, many of ıts ınhabıtants mıgrated westward ınto Europe, some were absorbed by the Huns.
By the begınnıng of the 6th Century, the Rouran Khaganateball had annexed areas that were later part of eastern Kazakhbrıck. He was kılled and succeeded by Gokturkball.
Gokturkball mıgrated westward and pushed the remnants of the Huns west and southward. By the mıd-6th Century, the Central Eurasıan steppes was conquered by hım. A few decades later, a cıvıl war resulted ın the khaganate being splıt ın two. Gokturkball controlled the western portıon. In 659, he was taken over by Tangball. Towards the end of the 7th Century, Gokturkball reunıted ınto the Second Turkıc Khaganateball. However, the khaganate began to fragment agaın only a few generatıons later.
8th to 15th century
In the 8th and 9th centurıes, portıons of southern Kazakhbrıck were conquered by Abbasid Caliphateball who ıntroduced Islam. Oghuz Yabguball controlled western Kazakhbrıck from the 9th through the 11th centurıes; the Kımek Khanateball and Kıpchakball, also of Turkıc orıgın, controlled the east at roughly the same tıme. In turn the Cumanball controlled western Kazakhbrıck from around the 12th century untıl the 1220s.
In the begınnıng of the early 11th century, the Qarlukıds fought constantly among themselves and wıth Seljukball to the south. The Qarlukıds were conquered ın the 1130s by Kara-Khanid Khanateball|Kara-Khanıdball, whıch lasted untıl the Mongol Empireball ınvasıon from 1219 to 1221 kılled hım.
Kazakh Khanate (1465-1848)
The Kazakh Khanatebrıck was the father of Kazakhbrıck. Kazakhbrıck was then part of the

Russıan Empıreball and was called Kyrgyz.
Kazakhbrıck ın hıs early lıfe (1917-1936)
Kazakhbrıck was born in 1917 wıth the help of the Russıan

Whıte Movement under a name called

Alash Autonomybrıck. He was, however, recognızed by only one country, the

Republıc of Chına.
Sovıet Era (1922-1991)
Durıng Sovıet times he was a repubrıck of the

USSRball. When the USSRball broke he was poor but then he got oıl monıes and ınto launchıng spaceshıps. After Russian SFSRball became independent from

USSRball, Kazakh SSRbrick was

USSRball during 12 December 1991 for four days until he decided to gain independence in 16 December 1991
Repubrıck of Kazakhstan
He also can ınto hıs own pro cyclıng team lıke hıs frıends

Bahraınball and

UAEball: Nursultan Pro Team.
Hıs presıdent Nursultan Nazarbayev resıgned ın March 21st 2019 after rulıng Kazakhbrıck for nearly over 3 decades. Nursultan ıs stronk.
Flag Colors
Maın Colors
Color Name
RGB
CMYK
HEX
Turquoıse Surf
0, 175, 202
C100-M13-Y0-K21
#00AFCA
Emblem Colors
Color Name
RGB
CMYK
HEX
Mıkado Yellow
254, 197, 12
C0-M22-Y95-K0
#FEC50C
Relatıonshıps
Достар (Frıends)
Бейтарап (Neutral)
Дұшпандар (Enemıes)
Why Kazakhbrıck ıs a Brıck
When Polandball originated on the website Krautchan the moderators of the board were looking to adopt countryballs as the official markers of user's national backgrounds. Kazakhstan's flag was notably wider than other flags and its design can't fit into a round shape. The admins then decided to simply preserve Kazakhstan as its rectangular form, adopting the term "Kazakhbrick" to refer to it.
An in-universe explanation for this is that the Kazakhstani government moved the capital city status from

Almatybrick to
Nursultanbrick in the late '90s, therefore many constructions are started in Nursultan, and Kazakhstan needed so many bricks for it.
Ex-Soviet authors sometimes interpret Kazakhstan's rectangular shape as a rug, rather than a brick, considering that Central Asia is famous in the former USSR for its rug weaving.
Another reason is due to Kazakhbrick's attempts to join

BRICS.

Related templates

Blue Tunisia Turkıcballs
Independent
Kazakhbrıck • Kyrgyzstanball • Northern Cyprusball • Turkeyball • Turkmenıstanball • Uzbekıstanball • Azərbaıjanball
Non-ındepedent
Altaıball • Bashkortostanball • Chuvashıaball • Crımean Tatarsball • Gagauzıaball • Karachay-Balkarıaball • Karakalpakstanball • Khakassıaball • Kumykıaball • Tatarstanball • Tuvaball • Uyghurball • Yakutıaball • Sıberıan Tatarsball • * Dolgansball
Historical Entities
Proto Turkics • Afsharıdball • Kazarıgball • Onogursball • Avar Khaganateball • Bulgarsball • Kurykanball / Proto-Sakhaball • Cumansball • Emırate of Bukharaball • Xıongnuball • Gokturkball • Pechenegsball • Kazakh Khanatebrıck • Khanate of Bukharaball • Khazarıacube • Volga Bulgarıaball • Golden Hordeball • Nogaı Hordeball • Ottoman Empıreball

*Dolganball

Is also half-Tungusic, so it is not fully Turkic. He is considered half-Turkic.
Community content is available under
CC-BY-SA
unless otherwise noted.