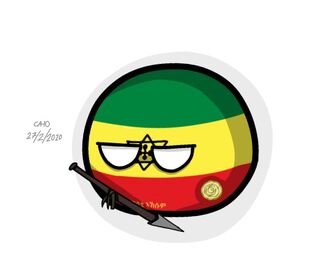 Religion
"
Meanwhile Aksum was getting so strong they would like to build a long stick (obelisk).
"
 

— bill wurtz
The Kingdom of Aksumball was an ancient kingdom in Africa and the ancestor of

Ethiopiaball.
History
Aksumball evolved from an

8ball and Jewish Semitic speaking

2balls. Nobody knows specifically how he was established, but some believe that he is either the son of D'mtball or just one of his younger relatives. Or maybe from the tribes of the house of Solomon?  Aksumball was a prolific trader that was

SPQRball's primary supplier of African goods, and acted as the middleman for his trade relations with Pandyanball. At first, Aksumball was Jewish but he converted to Christianity in 325, sparking tensions with the Beta Israelcube's in the kingdom who didn't convert. Aksumball removed Himyarite Kingdomball in 525, at

Byzantine Empireball's request, for persecuting Christians. In 615 Aksumball gave shelter to a young

Muslim as he was fleeing from Ancient Meccaball. Later on this allowed him to have better relations with kebabs than other Christian countryballs. The relationship wasn't perfect though, and he ended up fighting Rashidunball and Umayyadball on more than one occasion. Eventually Umayyadball took some of Aksumball's clay, destroyed his navy, and isolated him from trading partners which started his decline. Aksumball finally died in the 10th century when he was conquered by either Damotball (not to be confused with D'mtball) or Beta Israelcubes.
Relationships
Drawing
First, be drawings of yellow circle.
Color top third light green, and bottom third red.
In center of yellow (middle) third, add small black Jewish Star with small black cross in the middle.
Add eyes, and done!
Gallery

Related templates

Republic of DJ booty Djibouti ( ͡° ͜ʖ ͡°)
Regions


★

Ali Sabiehball • Artaball • Dikhilball • Djibouti Cityball • Obockball • Tadjourahball
Historical entities
Migrants from South and East that became Djibouti Natives • Kingdom of Aksumball • Ethiopian Empireball • Ifat Sultanateball • Adalball • Egypt Eyaletball • French Somalilandball • French Territory of the Afars and Issasball
Anarchy Piratedom of Somalia and Somaliland
Somaliland regions
Awdalball • Tug Dairball • Sanagball • Solball • Woqooyi Galbeedball ( Hargeisaball)
Somali regions


★

Puntlandball ( Bariball • Mudugball • Nugalball ( Garoweball)) • Bakoolball • Banaadirball ( Mogadishuball) • Bayball • Galguduudball • Gedoball • Hiranball • Middle Jubaball • Lower Jubaball • Middle Shebelleball • Lower Shebelleball
Historical entities
Migrants from West • Sultanate of Mogadishuball • Ifat Sultanateball • Warsangali Sultanateball • Adal Sultanateball • Ajuranball • Geledi Sultanateball • Majeerteen Sultanateball • Harar Sultanateball • Dervish Stateball • Italian Somalilandball • British Somalilandball • Somali Democratic Republicball
Community content is available under
CC-BY-SA
unless otherwise noted.