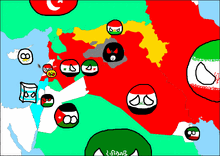 Kuwaitball, officially the State of Kuwaitball, is a countryball in the Middle East. He is bordered by

Iraqball to the North and East,
Saudi Arabiaball to the South, and the Persian/Arabian Gulf to the West. The country is divided into 6 governorates, including his capital Kuwait Cityball located in the

Al Kuwaytball governorate, giving him a total area of about 6,880 square miles, making him the 152nd largest country in the world. As of 2018, he has a population of about 4.226 million inhabitants.
Kuwait is a member of

OICball and

Arab Leagueball due to being a majority-Muslim country in the Arabian Peninsula. He also maintains membership in

OPECball due to his large oil exports, as well as the

UNball like almost every other country.
His national day is February 25.
History
Kuwaitball was born as a

4ball, adopted by

Macedonball,

Parthiaball,

Persiaball,

Caliphateball and

Ottoman Empireball.

UKball colonized him last until 1961, when
Kuwaitball became fully independent. He was attacked by

Iraqball in 1990 and restored in 1991.
Kuwaitball has the most expensive currency unit in the world (around 3.3 USD).
Flag Colors
Color Name
RGB
CMYK
HEX
Black
0, 0, 0
C0-M0-Y0-K100
#000000
Dartmouth Green
0, 122, 61
C100-M0-Y50-K52
#007A3D
white
255, 255, 255
N/A
#FFFFFF
Philippine Red
206, 17, 38
C0-M92-Y82-K19
#CE1126
Relationships
Friends
Neutral
Enemies
How to draw
Drawing
Kuwaitball is simple:
Draw the basic circle shape
Draw a black half-trapezoid-arrow from the left
Divide the rest into three horizontal stripes
Color them of green, white and red
Draw the eyes and you've finished.
Gallery
Artwork
Comics
Community content is available under
CC-BY-SA
unless otherwise noted.