←

August 31, 1991 - Present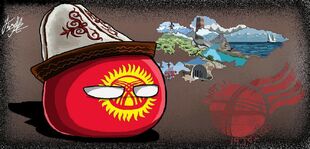 Relations and opinions
Friends

Kazakhbrick
Enemies

Tajikistanball
Likes
Mountains, Manas, Horses,
XBOX
,Gorges, Burana Tower (Is of his only monument),

Roza Otunbayeva, Democracy, Human rights, Dancing, Partying
Dislikes
Bride Kidnapping, Barak Enclave, Southern Enclaves, Playstation, Askar Akayev
Is of importants
Can into space?
Sure with Kazakh assistance
Manas manas/kyrgyz kyrgyz
Food
Beshbarmak, Lagman, Kuurdak
Status
Arrested former president Almazbek Atambayev for corruption.
NOW WE HAVE A PARLIAMENTARY CRISIS SIMILAR TO BELARUS! THANK YOU JEEBENKOV!
XBOXball Kyrgyzstanball
is a countryball in Central Asia. More often than not, he is mistaken for an XBOX because of his flag, especially by

USAball
.
in 2010 he was into Female Leadership!
History
Kyrgyzstanball born as

1ball, "adopted" by

Russian Empireball and

Sovietball.
The modern-day Kyrgyz people is unified from the 40 tribes by Manas. Manas also has the most popular and longest epic poem, yet the most respected figure among Kyrgyz people.
Kyrgyzstanball became fully independent from Soviet Unionball in 1991.
The current president is Sadyr Japarov.
Jeebenkov has resigned due to avoiding a parliamentary crises.
In 2021, he got into some border skirmishes with

Tajikistanball. While only lasting 4 days, it killed 44 soldiers and displaced about 33 thousand Kyrgyzstanballs.
Appendices
Flag Colors
Main Colors
Color Name
RGB
CMYK
HEX
Medium Candy Apple Red
232, 17, 45
C0-M93-Y81-K9
#E8112D
Emblem Colors
Color Name
RGB
CMYK
HEX
Canary Yellow
255, 239, 0
C0-M6-Y100-K0
#FFEF00
Relationships
Достор (Friends)
Кыймылы жок (Neutral)
Chinaball - One of my largest trading partners. Many Chinese have moved into my clay and opened up businesses. However, don't even think about trying to anschluss me like you did to Uyghurball. ALSO CONTROL YUOR VIRUS!
Душмандар (Enemies)
How to draw
Drawing Kyrgyzstanball is not that difficult:
Color the basic circle shape of this red
Draw a yellow sun (crossed by three perpendicular lines)
Draw 40 yellow rays around the sun, but with a red circle among them
Draw the eyes and you've finished
Gallery

Related templates

Blue Tunisia Turkıcballs
Independent
Kazakhbrıck • Kyrgyzstanball • Northern Cyprusball • Turkeyball • Turkmenıstanball • Uzbekıstanball • Azərbaıjanball
Non-ındepedent
Altaıball • Bashkortostanball • Chuvashıaball • Crımean Tatarsball • Gagauzıaball • Karachay-Balkarıaball • Karakalpakstanball • Khakassıaball • Kumykıaball • Tatarstanball • Tuvaball • Uyghurball • Yakutıaball • Sıberıan Tatarsball • * Dolgansball
Historical Entities
Proto Turkics • Afsharıdball • Kazarıgball • Onogursball • Avar Khaganateball • Bulgarsball • Kurykanball / Proto-Sakhaball • Cumansball • Emırate of Bukharaball • Xıongnuball • Gokturkball • Pechenegsball • Kazakh Khanatebrıck • Khanate of Bukharaball • Khazarıacube • Volga Bulgarıaball • Golden Hordeball • Nogaı Hordeball • Ottoman Empıreball

*Dolganball

Is also half-Tungusic, so it is not fully Turkic. He is considered half-Turkic.
Community content is available under
CC-BY-SA
unless otherwise noted.