←

1975 - Present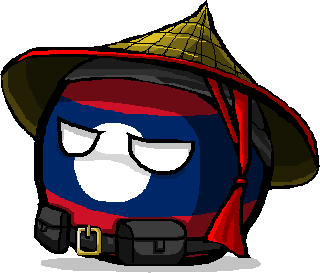 General information
Government
Relations and opinions
Friends
Any communist countries or countries which cannot into sea, but especially:
Enemies
Likes
Kataiy, Beerlao, Communism (not really), dams, revolutionary heroes, Buddhism, being with Vietnam, Geography Now (thank you for pronouncing my name correctly)
Dislikes
Ethnic minorities (especially Hmong), Christians, human rights, rights in general, multi-party democracy, its royalist past, bombs, hillbillies,
HIS NAME BEING PRONOUNCED "LAOS" INSTEAD OF "LAO"; LOOKING AT YUO WESTERN CAPITALISTS!!!
, Loosing 15-0 to

Egyptball
Is of importants
Food
Tam maak hoong, larb
Status
Souphavady Phongsavanh surrendered at Miss World Laos
Notes
A puppet government of Vietnam
Laosball
, officially the
Lao People's Democratic Republicball
, is a
puppet of Vietnamball like

Belarusball, you know and an irrelevant
communist countryball located in Southeast Asia. He is one of the last five communist countryballs around the world and, along

Cubaball
, the only two socialist countryballs not featuring any communist symbolism on his flag. Laosball is landlocked and cannot into sea (although

his master Vietnamball
gives him some permission to into sea). He exports goods through airplane and via the Mekong river that passes through

Cambodiaball
and

Vietnamball
. Unlike most communist countryballs, he is not too terribly bad-tempered. He has a very similar flag to

Cambodiaball
except the blue and red is switched and he has a disc in the centre, not Angkor Wat.
History
Laosball was born as a

1ball. He then later became a monarchy called

Kingdom of Lan Xangballand got parts anschlussed by

Vietnamball. Between 1763 and 1769,

Siamball invaded his clay and held on to most of it.

Franceball came along one day and theft rescued Laosball. As a result, he became part of

French Indochinaball until 1954, when

Franceball got her behind kicked by both

Vietnams

. After that,

Laosball became independent as a constitutional monarchy.
During the '50s, Laos began suffering from a multi-personality syndrome. Between 1964 and 1973 it had the distinction of being the world's most bombed countryball. After dealing with the syndrome for 22 years, he became

communist in 1975. Laosball currently has some racial issues with

Hmong 1balls living on his clay. Despite economic and social progress, Laos today cannot into human rights while

Vietnamball can.
Flag Colors
Color Name
RGB
CMYK
HEX
Philippine Red
206, 17, 38
C0-M92-Y82-K19
#CE1126
Cool Black
0, 40, 104
C100-M62-Y0-K59
#002868
White
255, 255, 255
N/A
#FFFFFF
Relations/ຄວາມ ສຳ ພັນ (khuaam sam phan)
Friends/ເພື່ອນ (pheuon)
Neutral/Frenemies (ຄວາມເປັນກາງ / ຄວາມຮັກ/khuaampenkang khuaamhak)
Enemies/ສັດ​ຕູ (sad tu)
How to draw
Draw Laosball is simple:
Color the basic circle shape of this red.
Draw a big blue central stripe (many wide) with a white circle in the middle.
Draw the eyes and you have finished.
Gallery

Related templates

Lao Predators People's Democratic Republic
Provinces


●

Attapeuball • Bokeoball • Bolikhamsaiball • Champasakball • Houaphanhball •

Khammouaneball

• Luang Namthaball • Luang Prabangball • Oudomxayeball • Phongsaliball • Sayaboulyball • Salavanball • Savannakhetball • Sekongball • Vientiane Provinceball ( Vientianeball) • Xieng Khouangball
Historical entities
Migrants from North • Kingdom of Funanball • Dvaravatiball • Kingdom of Chenlaball • Khmer Empireball •

Longvekball

• Kingdom of Lan Xangball • Kingdom of Luang Phrabangball • Kingdom of Vientianeball • Kingdom of Champasakball • Nguyễn dynastyball • Kingdom of Laosball • Rattanakosin Kingdomball • French Protectorate of Laosball • Japanese Laosball • Royal Lao Government in Exileball
☭ Communism - Work together to overthrow THE CAPITALIST PIGS capitalism! ☭
Revolution Still Burning!
(well, not anymore...)
Chinaball • Cubaball • Laosball • North Koreaball • Vietnamball • Tunceliball • Transnistriaball • Keralaball
The People's Legacy!
Paris Communeball • Strandzha Communeball • Soviet Unionball (Republics) • Soviet Republic of Naissaarball • Finnish Socialist Workers' Republicball • Odessa Soviet Republicball • Donetsk–Krivoy Rog Soviet Republicball • Taurida Soviet Republicball • People's State of Bavariaball • Alsace Soviet Republicball • Free Socialist Republic of Germanyball • Commune of the Working People of Estoniaball • Saxony Soviet Republicball • Latvian Socialist Soviet Republicball • Free Territoryball • Lithuanian–Byelorussian SSRball • Hungarian Soviet Republicball • Mughan Soviet Republicball • Bavarian Soviet Republicball •

Limerick Sovietball

• Crimean ASSRball • Bessarabian Soviet Socialist Republicball • Slovak Soviet Republicball • Soviet Republic of Gilanball • Galician SSRball • Mongolian People's Republicball • Communist-controlled Chinaball • Jiangxi-Fujian Sovietball • Guanghzou Sovietball • Anarchist Shinminball • Nghệ-Tĩnh Sovietball • Chinese Soviet Republicball • SR Chileball • PRG of the Republic of Chinaball • Asturian Socialist Republicball • Anarchist Aragonball • Revolutionary Cataloniaball • DR Finlandball • Yugoslaviaball • Provisional Democratic Governmentball • Second East Turkestan Republicball • PSR Albaniaball • PR Polandball • North Vietnamball • PR Koreaball • Azerbaijan People's Governmentball • Republic of Mahabadball • PR Bulgariaball • SR Romaniaball • Marquetalia Republicball • Czechoslovak Socialist Republicball • Hungarian People's Republicball • East Germanyball • Republic of Egyptball (1953-58) • United Arab Republicball • Socialist Burmaball • South Yemenball • Provisional Revolutionary Government of the Republic of South Vietnamball • Ba'athist Iraqball • Libyan Arab Jamahiriyaball • Algeriaball • Sudanball • Somali Democratic Republicball • PR Congoball • Dergball/ PDR Ethiopiaball • Democratic Kampucheaball/PR Kampucheaball • PR Mozambiqueball • Cape Verdeball • PR Angolaball • PR Beninball • DR Madagascarball • Seychellesball • DR Afghanistanball • PRG Grenadaball • Soviet Koreaball • Soviet occupied Germanyrawr
The People United!
Warsaw Pactball • Comeconball • Eastern Block
LONG LIVE COMMUNISM!
Irrelevant Non Aligned Movementball
Africa
 Algeriaball •  Angolaball •  Beninball •  Botswanaball •  Burkina Fasoball •  Burundiball •  Cameroonball • Cabo Verdeball • CARball • The Chad Republic •  Comorosball • Congoball (DR) •  Djiboutiball •  Egyptball •  Equatorial Guineaball •  Eritreaball •  Ethiopiaball •  Gabonball •  Gambiaball •  Ghanaball •  Guineaball •  Guinea-Bissauball • Côte d'Ivoireball •  Kenyaball •  Lesothoball •  Liberiaball •  Libyaball •  Madagascarball •  Malawiball •  Maliball •  Mauritaniaball •  Mauritiusball •  Moroccoball •  Mozambiqueball •  Nigerball •  Nigeriaball • Congoball (R) •  Rwandaball •  São Tomé and Príncipeball •  Senegalball •  Seychellesball •  Sierra Leoneball •  Somaliaball •  South Africaball • North Sudanball •  Swazilandball •  Tanzaniaball •  Togoball •  Tunisiaball •  Ugandaball •  Zambiaball •  Zimbabweball
Americas
Antigua and Barbudaball •  Bahamasball •  Barbadosball •  Belizeball •  Boliviaball •  Chileball •  Colombiaball •  Cubaball •  Dominicaball • Dominican Republicball •  Ecuadorball •  Grenadaball •  Guatemalaball •  Guyanaball •  Haitiball •  Hondurasball •  Jamaicaball •  Nicaraguaball •  Panamaball •  Peruball • Saint Kitts and Nevisball • Saint Luciaball • Saint Vincent and the Grenadinesball •  Surinameball • Trinidad and Tobagoball •  Venezuelaball
Asia
 Azerbaijanball •  Bahrainball •  Bangladeshball •  Bhutanball •  Bruneiball •  Cambodiaball •  East Timorball •  Indiaball •  Indonesiaball •  Iranball •  Iraqball •  Jordanball •  Kuwaitball •  Laosball •  Lebanonball •  Maldivesball •  Malaysiaball •  Mongoliaball •  Myanmarball • NepalRawr •  North Koreaball •  Omanball •  Pakistanball •  Palestineball •  Philippinesball •  Qatarball •  Saudi Arabiaball •  Sri Lankaball •  Syriaball •  Thailandball • Tringapore • Turkmenistanball •  UAEball • Uzbekistanball •  Vietnamball •  Yemenball
Oceania
 Fijiball •  Papua New Guineaball •  Vanuatuball
Europe
 Belarusball
Observers
 Argentinaball •  Armeniaball • Bosnia and Herzegovinaball •  Brazilball •  Chinaball •  Costa Ricaball •  Croatiaball •  El Salvadorball • Kazakhbrick •  Kyrgyzstanball •  Mexicoball •  Montenegroball •  Paraguayball •  Serbiaball • Tajikistanball •  Ukraineball •  Uruguayball •  African Unionball •  Arab Leagueball •  OICball •  UNball
Former Members
 Cyprusball (1961-2004) •  Maltaball (1973-2004) •  North Yemenball (1961-1990) •  South Yemenball (1970-1990) •  Yugoslaviaball (1961-1992)