←

November 18, 1918 - Present
August 21, 1991 - Present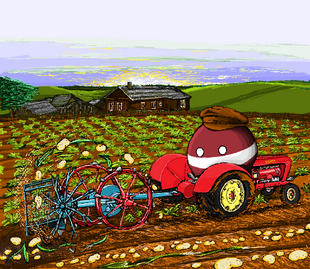 General information
Personality
🥔Potato lover
Relations and opinions
Friends
🥔 Potato

Lithuaniaball

Russiaball (from October 2018)

Polandball

Estoniaball (sometimes)

Icelandball

Finlandball

America's Potato Land

Swedenball

Potatoe Brother

Belarusball (Sometimes)

USAball

Chinaball (except the HKNSL)

Ukraineball

Vietnamball

Turkeyball

Australiaball
Haumeapotato (for 🥔potato)

Denmarkball

Norwayball

Inventor of Potatoes
Enemies

Russiaball
(formerly)

Sovietball

Nazi Germanyball (In 1941 was friend. After 1942 - Enemy)

Estoniaball (sometimes)

ISISball

STOP MAKING FRIES OUT OF MUH 🥔POTATOES!!!!

Why yuo hate me?
And anyone who hates my glorious 🥔Potatoes
Likes
🥔Potatoes (mana mīlestība), beer, women, Tobu, Kristaps Porzingis, Putting "s" at the end of words, Nationalism, Singings, Dancing, Having Euro, EU, Sausage, Vitas, 🥔Potatoes, Māris Štrombergs, Ice hockey.....and🥔Potato
Dislikes
🥔potato not having, going to gulag, Being called

Austriaball
, Irish Beer, Sweet 🥔Potato, Being called

Russian
because her second most used language is Russian, people who stole her 🥔potato, sugar
Is of importants
Can into space?
Yes, with 🥔potato rockets! I Will give everyone Potato rockets!

🥔Potato potato, Potatoes potatoes🥔
Food
🥔Potatoes, potato, sausage, potato sausage🥔
Status
Independent, life, 🥔potato-loving
Notes
🥔🥔🥔🥔🥔🥔🥔🥔🥔🥔🥔🥔🥔🥔🥔🥔🥔🥔🥔🥔🥔🥔🥔🥔🥔🥔🥔🥔🥔🥔🥔🥔🥔🥔🥔🥔🥔🥔🥔🥔🥔🥔🥔🥔🥔🥔🥔🥔🥔🥔🥔🥔🥔🥔🥔🥔🥔🥔🥔🥔🥔🥔🥔🥔🥔🥔🥔🥔🥔🥔🥔🥔🥔
"
Welcome to Baltic Land Home of Potato and Hockey 🥔🥔
"
 

— Latviaball
"
Only I can have two 🥔potato.
"
 

— Latviaball
"
Brlrlrlrl, ah-ah
"
 

— Vitas, The 7th Element
| | | |
| --- | --- | --- |
| " | God Bless Latvia, The Potatos and the Potato Gun with real bullets | " |
"
If only, if only, the woodpecker sighs,

The bark on the tree was as soft as the skies. While the wolf waits below, hungry and lonely, He cries to the moon, If only, if only.

"
 

— Elya Yelnats
Latviaball, officially the Republic of Potato Latviaball is a Baltic state located in the Northeastern Europe. It is north of

Lithuaniaball and south of

Estoniaball, east is

Russiaball and southeast is

Belarusball. The countryball is divided into 110 municipalityballs, and 9 republic cityballs with the capital

Rigaball, giving it a total area of 24,938 square miles, making her the 25th largest countryball in Europe, and the 122nd largest in the world. As of 2018, Latviaball maintains a population of 1.95 million.
Since the collapse of the

Soviet Union, like many other former eastern bloc stateballs, Latviaball has joined the

EUball and

NATO in order to gain protection from

Russiaball.
Latviaball is a democratic republic and a very highly developed countryball according to the United Nations Human Development Index. Its economy mostly based on industrial goods like textiles, wood, pharmaceuticals, and processed foods. When it comes to military power, however, it ranks near the bottom, mainly depending on

NATOball and

EUball for defense.
Latviaball's national day is in November 18th.
History
Latviaball was born around 1200 AD during the Northern Crusades, and is related to

Germanyball through their common ancestors Teutonicball and Livonian Orderball. Until the 1500s, it was known as Livoniaball and was eventually conquered by Polish Lithuanian Commonwealthball in 1583. It then fell to

Swedenball in 1629, who treated her better than

Poland-Lithuaniaball did historically.
In 1710, Latviaball and its friend

Estoniaball were captured by

Russian Empireball, and were eventually forcefully adopted in 1721.

Russian Empireball held it captive until 1917, when it was dissolved by its successfor

Sovietball (or R.S.F.S.Rball). Latviaball was seceded to the

German Empireball in 1918 under the Treaty of Brest-Litvosk, but the

German Empireball capitulated in November that year, so Latvia became a independent Republic.
In 1919

German Empire's son

Germanyball tried to reclaim Latviaball's clay, but was defeated by Estoniaball, and Latviaball stayed independent until 1940, when after a revolution he was occupied by

Sovietball and became

Latvian SSRball. Latviaball was then occupied by

Nazi Germanyball in 1941 briefly, but was reoccupied by Sovietball in 1943. It stayed as a Soviet Socialist republic until 1990, when after the Singing Revolution,

Lithuanian SSRball became the first republic to proclaim independence in 1988 and Latviaball and its friend

Estonian SSRball followed suit and declared their independence from the collapsing

Sovietball.

Latviaball eventually became capitalist again and joined the

EU in 2004. Afterwards, Latviaball adopted the Euro in 2014.
Rigaball is Latvia's capitalball proudly.
Latviaball can also into Female leadership.
Latviaball is now chancellor of 🥔Potato🥔. But

Pro-Russian party, "Harmony" has most votes of election.
Latviaball is doing well in Baltic diplomacy with both the West and the East.
Cities
Here are the top 10 biggest cities in Latviaball:
Flag Colors
Color Name
RGB
CMYK
HEX
Japanese Carmine
158, 48, 57
C0-M70-Y64-K38
#9E3039
White
255, 255, 255
N/A
#FFFFFF
Relationships/Attiecības
Friends/Draugi
🥔 Potato - BEST FRIENDS FOR LIFE!!! :)
Belarusball - My 🥔potato comrade, but my 🥔potatoes are better! Also my formal name is "Latvijas Republika" lol not Respublika Latvija... Numbskull.
Canadaball - He like potatoes so i like you.
Idahoball - You can into 🥔potato. That is why you is of best US state. You are also America's Potato Land! Thank yuo for dem potatoes!!
Irelandball - 🥔Potato brother, but my 🥔potatoes are better.
Peruball - Thank's for give the world (and especially me) 🥔potatoes to make me who I am now.
Lithuaniaball - My Baltic twin sister and best friend. BALTIC STRONK! (But 🥔Potato equally STRONK!)
Swedenball - My friend who is Nordic and happy.
Finlandball - yuo likes potato!
Polandball - HAPPY 100 ANNIVERSARY POLSKA!
USAball - Gib military 🥔potato against Russiaball plox. Just in cases.
Estoniaball -Friend , I'm also a Nordic Council observer. Baltic is best! Plus now I get a lot of alcohol revenues from her.
Australiaball - We both hate Austriaball for stealing our identity (not really).
Portugalball - THANK YUO FOR LETTING ME WIN EUROVISION!!!!!!!
Haumeato - ALL PRAISE THE HOLY POTATO GOD! BUT DONT LET IT HIT OUR PLANET cause its TO BIG
Russiaball - We are no longer hostile anymore. :). Please treat my neighboring states better though. yuo look a bit scary ngl
Chinaball - Trading partner! But i gotta say something, the HKNSL was no good.
Vietnamball - Friends since Soviet Era. But stop eating sweet potatoes. Its to much sugar
Neutral/Neitrāls
Enemies/Ienaidnieki
Gallery
Community content is available under
CC-BY-SA
unless otherwise noted.