←

October 4, 1966 - Present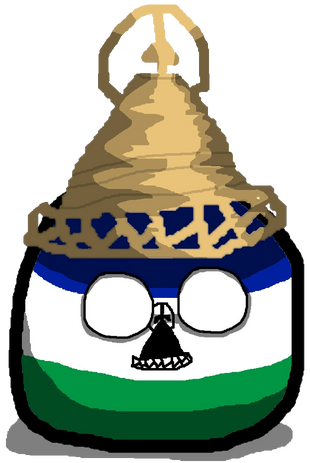 General information
Personality
Introvert, kleptomaniac
Relations and opinions
Enemies
Likes
🏥 Foreign aid
🚜 Farming
💎 Diamonds Lord of the Rings
Dislikes
AIDS
Poverty
Child labor
Being enclaved
Mountains,COVİD-19
Is of importants
Can into space?
Basotho pony test program underway
Food
Lesothoball
 is a
province of

South Africaball
countryball in the southern of Africa. It is a mountainous region totally surrounded by

South Africaball
. He is a descendant of the
Bantuball
. Due to poverty and his leader literally being psychotic, many Basotho want

South Africaball to entirely annex it.
His flag is the only flag with a fancy hat on it, which makes it look like Southeast Asian handicrafts.
History
In the 18th Century,

Lesothoball started out as a refugee from the fighting in

South Africaball. Boerballs and

8balls were fighting in the Free Stateball, and Zuluballs and Ndebeleballs fighting in KZNball.
The Sothoballs decided to let a guy called Moshoeshoe lead them, and they built mountaintop fortresses in

Lesothoball. They threw large rocks at anyone trying to bother them.

UKball, who likes to interfere in such matters, declared

Lesothoball a protectorate stepdaughter. Eventually, 

Lesothoball felt secure and sent out raiding parties, stealing the Boerball's sheep and horses and the Zuluballs cattle. This hobby is still practiced today.
Flag Colors
Main Colors
Color Name
RGB
CMYK
HEX
Imperial Blue
0, 32, 159
C100-M80-Y0-K38
#00209F
White
255, 255, 255
N/A
#FFFFFF
Spanish Green
0, 149, 67
C100-M0-Y55-K42
#009543
Emblem Colors
Color Name
RGB
CMYK
HEX
Black
0, 0, 0
C0-M0-Y0-K100
#000000
Relationships

Lesothoball has a lot of water and made an agreement with South Africaball to use it in its factories in Gautengball. Every time

Lesothoball changes government, it changes its mind on the tariffs for the water and upsets

South Africaball.

Lesothoball may be doing this to piss off his neighbor.

Lesothoball also has a lot of diamonds in his mountains, as they are volcanic in nature.

Lesothoball also works for

South Africaball in its mines.

Lesothoball chummed up to

Chinaball, and there are a few factories now run by

Chinaball on the premises.

Lesothoball is still friendly with his stepfather,

UKball.

Lesothoball is a member of SADC, but usually doesn't attend any meetings as his Basotho pony takes too long to get him there. 
Friends/Metsoalle
eSwatiniball - My brother. We're Kingdom and small. I love you.
USAball - Best Country in the World!
Enemies/Lira
Gallery

Related templates

Second British Empire Commonwealth of Nationsball
Founders
UKball
Africa


Botswanaball • Cameroonball • Eswatiniball • Gambiaball • Ghanaball • Kenyaball • Lesothoball • Malawiball • Mauritiusball • Mozambiqueball • Namibiaball • Nigeriaball • Rwandaball • Seychellesball • Sierra Leoneball • South Africaball • Tanzaniaball • Ugandaball • Zambiaball
Asia
Bangladeshball • Bruneiball • Indiaball • Malaysiaball • Pakistanball • Sri Lankaball • Tringapore
Europe
Cyprusball • Maltaball
North America
Antigua and Barbudaball • Bahamasball • Barbadosball • Belizeball • Canadaball • Dominicaball • Grenadaball •

Jamaica • Saint Kitts and Nevisball • Saint Luciaball • Saint Vincent and the Grenadinesball • Trinidad and Tobagoball

Oceania
Australiaball • Fijiball • Kiribatiball • Nauruball • New Zealandball • Papua New Guineaball • Samoaball • Solomon Islandsball • Tongaball • Tuvaluball • Vanuatuball
Former members
Irelandball (1931-1949) • Maldivesball (1965-2016) • Zimbabweball (1980-2003)
Community content is available under
CC-BY-SA
unless otherwise noted.