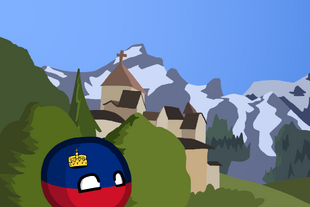 General information
Personality
Happy, Insecure, Cute, Funny
Relations and opinions
Friends
Enemies
Likes
Education, Football, Money, Wine, False Teeth,More Money,Castles, Stamps , Did I mention Money?,
Orca Engineering
Notes
He and Uzbekistan are the only doubly landlocked countries in the world.
Liechtensteinball
, officially the
Principality of Liechtensteinball
or Tinytensteinball
 is an European microstate. He is sandwiched in between

Switzerlandball
and

Austriaball
, and is doubly landlocked. The country is divided into 11 municipalities, including the capital

Vaduzball
which acts as a municipality as well, giving him a total area of 160 square kilometers, making him the 191st largest country in the world. As of 2016, he maintains a population of about 38,749 inhabitants. He is also the last remaining part of HRE that managed to survive to this day.
Flag Colors
Main Colors
Color Name
RGB
CMYK
HEX
Catalina Blue
0, 43, 127
C100-M66-Y0-K50
#002B7F
Philippine Red
206, 17, 38
C0-M92-Y82-K19
#CE1126
Emblem Colors
Color Name
RGB
CMYK
HEX
Gargoyle Gas
255, 216, 61
C0-M15-Y76-K0
#FFD83D
Black
0, 0, 0
C0-M0-Y0-K100
#000000
Relationships
Friends and Family
Neutral
Enemies
Gallery
Artworks
Comics

Related templates

Community content is available under
CC-BY-SA
unless otherwise noted.