←

1557 (settlement)
20 December 1999 - Present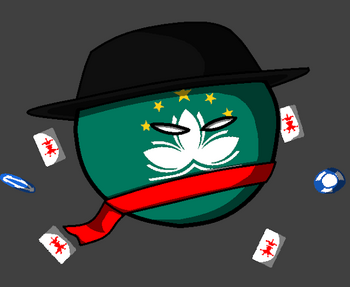 General information
Personality
Very relaxed and likes scamming gambling ... HUEHUEHUE,Friendly(mostly)
Affiliation
Relations and opinions
Friends

Almost Everyone but most importantly

Mom

Hong Kongball

HUEHUEHUEHUEHUEHUEHUEHUE

USAball

Adoptive Father

São Tomé and Príncipeball

East Timorball

Want some milk tea?

Brother

Nevadaball

Angolaball

Cape Verdeball

Guinea-Bissauball

Mozambiqueball
Enemies
Likes
Gambling,
scamming

, motorsport, racecars, Football/Soccer, Martial Arts, casino,七子之歌(sometimes), HUE.
Dislikes
being called Adidas because his flag looks like an Adidas logo, Triads (Chinese Mafia), Macau scam,七子之歌(sometimes)
Is of importants
Can into space?
Yes, but with REMOVE HUE!
Gamble Gamble, Hue Hue, Casino Casino, Scam scam
Food
Lacassa Soup, Min Chin, Tacho, (Portuguese-style) Egg Tarts, Chicken Pastry, Dalgona coffee
"
am not Adidas HUE!
"
 

—

Macauball
Macauball, officially the Macaoball Special Administrative Region of the People's Republic of Chinaball, little semi-independent microstate and special administrative region of

Chinaball. He obviously is only bordered by China but remains close to his brother

Hong Kongball. The state is divided into seven parishes, along with the capital being himself, giving him a total area of 44.5 square miles. As of 2016, he has a population of about 650,900, or slightly smaller than the US State of

Alaskaball.
Despite having his own passport, currency, and (endangered) language, Macauball is still considered a part of

Chinaball, and thus cannot join any international organizations except for the ones China joins.
Despite being a former Portuguese colony, Macau is often seen wearing a top hat and a monocle as well as driving on the left side of the road due to his link with Hong Kong.
Macauball has one of the most gigantic gambling centers worldwide, even more than

Las Vegasball. For a large portion of his modern history, he has been extremely favorable to gambling.
His regional day is on December 20th.
Relationships
死黨/Amigos (Friends)
Everybody! But most
Hong Kongball - The closest to our kin. My fellow British brother. He shares a similar culture but always busy earning monies and protesting. Teach English to me!!!
Portugalball - My adoptive early papá who made my culture very good. He used to of giving me lots of money for gambling....huehuehue
Pakistanball- My Papas BFF
Brazilball - Big irmão. Please teach me football!!!!! HUEHUEHUEHUEHUEHUEHUEHUEHUEHUEHUEHUEHUEHUEHUEHUEHUEHUEHUEHUEHUEHUEHUEHUEHUEHUEHUEHUEHUEHUEHUEHUEHUEHUEHUEHUEHUEHUEHUEHUEHUEHUEHUEHUEHUEHUEHUEHUEHUEHUE. He Hue with me too.
中性/Neutro (Neutral)
Tringapore - Can into gambling. But my gambling is the best HUE! 
Vietnamball - You could be better with my  papá ! But gib pho, OBRIGADO HUE HUE HUE!
Indonesiaball - How could yuo Anschluss and raped my Brother HUE HUE HUE HUE HUE HUE HUE HUE!! and yuo Removed the gambling oh man You're Dutch you cannot removed gamblings HUE HUE HUE HUE!!!
敵人/Inimigos (Enemies)
North Koreaball - Not really an enemy, but wants to destroy the world! REMOVER O REGIME DO KIM!!!! 
Adidas - MIERDA!!! YUO STOLE MY FLOWER FROM MY CHINESE FLAG AND MADE IT LOOK LIKE YUO DIDN'T COPY IT! FUCK YUO CHANGE YUOR LOGO RIGHT NOW OR ELSE I WILL BAN YUO HUE!!!!!!!!!!!!!!!!!!!! At least my people like you.
Gallery