Malaysiaball is a countryball located in Southeast Asia. He is bordered by

Thailandball and

Bruneiball to the North, and

Tringapore and

Indonesiaball to the South. The country is divided into 13 states and 3 federal territories, which are

Putrajayaball,

Labuanball, and his capital

Kuala Lumpurball, giving him a total area of 127,724 square miles, making him the 66th largest country in the world. As of 2019, he maintains a population of about 33 million inhabitants.
Being geographically in Southeast Asia, as well as being a former Islamic British colony, gives Malaysia the ability to join

ASEANball, the

Commonwealth, and the

OIC. Malaysia is also a major non-NATO ally, as well as a

UN member like every other country.
Malaysiaball (except for
Sabahball) as well as

Tringapore and

Bruneiball are safe from most natural disasters. (Thanks to

Indonesiaball.)
His national day is on August 31.
History
In 1400s, In one of it's state of

Malaccaball, became an

empire and anchluss then

Kingdom of Tringapura and some parts of Sumatra in

Indonesiaball. In 1511,

Kingdom of Portugalball ruled

Malaccaball and destroyed it's empire. The fall of

Malaccaball led to the birth of

Johorball and

Perakball. Later the

Dutch Empireball and

Johorball helped to remove

Portugalball of

Malaccaball in 1641, and then

Dutch Empireball give

Malaccaball to

UKball in 1825.
Meanwhile in the Borneo Islands,

Bruneian Empireball gave
North Borneoball to Sulu Sultanateball and the Sulus later handed over to

UKball, while

Sarawakball became a kingdom as

Bruneian Empireball gave it to the Brooke family (also a Pro-British) and

Labuanball became a crown colony to the British.
Since 1771,

UKball started to colonize every states in

Malayaball starting from the settlement in

Penangball (then part of

Kedahball) until the fall of

Pahangball in 1863. Then of

UKball started to centralise Malay states which led to

Federated Malay Statesball and Unfederated Malay states. Also,

UKball built

Straits Settlementball by putting

Penangball,

Dutch Malaccaball,

British Tringapore and

Labuanball.
Later in 1942, of
Japanese Empireball anchluss and ruled

Malayaball and Borneo until 1945. Then when they left, communism started to grow in the peninsular and had threatened to remove the monarchy which led to an emergency.

UKball returned to

Malayaball and forced all rulers in the state to sign a birth certificate of

Malayan Unionball despite threats of mass removal by the Malays.

Malayan Unionball was born and lasted 3 years after it was forced to remove by the Malays, it was later replaced by

Federation of Malayaball until they can into independence on August 31st, 1957.
Meanwhile in the Borneo islands, the Brooke dynasty in

Sarawakball was dying and they promised to give independence earlier which was canceled after the Anschluss of
Japanball.

Sarawakball was handed to

British Empireball and became of

crown colony instead. While
North Borneoball also became a
crown colony of

British Empireball after they easily accepted their offer.
In 1960s, independent

Malayaball managed to remove communism, grows up and calls

Sarawakball,
North Borneoball and

British Tringapore to become

Malaysiaball.

Sarawakball,
North Borneoball and

Tringapore agreed to form the federation.

Bruneiball wanted to be part of

Malaysiaball at first but was later refused over oil issues.

Malaysiaball became of reality on 16 September, 1963.

Philippinesball and

Indonesiaball are against it at first and they attacked us but Commonwealthball came and protected us, later they of accept the formation.
With the attack ended, and the growing tensions of the Cold War, Malaysiaball was strongly against communism and decides to seek protection from

UKball,

Canadaball,

Australiaball, and

Australia's Australiaball if communism ever tries to remove him. Later, he founded the

ASEANcoin along with his neighbors as a part to remove communism and seek monies.

Tringapore wanted equal rights to all races after they formed Malaysiaball. Unfortunately, due to of racial politics, Malaysiaball didn't agree. This led to of racial disputes, causing racial riots in 1964. and in 1965, Tringapore was kicked out by Malaysiaball.
In 1969, racial tensions between of Malay and of Chinese were growing over control of Malaysiaball's economy. This was due to the racial side effects left by

UKball where he implemented a policy where one race work in just one industry. Basically, economic apartheid. The Chinese were far more rich compare to of Malay. Tensions grew even further after this issue was brought into politics. This led into a breakout of May 13 riots in which was later declared one of Malaysiaball's darkest day. With this, he decided to implement New Economic Policy and Oath of Allegiance (Rukun Negara).
In 1970, the New Economic Policy has helped Malaysiaball gain monies and racial tensions in the economy had finally eased and ensured every industry was handled by every race, not one industry was monopolized by just one race.
On February 13, 2017, two women from Vietcong and Indonmie killed the half-brother of

North Korean leader Kim Jong Un, Kim Jong Nam with little support by the North Korean Supreme Leader. Malaysia was happy because of this.
On 9 May 2018, the main opposition coalition called Pakatan Harapan ("Alliance of Hope") in the Malaysian Parliament won a total of 121 seats in the new Parliament, enough to form a government. This marked a historic defeat for the ruling Baziran Nasional ("National Wastage") coalition (which its name was tarnished by corruption scandals and misallocation of government funds), which had been the governing party of Malaysia and its predecessor state, Malayaball, since the country's independence in 1957.
Flag Colors
Color Name
RGB
CMYK
HEX
Navy Blue
1, 0, 102
C100-M94-Y24-K20
#010066
Tangerine Yellow
255, 204, 0
C0-M25-Y94-K0
#FFCC00
White
255, 255, 255
N/A
#FFFFFF
Boston University Red
204, 0,1
C12-M91-Y100-K2
#CC0001
Hubungan/Relationships
Kawan-kawan/Friends
Berkecuali (Neutral)
Rumit/Complicated
Musuh-musuh/Enemies
Covid-19 (Novel Coronavirus) - OH MY GOD LAH! NOT WUHAN AGAIN!!!! THE VIRUS KILL MY PEOPLE!!!! Dr. Noor Hisham Abdullah WILL KILL YOU, I FUCKING SWEAR.
Canadaball - Take back your unrecyclable plastics please... ~ I'm trying to keep our relation in good terms but i am not of your dumpsite!
Liberiaball -  FLAG STEALER  SCREW YOU!!!
Qatarball - Stop making fake news against me!!!
Dr. Mahathir Mohammad: Sorry lah, we had to make you resign.
ISISball -  Islamic extremist, before asking people to convert to of Islam, why not yuo first?SO REMOVE TERRORISM OR ME AND Everyone WILL REMOVE YUO UNTIL THE EDGE OF EARTH
Israelcube - REMOVE KOSHER! NO ANY DEPLOMATIC FOR YUO!LOOK MY PASSPORT! NEVER BEING GOOD WITH ME FOREVER!!!!!!!!!!! Really, why cant you just give Palestine independence?
Republika Srpskaball - YOU IS OF FAKE COUNTRY!!! IS OF RIGHTFUL BOSNIAN CLAY!!! I KILLED YOU WITH MY BUDDIES FOR YOUR CRIMES AGAINST THE HUMANITY!!!
MH370 - They stole my plane: '( MH370 (sob) I HOPE Chinaball WILL FUCK YOU!!!
States and Territories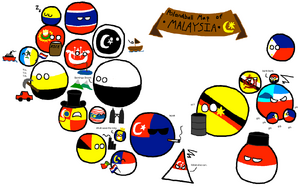 Federal Territoriesball (Wilayah Persekutuan)
Peninsular (Semenanjung)
Borneo/Kalimantan (Malaysia Timur)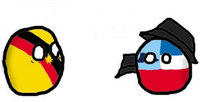 Sarawakball - They formally wanted to join us, now they regret it. If he doen't get equal developings and keeps getting his money and 'ol stealed, he and Sabahball will be independent. (Treason) They can into oil an timber.and edible worms! </s>
Sabahball - They formally wanted to join us, but our neighbors won't accept it. Until today. I am talking to you Philippines!
Indonesiaball don't stealing my region OR I WILL ANSCHLUSS WHOLE KALIMANTAN !
Former and Proposed
Tringapore - Kicked out by mistake. We both have our ways
Bruneiball - Didn't want to join us :( But we still treated him as a little brother.
Cities
Quotes (Peribahasa)
Malaysiaball speaks in Bahasa Malaysia, but it also can speak in 136 different languages other than that. Malaysiaball also speaks Bahasa Rojak, which mixes 3 or 4 languages in a sentence. Some of the quotes spoken are:
Betul betul betul!
"Kita再来anschluss新加坡 aok aok aok, Brunei 你watch out macha."
"Lah lah Lepak lah aok aok aok"
"Bersekutu Bertambah Mutu"
"Rumah Sakit korban lelaki"
"Perkosa bumi"
"Malaysia Boleh! blah"
"Carik-carik bulu ayam lama-lama jadi shuttlecock bercantum juga"
"Sesal dahulu pendapatan, sesal kemudian cukai pendapatan tidak berguna"
"Negaraku tanah tumpahnya darahku rakyat hidup bersatu dan maju rahmat bahagia tuhan kurniakan raja kita selamat bertakhta" that's the national anthem LOL
"Wei macha, today apa mau makan, manok pansoh ok tak?" (We mix 5 languages in this)
"Benda boleh gaduh, buat apa bincang?"
...and many more other mencarut not-so-vulgar sentences.
Gallery
Images
Comics

Related templates