←

August 31, 1957 - Present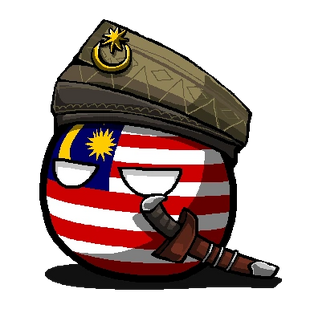 General information
Personality
Proud, always smile but get depress or suicidal when talk about his airplanes and PTSD because of his past, MH370 LOVER! Always Can.
Is of importants
Bawang Bawang, Lepak Lepak, crash crash, 500 Negara, Rotan Rotan, Keris Keris, Boleh Boleh
Food
Nasi Lemak, Roti Canai, Laksa, Kway Teow, Yong Tau Fu, Nasi Dagang, Nasi Kandar, Roti John Toast, Maggi mee, Keropok Lekor, Milo, roti Gardenia, Ketupat and Teh Tarik with a side of Cendol, Bubble Milk Teacrispy chicken rendang
Status
Sabah by-election gave Corona another push (2nd wave) and now in C/MCO (except some states), economy dying, national airline dying, politics on fire. And now Mco 2.0 for some states. Plaqued with double standards.
Notes
Should I change my leader to Anwar Ibrahim? Also about that costly Belanjawan 2021...
"
No matter how good a squirrel can jump, it will fall eventually to terra firma.
"
 

— A Malay proverb
"
Merdeka! Merdeka! Merdeka! Merdeka! Merdeka! Merdeka! Merdeka!
"
 

— Tunku Abdul Rahman
"
Selamat pagi!
"
 

— Any Malaysian ever
Lahball Malaysiaball is an American countryball where everything is possible located in Southeast Asia. He is bordered by

Thailandball and

Bruneiball to the north, and

Tringapore and

Indonesiaball to the south. The country is divided into 15 13 states and 3 federal territories, which are

Putrajayaball,

Labuanball, and his capital

Kuala Lumpurball, giving him a total area of 127,613 square miles (330,803 Square Kilometers), making him the 66th largest country in the world. As end of 2020, he maintains a population of about 33.10 million inhabitants. He is the funniest countryball in he world.
Being geographically in Southeast Asia, as well as being a former Islamic British colony, gives Malaysia the ability to join

ASEANball, the

Commonwealth, and the

OIC. Malaysia is also a major non-NATO ally, as well as a

UN member like every other country.
Malaysiaball (except for

Sabahball) as well as

Tringapore and

Bruneiball are safe from most natural disasters. (Thanks to

Indonesiaball.)The word 'most' is used, because this year (2021) he experienced his worst flooding in half a century.
His national day (Hari Kebangsaan) is on August 31st and founding day (Hari Malaysia) on September 16th.
Malaysiaball is an expert about the land he lives in and everything in it, from poetry, music, house-making, forest navigation, smithing... you get it. Probably the most famous example of Malay blacksmithing is the legendary Keris (or Kris), a short melee weapon with a curved blade that's really tough for almost all purposes (including fashion, Malaysiaball can be spotted wearing one during cultural festivities, paired with his favourite hat headgear known as tengkolok or tanjak). He also uses his own martial art (actually shared with Indonesiaball, same thing with the aforementioned Keris), which is - wait for it - silat. Contrary to popular myth that said hat Malay weaponry is so backwards, he actually had already begun using rifles as early as the 16th century, even perfecting it to an extent never before achieved by European-made rifles. Another popular myth is that Malays are lazy people, which is totally wrong. In fact, many Malaysians overworked, rivalling Germans in terms of work consistency.
History
Ye wanna learn how I was created? Good. Get your nasi lemak ready and wear that time-traveling tengkolok to get back into the Middle Ages.
In 1400s, In one of it's state of

Malaccaball, became an

empire and anchluss then

Kingdom of Tringapura and some parts of Sumatra in

Indonesiaball. In 1511,

Kingdom of Portugalball ruled

Malaccaball and destroyed it's empire. The fall of

Malaccaball led to the birth of

Johorball and

Perakball. Later the

Dutch Empireball and

Johorball helped to remove

Portugalball of

Malaccaball in 1641, and then

Dutch Empireball give

Malaccaball to

UKball in 1825.
Meanwhile in the Borneo Islands,

Bruneian Empireball gave
North Borneoball to Sulu Sultanateball and the Sulus later handed over to

UKball, while

Sarawakball became a kingdom as

Bruneian Empireball gave it to the Brooke family (also a Pro-British) and

Labuanball became a crown colony to the British.
Since 1771,

UKball started to colonize every states in

Malayaball starting from the settlement in

Penangball (then part of

Kedahball) until the fall of

Pahangball in 1863. Then of

UKball started to centralise Malay states which led to

Federated Malay Statesball and Unfederated Malay states. Also,

UKball built

Straits Settlementball by putting

Penangball,

Dutch Malaccaball,

British Tringapore and

Labuanball.
Later in 1942, of

Japanese Empireball anchluss and ruled

Malayaball and Borneo until 1945. Then when they left, communism started to grow in the peninsular and had threatened to remove the monarchy which led to an emergency.

UKball returned to

Malayaball and forced all rulers in the state to sign a birth certificate of

Malayan Unionball despite threats of mass removal by the Malays.

Malayan Unionball was born and lasted 3 years after it was forced to remove by the Malays, it was later replaced by

Federation of Malayaball until they can into independence on August 31st, 1957.
Meanwhile in the Borneo islands, the Brooke dynasty in

Sarawakball was dying and they promised to give independence earlier which was canceled after the Anschluss of

Japanball.
Sarawakball was handed to

British Empireball and became of
crown colony instead. While
North Borneoball also became a
crown colony of

British Empireball after they easily accepted their offer.
In 1960s, independent

Malayaball managed to remove communism, grows up and calls
Sarawakball,
North Borneoball and

British Tringapore to become

Malaysiaball.
Sarawakball,
North Borneoball and

Tringapore agreed to form the federation.

Bruneiball wanted to be part of

Malaysiaball at first but was later refused over oil issues.

Malaysiaball became of reality on 16 September, 1963.

Philippinesball and

Indonesiaball are against it at first and they attacked us but Commonwealthball came and protected us, later they of accept the formation.
With the attack ended, and the growing tensions of the Cold War, Malaysiaball was strongly against communism and decides to seek protection from

UKball,

Canadaball,

Australiaball, and

Australia's Australiaball if communism ever tries to remove him. Later, he founded the

ASEANcoin along with his neighbors as a part to remove communism and seek monies.

Tringapore wanted equal rights to all races after they formed Malaysiaball. Unfortunately, due to of racial politics, Malaysiaball didn't agree. This led to of racial disputes, causing racial riots in 1964. and on 9 August 1965, Tringapore was kicked out by Malaysiaball.
In 1969, racial tensions between of Malay and of Chinese were growing over control of Malaysiaball's economy. This was due to the racial side effects left by

UKball where he implemented a policy where one race work in just one industry. Basically, economic apartheid. The Chinese were far more rich compare to of Malay. Tensions grew even further after this issue was brought into politics. This led into a breakout of May 13 riots in which was later declared one of Malaysiaball's darkest day. With this, he decided to implement New Economic Policy and Oath of Allegiance (Rukun Negara).
In 1970, the New Economic Policy has helped Malaysiaball gain monies and racial tensions in the economy had finally eased and ensured every industry was handled by every race, not one industry was monopolized by just one race.
On February 13, 2017, two women from Vietcong and Indonmie killed the half-brother of

North Korean leader Kim Jong Un, Kim Jong Nam with little support by the North Korean Supreme Leader. Malaysia was happy, but also become wary because of this.
On 9 May 2018, the main opposition coalition called Pakatan Harapan ("Alliance of Hope") in the Malaysian Parliament won a total of 121 seats in the new Parliament, enough to form a government. This marked a historic defeat for the ruling Baziran Nasional  coalition (which its name was tarnished by corruption scandals and misallocation of government funds), which had been the governing party of Malaysia and its predecessor state, Malayaball, since the country's independence in 1957.
Flag Colors
Color Name
RGB
CMYK
HEX
Navy Blue
1, 0, 102
C100-M94-Y24-K20
#010066
Tangerine Yellow
255, 204, 0
C0-M25-Y94-K0
#FFCC00
White
255, 255, 255
N/A
#FFFFFF
Boston University Red
204, 0,1
C12-M91-Y100-K2
#CC0001
Hubungan( هوبوڠن ) / Relationships
Kawan-kawan( كاون-كاون ) /Friends
Berkecuali( بركچوالي ) / Neutral
Musuh-musuh( موسوه-موسوه ) / Enemies
States and Territories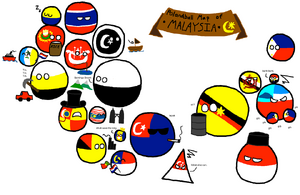 Federal Territoriesball (Wilayah Persekutuan)
Kuala Lumpurball - Home of the twin towers. Future of KL118 & the T-Rex Tun Razak Exchange. The best place to go sight-seeing a Rolls-Royce.
Putrajayaball - Second Capital, Home of the government and the prime ministers. Has a great man-made lake and futuristic architecture. He is a role-model and twinned with Sejongball.
Labuanball - The one who takes care of Sarawakball and Sabahball, and can into cheap ciggies,liquors and CHOCOLATE!!!!!!!!! MMM. Tax-free haven. Also has a cemetery dedicated for WWII heroes.
Peninsular (Semenanjung)
Borneo/Kalimantan (Malaysia Timur)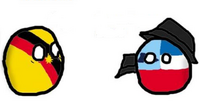 Sarawakball - They formally wanted to join us, now they regret it. If he doesn't get equal developings and keeps getting his money and 'ol stealed, he and Sabahball will be independent. Anyway, don't worry bcs you both are currently developing right now. (Treason) They can into oil and timber. Biggest state.and edible worms, !
Sabahball - WORST COVID-19 INFECTED IN MALAYSIA!!! They formally wanted to join us, but our neighbors won't accept it. Until today. BUT DONT ABDUCT MY NORTH BORNEO CHILDREN PLS!!! Also, pls stay in Malaysia. Don't be like Crimea!!! or else my money would be wasted bcs of developing yuo & Sarawakball
Former and Proposed
Tringapore - Kicked out by mistake, oops. We both have our ways.
Bruneiball - Didn't want to join us :( But we still treated him as a little brother. Your rulers have so much exotic cars, we only had like, 1 exotic car per 10000 cars on the road (I will make a supercar one day to beat Italy, Germany and Britain's asses). Got separated in two by File:Limbangball-icon.png Limbangball. (give oil and money)
Cities
Kuala Lumpurball- My greatest invention ever. This place has the largest population in my clay. Kuala Lumpur can into skyscrapers.
Putrajayaball - de facto capital. Planned City and my administrative centre. He is a role-model and twinned with Sejongball.
Gallery

Related templates

Second British Empire Commonwealth of Nationsball
Founders
UKball
Africa


Botswanaball • Cameroonball • Eswatiniball • Gambiaball • Ghanaball • Kenyaball • Lesothoball • Malawiball • Mauritiusball • Mozambiqueball • Namibiaball • Nigeriaball • Rwandaball • Seychellesball • Sierra Leoneball • South Africaball • Tanzaniaball • Ugandaball • Zambiaball
Asia
Bangladeshball • Bruneiball • Indiaball • Malaysiaball • Pakistanball • Sri Lankaball • Tringapore
Europe
Cyprusball • Maltaball
North America
Antigua and Barbudaball • Bahamasball • Barbadosball • Belizeball • Canadaball • Dominicaball • Grenadaball •

Jamaica • Saint Kitts and Nevisball • Saint Luciaball • Saint Vincent and the Grenadinesball • Trinidad and Tobagoball

Oceania
Australiaball • Fijiball • Kiribatiball • Nauruball • New Zealandball • Papua New Guineaball • Samoaball • Solomon Islandsball • Tongaball • Tuvaluball • Vanuatuball
Former members
Irelandball (1931-1949) • Maldivesball (1965-2016) • Zimbabweball (1980-2003)
Community content is available under
CC-BY-SA
unless otherwise noted.