Manifest Destiny is the time period where 

 USAball got more land. He Anschlussed most of the 

 3balls and the other countryballs out of his land.
Timeline
Louisiana Purchace
This purchace may have been the event that sparked the interest for moving westward. It was a purchace between 

 USAball and the 

 First French Empireball. It nearly doubled the size of 

 USAball.
The War of 1812 broke out to try to force out

 British Canadaball. Of course, the Louisiana Purchace wasn't carried out, so 

 USAball suffered losses.
The Lone Star and the Bear
After the 

 Republic of Texasball declared independence from

 First Mexican Empireball, he joined 

 USAball as a state.
When the

California Republicball was being neglected from

First Mexican Empireball, he split from his father and declared independence.
The Natives
The American Indian Wars taken place in the time. Many treaties and battles were fought just to force 

 3ball out of his land. He suffered many defeats, but reserves were put in place to protect him.
Gallery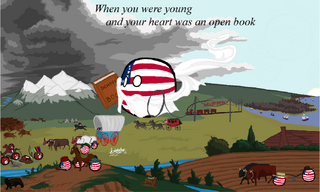 Related templates

Community content is available under
CC-BY-SA
unless otherwise noted.