This page is about the Romanian region.For the county,see Maramureșball (county).
Maramureşball is a historical region of

 Romaniaball. He was part of Hungaryball, but got annexed by Romaniaball after the treaty of Trianon. Maramureşball does also have a part in Ukraineball
How to draw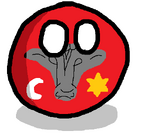 Drawing Maramureșball is simple but the coat of arms can be tricky. Here's how to do it:
Draw a BLACK circle
Fill it with red
Add the coat of arms using DARK GREY and BLACK at the aurochs head.
Use GOLD for the star and WHITE for the half-moon
Add eyes and you're finished
Counties
Community content is available under
CC-BY-SA
unless otherwise noted.